The Meatless Farm Co. announces the launch of its refrigerated plant-based breakfast line that includes meat-free sausage links and meat-free sausage patties. The new products are scheduled to debut in the US mid-April.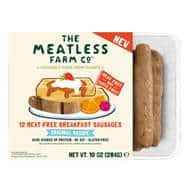 The plant-based sausages cooks in under ten minutes are soy-free, gluten-free, made using non-GMO ingredients, and contain 17+ grams of protein. The products will be fresh, not frozen, and will be available in the refrigerator section.
The Leeds UK-based vegan meat producer, expanded into the US last spring with its mince, burger, and Italian sausage products. In June 2019, the company agreed to an exclusive distribution deal with Whole Foods Market.