From today on, the wholesaler METRO Germany will offer the Beyond Sausage on a permanent basis. They are the first wholesales on the European continent to offer the Beyond Sausage.
METRO Cash & Carry offers a range of products in 26 countries with around 770 store locations, 100 of which are in Germany where the sausage will be initially available. The product is made from purely vegetable ingredients and is said to be a convincing alternative to the classic Bratwurst. Since this is a wholesale retailer, traditional restaurants and snack bars can thus also expand their vegan offerings.
The plant-based Bratwurst will initially be offered in packs of 10 and 50. METRO Germany is the first wholesaler in Europe to offer the innovative Beyond Meat product and has already launched the Beyond Burger on German shelves back in November 2018.
"The continuing success of the item prompted us to try to list further Beyond Meat products," explains Markus Thaller, Category Manager Meat & Sausages METRO Germany. "We are convinced that the fans of Beyond Burger will also be enthusiastic about the Beyond Sausage."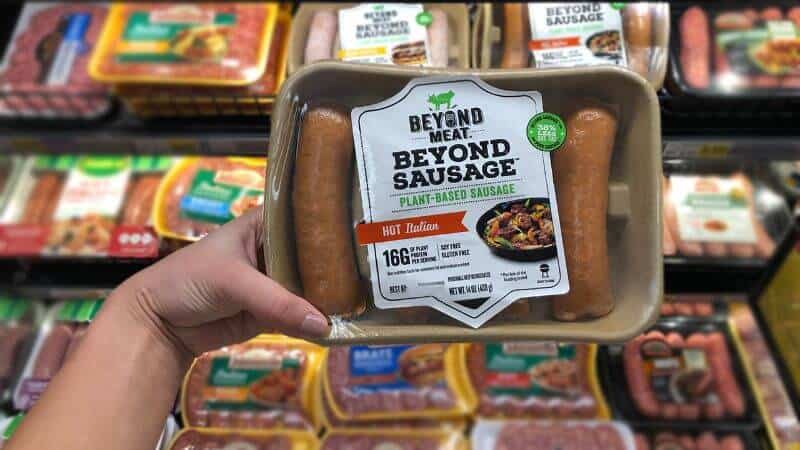 First bratwurst made from pea protein
According to the METRO press release, the plant-based Bratwurst is the first of its kind in the world that looks, sizzles and tastes like the classic version made of pork. As with the Beyond Burger, the recipe was developed by a team of scientists and engineers to create a convincing meat alternative from vegetable protein. Peas, rice and field beans provide the basis, beet juice gives the sausage its colour and coconut oil makes it juicy. Instead of a natural casing, an algae-based casing is used. This means that the product consists of 100 percent vegetable substances. It contains no soy, no gluten and no genetically modified ingredients. Compared to the classic pork sausage, the Beyond Sausage also scores with a higher protein and a lower fat content.
Alternative for gastronomy
Metro not only wants to appeal to full-fledged vegans, but also to nutrition-conscious food enthusiasts. This makes the plant-based alternative of a classic German cuisine highly interesting for the gastronomy as well. "Traditional German restaurants and snack bars in particular have found it difficult to offer their guests vegan alternatives," says Markus Thaller. "With Beyond Sausage, we are now offering our customers in the catering industry a high-quality product with a great taste that will enable them to meet this demand."