US plant milk brand JOI announces it has launched Hemp Milk Concentrate – the company's first vegan milk concentrate made from organic hemp hearts. Available exclusively in family-size, 8 lb pails, the Hemp Milk Concentrate can be used for cooking or blended with water for instant hemp milk.
"Reducing impact on the planet has always been at the heart of JOI's mission"
To create the base, JOI says it used its proprietary concentrate process and applied it to hemp seeds. The concentrate contains just one ingredient – blanched hemp hearts – without the use of added sugars, gums or fillers. Compared with the leading boxed hemp milk brands, JOI says its concentrate contains two times more healthy fats and twice the protein (10 grams of protein per cup vs. 4.5 grams.)
The concentrate also utilizes the entire hemp seed, which the brand says are naturally low in carbohydrates, low-glycemic and contain anti-inflammatory properties.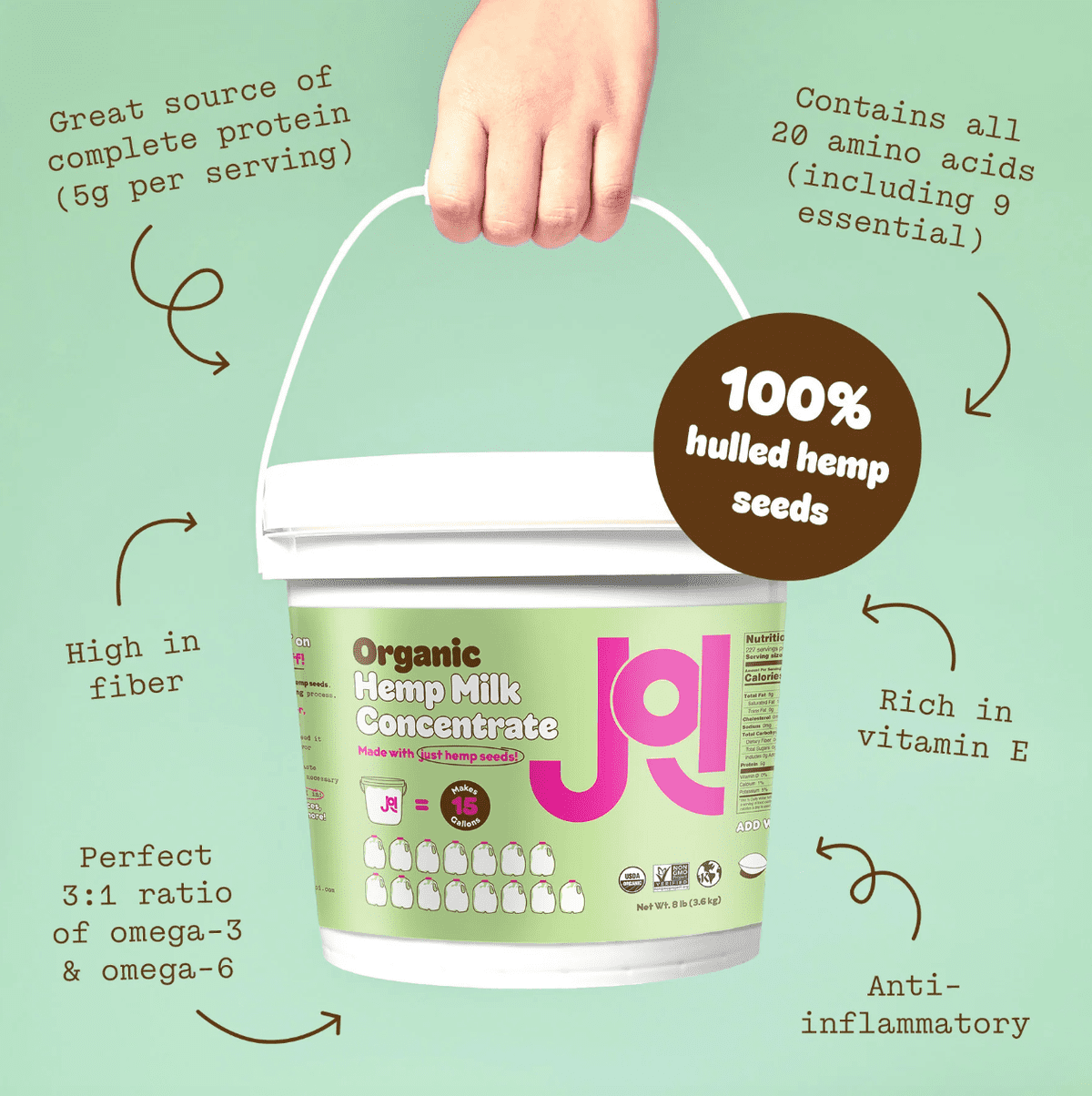 Reducing waste
Based in Miami, JOI sells a full range of other plant-based milk concentrates and powders from oats, cashews, hazelnuts and almonds. In 2021, the brand introduced "the world's first" 100% zero waste plant milk product, Organic Oat Powder, which came in fully compostable packaging.
The company says plant milk concentrates and powders because are more sustainable than liquid products since they offer a longer shelf life with less packaging.
Hemp market growth
Hemp makes up a small but fast-growing segment of the plant protein market, with brands like Gaia's Farming, Planet Based Foods, Nepra and more now offering plant-based burgers, sausages, ice cream and more made with hemp ingredients. Globally, the hemp milk market is expected to reach $640M in revenue by 2027.
JOI's Hemp Milk Concentrate is available for US shipping through its website.
"Reducing impact on the planet has always been at the heart of JOI's mission," said CEO Hector Gutierrez in 2021. "As we grow, our core focus remains reducing packaging waste across all of JOI's products, and to continuously improve our overall sustainability efforts."