Austrian food tech startup Wunderkern recently announced the launch of its 'never seen before' Kern Milk made with apricot kernels.
Wunderkern says that the innovative alt milk "recently entered the competitive alternative drink market with a big bang. Promoted within the new "Pflanzilla" concept by Billa, it quickly turned into customer success and became the most sold product within the vegan store. The drink's super nutty flavor perfectly harmonizes with sweet dishes such as Kaiserschmarren and inspires people to interpret local classics in a vegan way."
Founded in 2019 by Michael Beitl, Luca Fichtinger, Fabian Wagesreither, and Sebastian Jeschko, Wunderkern aims to be a circular economy business using the wasted stone fruit pits from other industries.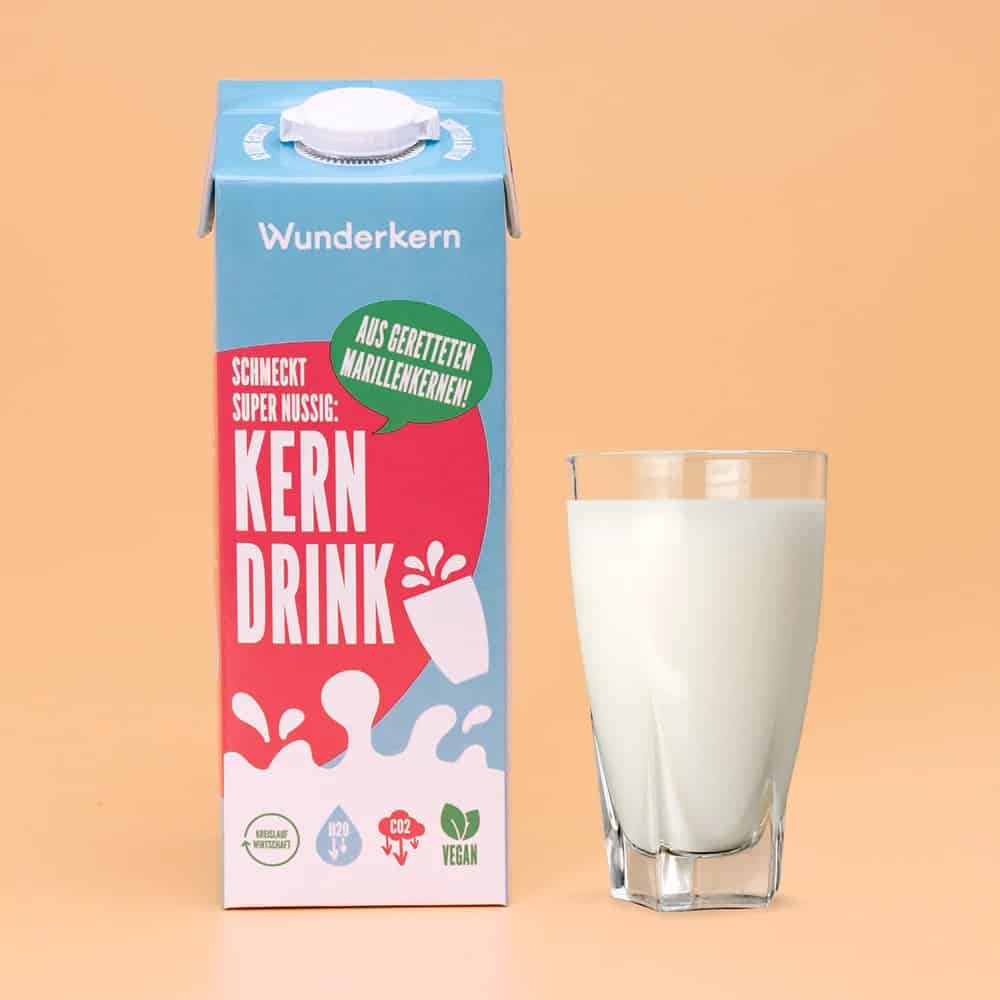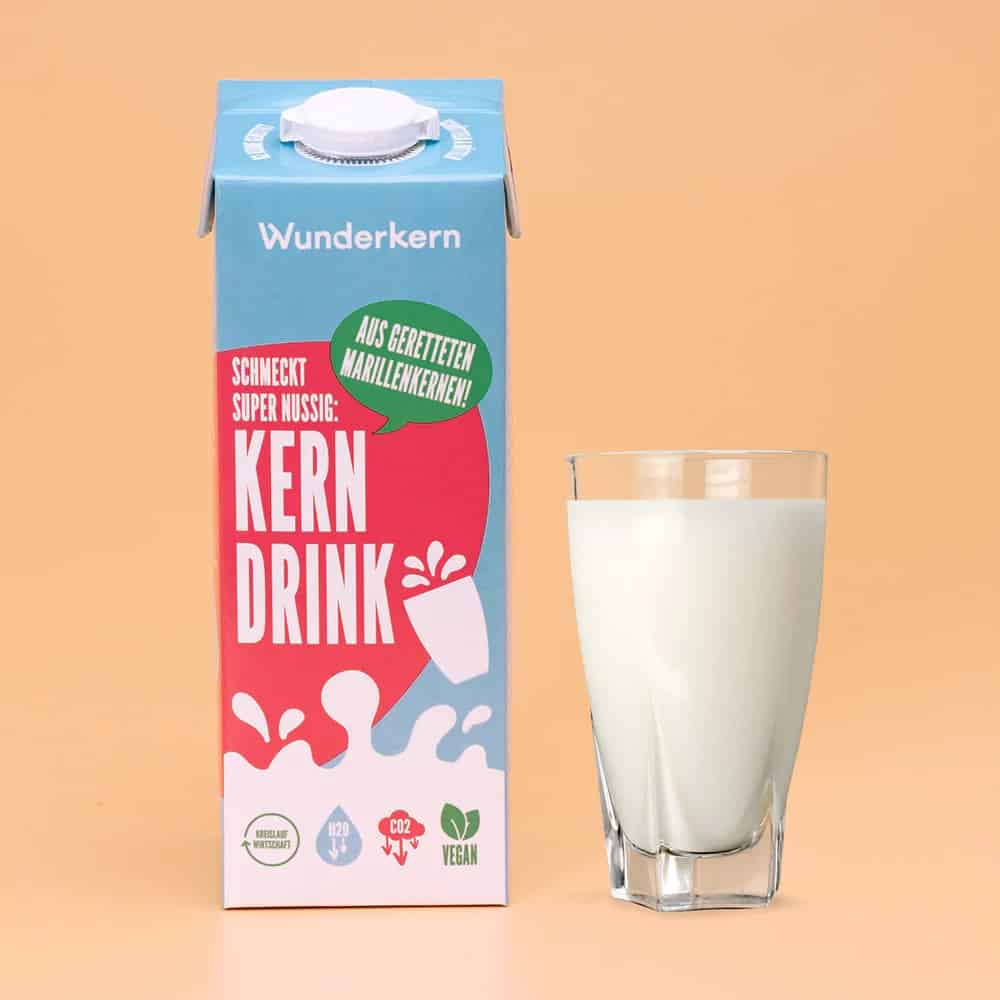 Earlier this year, Wunderkern made news when it trialled among the public a dairy-free ice cream made with fruit kernels at the "Everything Apricot" festival in Austria.
The new alternative milk and circular economy
Most popular vegan drinks are made with oats, soy, and almonds which are not necessarily sustainable raw materials. The crops are constantly grown to feed the ever-growing alternative milk market.
Kern Drink is made with apricot pits that were discarded as a waste product by other industries. Wunderkern states that using waste materials implements circular economy principles needed to work against climate change. Because the plant-based milk is made with upcycled pits, its sustainability profile is outstanding, with minimum water use and little CO2 emissions.
As described by Wunderkern, the new drink offers a nutty taste and a creamy appearance. It can be used as any regular plant drink for coffee and recipes.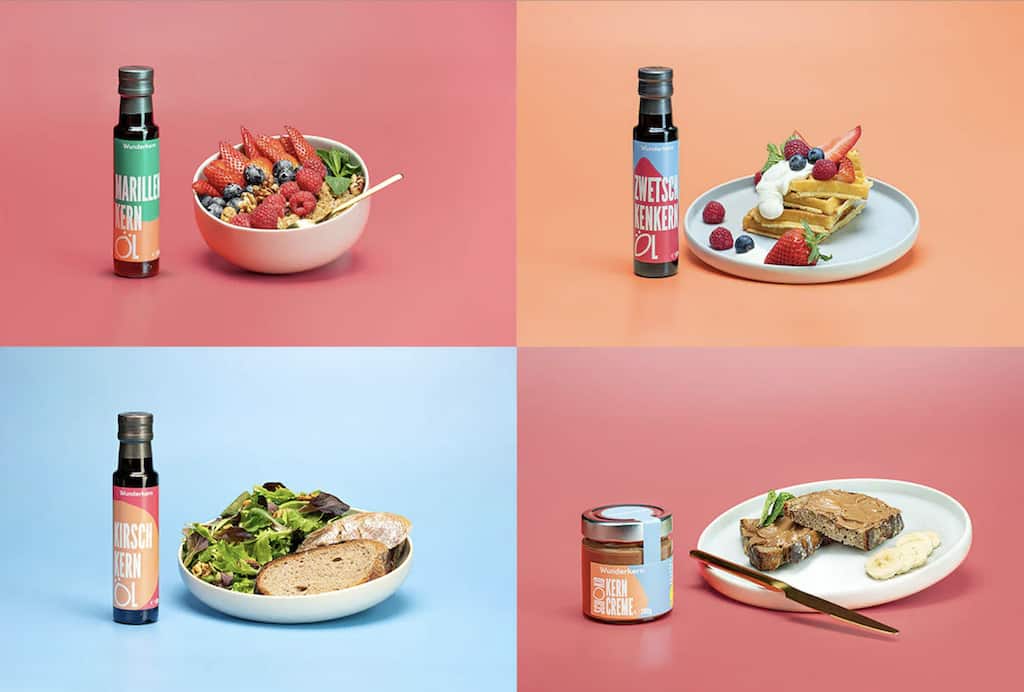 Fruit-kernel products
Wunderkern offers a range of upcycled pit fruit-derived products with each one reflecting the kernels used to make them:
Cherry Kernel Oil by Wunderkern: a cold-pressed oil without additives or sugar, made with 100% cherry pits.

Cherry Kernel Oil was the world oil champion at the 2021 international oil AVPA competition in France.

Rescued kernels per bottle: 10,023 kernels
Apricot Kernel oil by Wunderkern: a cold-pressed oil made with 100% apricot kernels without any additives.

Rescued kernels per bottle: 1,333 kernels.
Plum Kernel Oil by Wunderkern: a worldwide first cold-pressed plum kernel oil, according to the company. Created with 100% saved plum kernels. Rescued kernels per bottle: 2,356 kernels
Choco Kernel Cream by Wunderkern: a combination of apricot kernels with cocoa and real bourbon vanilla in a cream. Rescued kernels per package: 812 kernels
"Wunderkern wants to create products of 100% resource use by relying on circular economy to make our world a better place, without sacrificing taste," the company says.
The new milk alternative will be available at Austria's supermarket chain BILLA+.