B Corp-certified Rude Health was born in 2005 when Nick and Camilla Barnard created the Ultimate Muesli around their kitchen table. Now 18 years later, the London brand sells a wide range of clean-label dairy-free m*lks, mueslis and cereals, crackers, and snack bars that have earned an impressive 23 Great Taste awards. There's even a Rude Health cafe, located at the New King's Road in Fulham.
The Rude Health plant milks include the consumer favourites like coconut, soy, oat, and almond but also encompass more unusual offerings such as brown rice and cashew milks (vegconomist has sampled and can confirm they are delicious) and the products are all created with natural ingredients as well as being free of palm oil.
We were pleased to chat with Camilla Barnard to find out more about this health-forward brand and its plans for the future.
What is the story behind the creation of Rude Health?
Rude Health started in 2005 around our kitchen table where we first mixed The Ultimate Muesli with a mission to challenge the assumption that healthy food had to be bland and boring. We wanted to create the world's best muesli using high-quality, real ingredients and we've had the same approach to flavour ever since.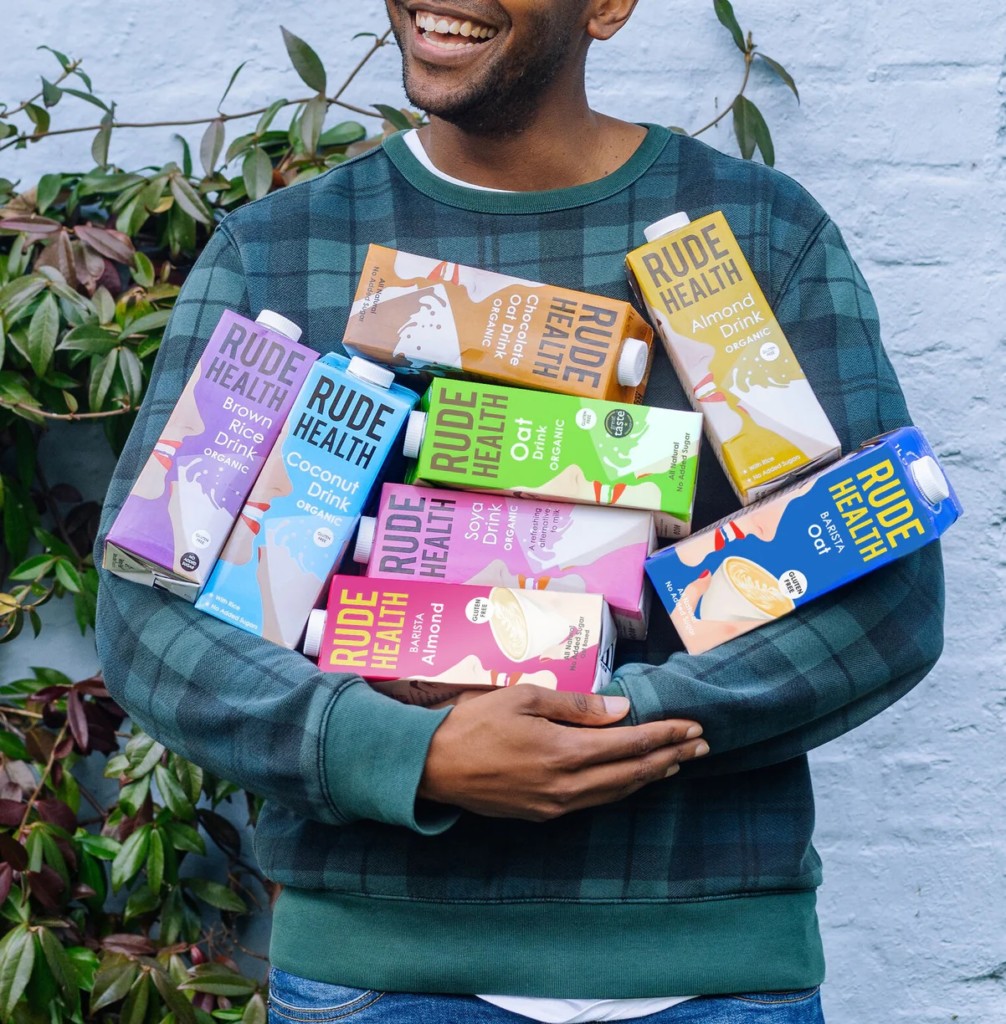 In 2013, more and more people were asking to try our cereals with a dairy alternative. Unable to find a natural option we thought tasted great, we decided to make our own, starting with Almond Drink, now our best-selling product. Today, we're found in fridges and cupboards around the world with over 60 delicious dairy-free drinks, cereals, and snacks.
Recently you launched the plant drinks No Sugars Oat and No Sugars Almond – tell us more about the new products and the production process.
Organic No Sugars Almond and Organic No Sugars Oat are the latest drinks to join our range. We have wanted to make sugar free milks for a while, because we know we tend to eat more sugar than we need, and we know that 72% of people are trying to reduce their sugar intake too.
No Sugars Almond is made with Organic Italian almonds, the best in the world, blended with spring water and a little carob seed flour, to keep it smooth and creamy. No Sugars Oat is made using Organic gluten-free oats, spring water, Organic sunflower oil and sea salt. We tweaked the production process, so it doesn't release any natural sugars but retains the oaty taste and nutrition you love.
Rude Health has a series of wholesale cooperations under its belt, including Suma, Queenswood, Greencity and more. Tell us more about these cooperations and their strategic benefits.
Our relationship with wholesalers has been the backbone of Rude Health's growth. In 2005, we began our journey selling into wholesalers supplying local delis and health food shops as we shared an appreciation for high-quality products using sustainably sourced ingredients. It was the success of these efforts which generated the fuel to expand the business.
As we grew with the wholesalers, we were able to look at launching into retailers reaching more health-conscious consumers, where you can find us today. Our relationship with wholesalers remains very special to this day, 18 years since we founded the business. They play an important role in launching our new products, most recently our Organic No Sugars Almond and Organic No Sugars Oat Drinks.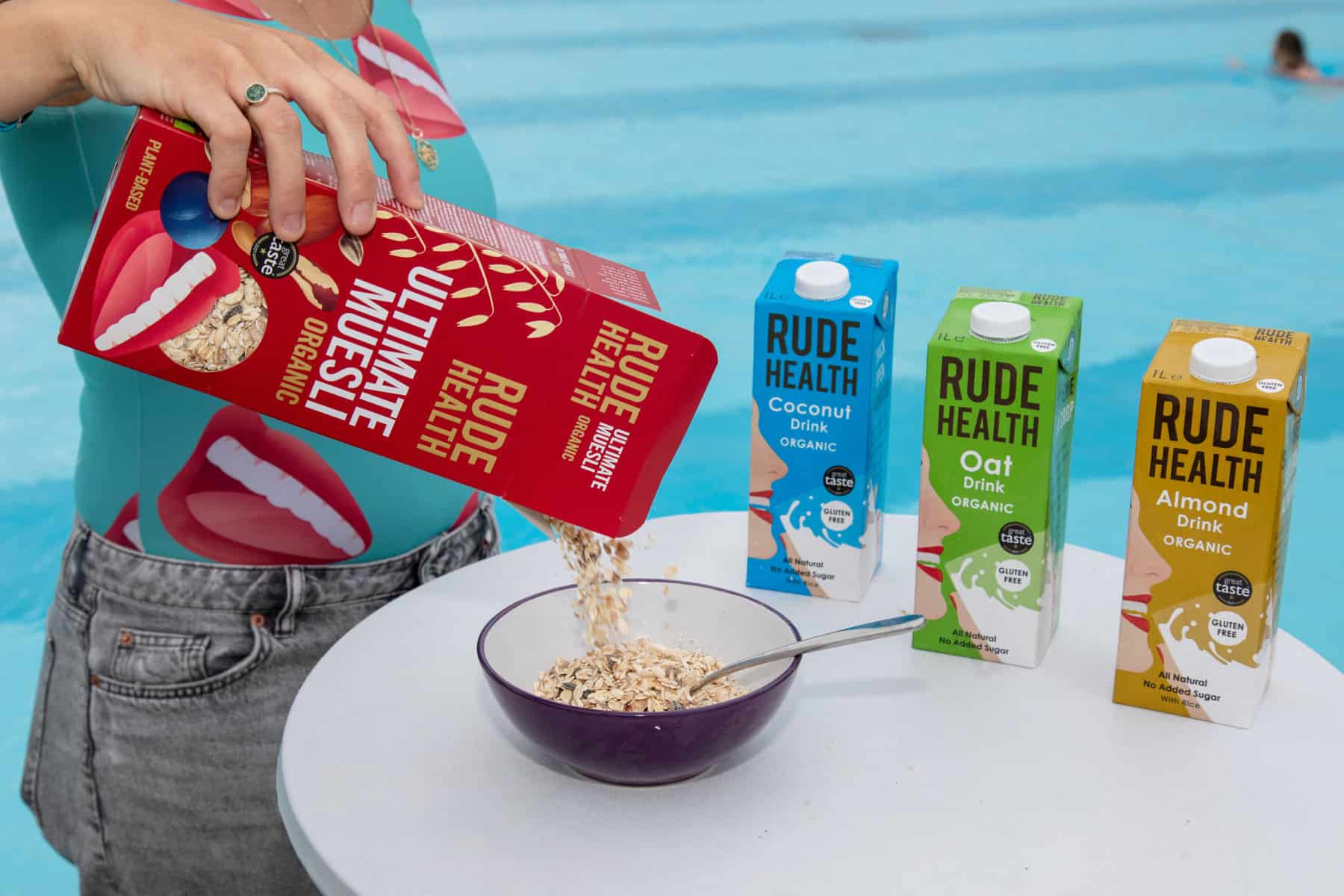 What role can Rude Health play in the ongoing shift in consumer preference towards healthy plant-based products?
Since launching the Ultimate Muesli in 2005, we have continued to challenge the assumption that healthy food is bland and boring. When we say healthy food, we mean food made from real ingredients, the kind you'd find in your kitchen cupboard.
"We are proud that the whole category has followed where we lead"
When we launched our milks 10 years ago, the alternatives contained a long list of ingredients including all sorts of gums, stabilisers, thickeners, carrageenan and calcium carbonate. Ours were nothing but water, rice, nuts or grains and a tiny bit of sunflower oil for texture, and we didn't sacrifice taste. We are proud that the whole category has followed where we lead.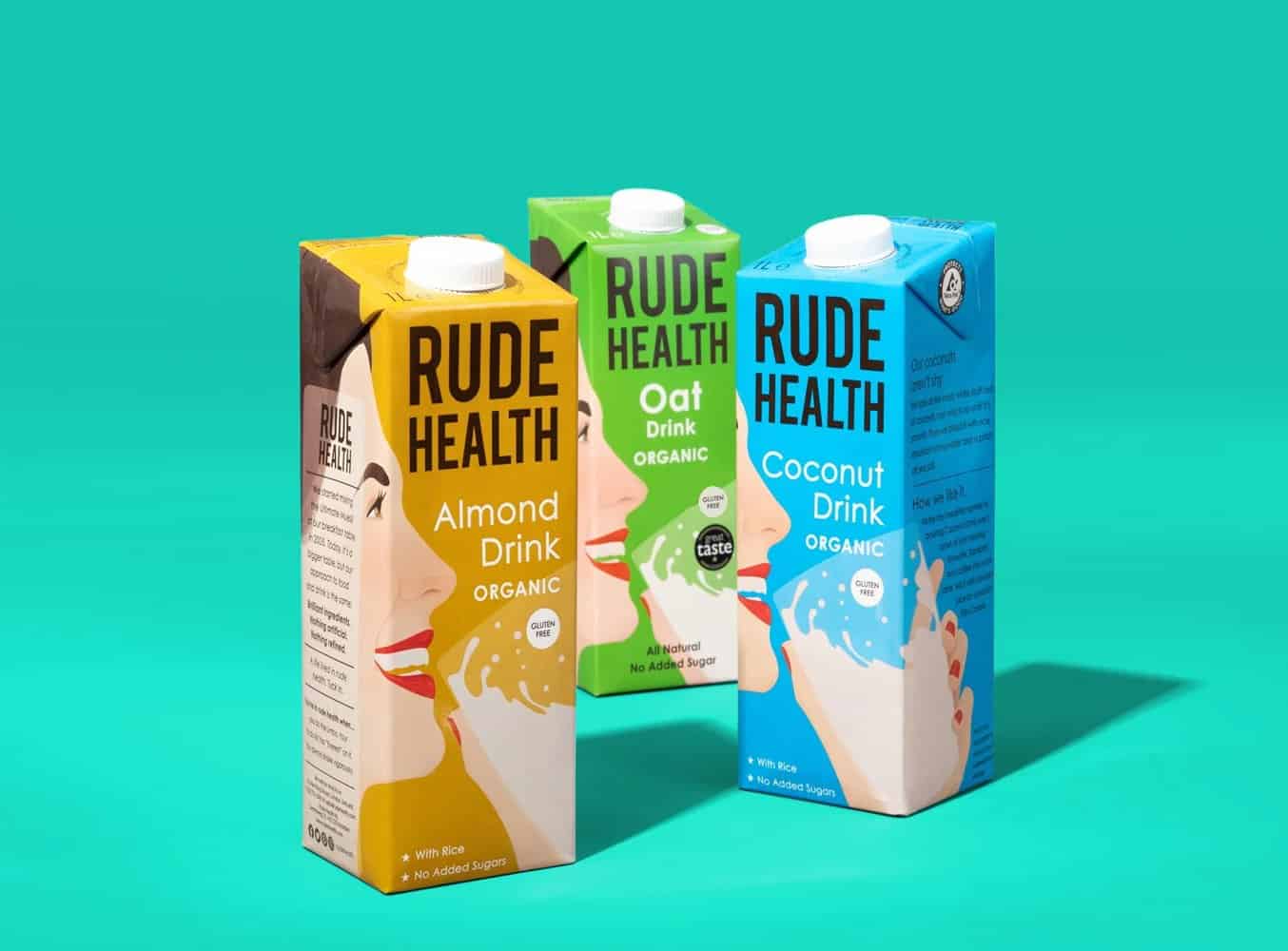 What new developments and cooperations can we expect from Rude Health over the next months?
We are focused on launching our new Organic No Sugars Almond and Oat Drinks, ensuring they are a huge success. Whilst of course making sure our entire range of dairy-free drinks, snacks and cereals are the best they can possibly be, delivering on flavour and functionality to meet our consumers' needs.
"…we are making some simple but exciting changes to ensure the planet is in ruder health"
We're lucky to have our own Rude Health Café which allows us to speak with consumers directly and get feedback on how our products are performing. Looking ahead, we are making some simple but exciting changes to ensure the planet is in ruder health such as moving our chilled range of milk alternatives to a new innovative sustainable carton which contains no aluminium making it 100% renewable and recyclable.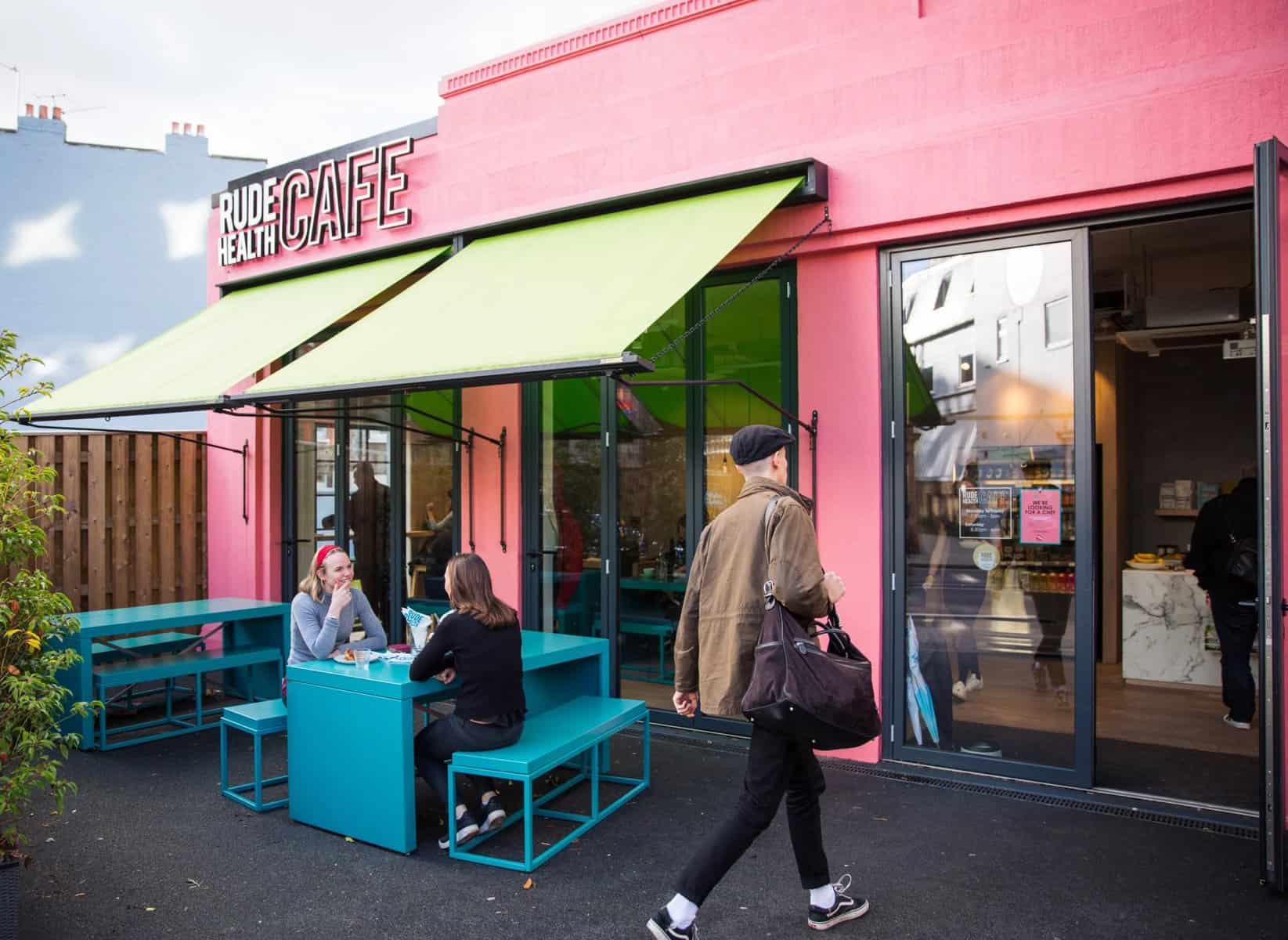 Are you planning on entering any new markets?
Our focus is to build upon our success in the UK and a selection of core international markets where we aim to further strengthen our position. Our amazing team has made great progress in the international markets where we've been able to really focus – and we want to continue this success. The ultimate goal is to be available wherever a dairy-free drink could be enjoyed, in all markets we are in.
Can you give us an insight into your expected forecast for Rude Health over the next 5 years?
Rude Health has got great momentum and we're confident that we'll be able to continue our healthy, sustainable growth over the next 5 years. The macro trend of consumers increasing the proportion of their diet which is plant-based is set to continue – however, consumers are becoming more discerning and sceptical of highly processed plant-based foods.
"Rude Health has grown every year of its existence"
Since launching in 2005, Rude Health has always used the highest quality ingredients, the kind you would find in your kitchen cupboards, with nothing artificial or refined – we were way ahead of our time in this respect and our deeply held values are even more relevant to the increasing number of flexitarian/vegetarian consumers today than they have ever been, making Rude Health best placed to take advantage of these trends.
We're proud of the fact that Rude Health has grown every year of its existence – and we have big plans in place to ensure this continues.