German oat dairy brand Velike! has introduced NOT M'LK, a new fresh oat milk range in returnable glass bottles. Claimed as the first refillable vegan milk on the refrigerated shelf, NOT M'LK's range includes 1.5 and 3.5% fat versions in 1-liter bottles (not to be confused with NotMilk from NotCo).
This initiative marks the brand's expansion into the chilled section and aims to offer nutrition-conscious consumers a high-quality milk alternative in resource-saving packaging. Velike! is a brand of Black Forest Nature GmbH, founded in 2019 to find sustainable solutions to dairy products. The company's oat dairy range encompasses shelf-stable and fresh milk, ice cream, and chef creams.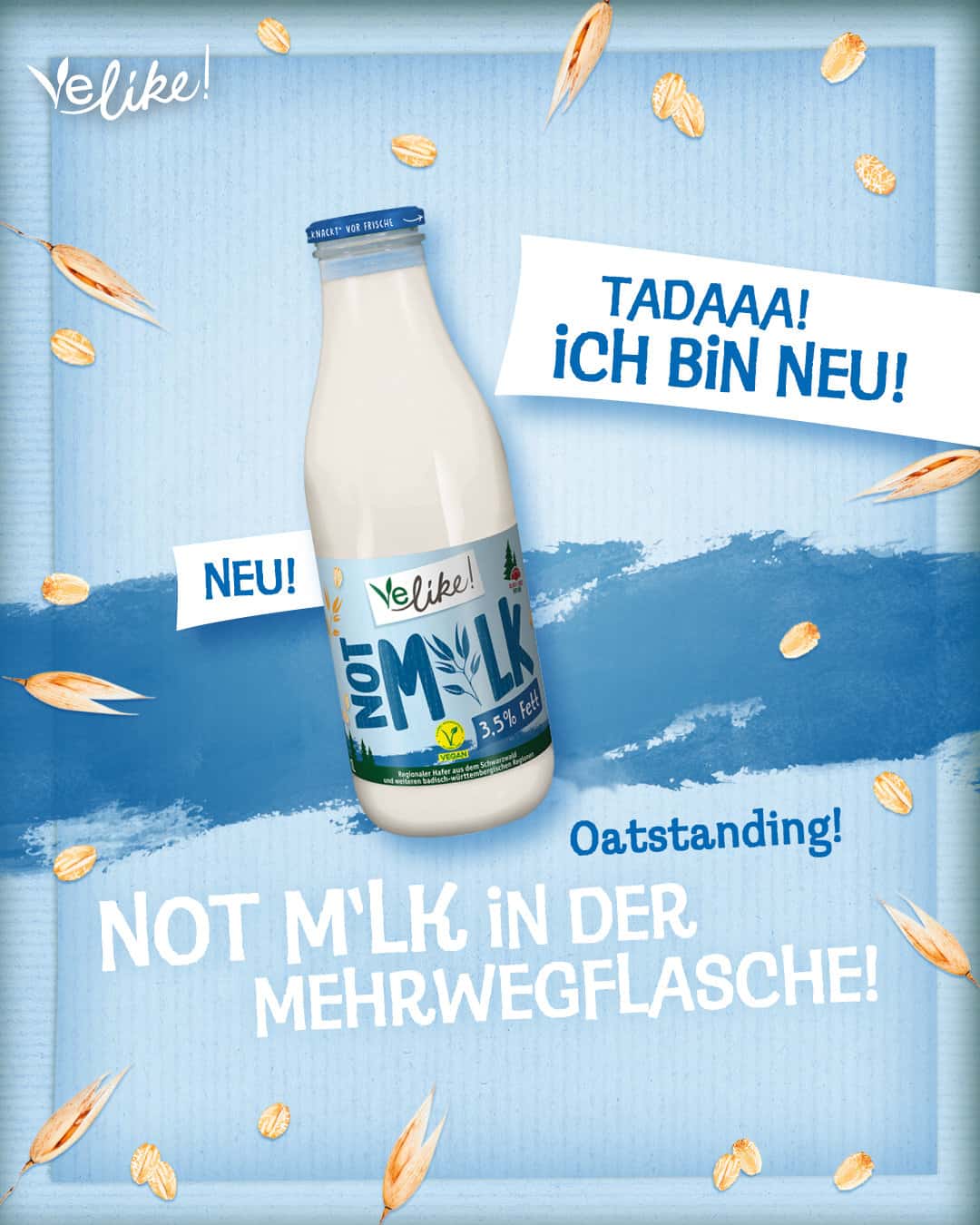 The new fresh oat milk receives a gentle heat treatment, giving it a milk-like consistency and rich flavor. Besides the taste experience, it offers the same vitamin and calcium content as conventional milk, explains Velike! NOT M'LK is lactose, soy, sugar, and coconut fat-free.
The oats used in NOT M'LK are sourced exclusively from farms in the Black Forest and other regions of Baden-Württemberg, ensuring short transportation routes to the company's mill in Lahr, as well as to further processing in Offenburg, promoting sustainable production.
Germany's thriving alt-milk market
A recent University of Hohenheim study revealed that European alt-milk sales grew by 49% between 2020 and 2022, with Germany leading the market. Additionally, Germany was found to have the highest turnover and market potential for milk alternatives due to high levels of awareness about animal welfare, health, and the environment.
"Whether muesli fan, hobby barista, or pure connoisseur — the NOT M'LK lives up to its name and pampers the palates of all those who love the taste of milk but want to resort to vegan products," says Velike!