Miyoko's Creamery, America's leading plant dairy brand known for its award-winning vegan cheese and butter, announces the launch of a new breakthrough Cultured Vegan Pizza Mozz ready for immediate delivery to the food-service industry, and will make its debut in North Californian restaurant chain Pizza My Heart. 
The new mozzarella-style cheese is said to taste and perform like its animal product counterpart and is ideal for pizzas, lasagnas, Philadelphia-style cheese steak sandwiches and Italian style dishes. The first food service partner will be cult favorite pizza chain, Pizza My Heart, debuting in their restaurants in Palo Alto, CA and Monterey, CA.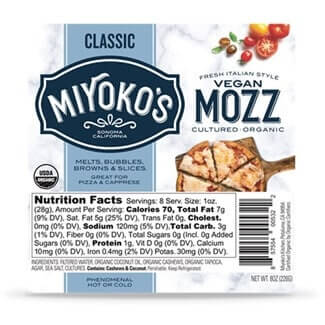 "This new mozzarella, like our new cheddar and pepper jack, is a true game-changer. Based on the reception it has received in taste tests, we know our Cultured Vegan Pizza Mozz will appeal to omnivores as much as it will to vegans and vegetarians," said Miyoko Schinner, CEO and Founder of Miyoko's Creamery.
"We've challenged ourselves in our research and development with the goal of eliminating the excuses to eat more compassionately. People eat a lot of pizza — billions of slices a year. When products made 100% from plants taste and perform like their cow dairy counterparts, it makes it easy for people to switch, and in turn, eat healthier while being more compassionate to animals and our planet."
"While Pizza My Heart has offered vegan options, we haven't always done it well.  We have long searched for a mozzarella with the taste profile that would appeal beyond the hardcore vegan community. This is the first vegan mozzarella that we've tasted that can do that," said Spencer Glenn, CEO of Pizza My Heart. "With Miyoko's Cultured Vegan Pizza Mozz, we truly believe everyone, including our customers who are omnivores, have lactose intolerance or other dietary issues, don't need to sacrifice taste and texture to enjoy our delicious pies and slices."
There will be two versions of the new cheese available to the food-service industry, an organic version made with a cashew milk base and an allergen-free version, made with an oat milk and legume base and made with mostly organic ingredients. Both are non-gmo and made with whole food ingredients. Unique to this cheese is that it comes in a liquid form that is easy and simple to apply in any food service operation.