According to Vegnews, Mrs. Goldfarb's Unreal Corned Beef sandwich will be launched in 58 Whole Foods stores in September. It will be available in the Southern Pacific Region which includes all Whole Foods stores in Central to Southern California, Arizona, and Southern Nevada.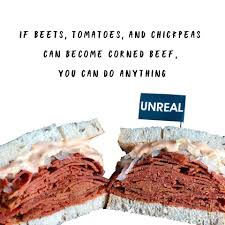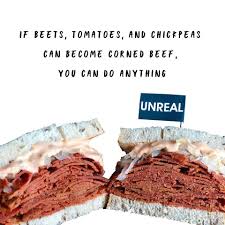 The pre-made sandwich will be sold in the grab-and-go section paired with Mrs. G's Russian dressing and green leaf lettuce on a whole-grain seeded roll.
Jenny Goldfarb founded Mrs. Goldfarb's Unreal Deli, inspired by her great-grandfather, who owned several delis in New York City. This 100% vegan meat is sold in Los Angeles in several traditional-style delis including Canter's Deli, Art's Deli, Factor's Deli, and Izzy's Deli.
In the coming months, Unreal Corned Beef will be available at 27 Gelson's Markets and other health-food stores throughout California. It will also be available in delis and restaurants in New York, Boston, and Washington DC this Fall.
According to its website, Mrs. G's also plans to launch sandwich boxes featuring Unreal Corned Beef that will soon be available for nationwide delivery.
"The recipe took about a year to come together," Goldfarb told VegNews. "When folks started tasting it, we were able to fool many into thinking they were eating real meat. That's when we knew it was more than just a recipe, but a business."