Green Monday is partnering with McDonald's Hong Kong to launch its first-ever vegetarian menu. The leading fast-food restaurant chain will incorporate OmniPork Luncheon into over 280 outlets of McDonald's and 122 outlets of McCafé in Hong Kong and Macau from tomorrow, 13th of October.
This is the second piece of monumental news in recent weeks for Green Monday which announced at the end of last month that it had secured a record raise of $70 million, which is the largest of its kind in Asia.
The menu is not vegan due to the use of eggs in the meals as below, but this is a significant development in the move towards a meat-free future. Vegconomist has enquired as to whether some of these dishes can be ordered without egg and will report further.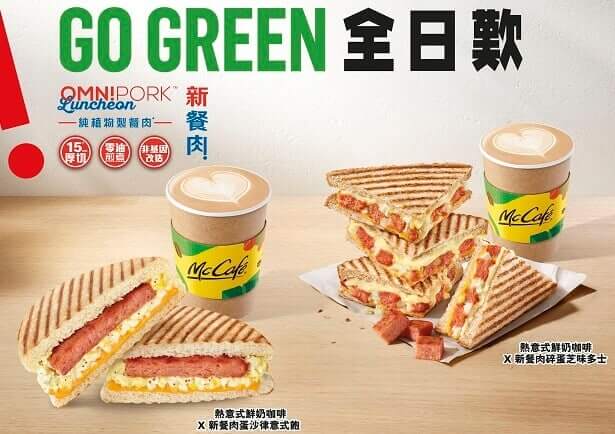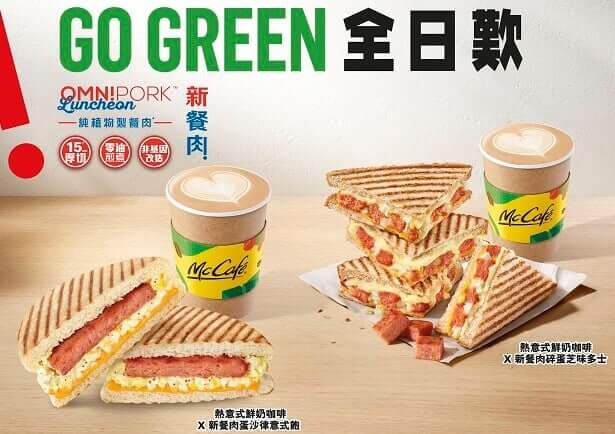 The new menu includes:
OmniPork Luncheon and Scrambled Egg Burger
OmniPork Luncheon N' Egg Twisty Pasta and the
OmniPork Luncheon Breakfast Platter.
OmniPork Luncheon & Egg Cheesy Toastie
Omnipork Luncheon & Egg Mayo Ciabatta
McDonald's has been edging into the plant-based market globally, with Beyond Meat and Impossible Foods both showing interest in gaining places in the behemoth's menus; Beyond having recently been rumoured to launch into McDonald's UK. Both Beyond and Impossible Foods have been making inroads into Asia, which is widely cited to be the next huge growth market for plant-based foods. Choosing a local brand over the western giants is a testament to the strength of Omnipork in the region.
Since the launch of its SPAM alternative in May, Omnipork has been releasing its products throughout foodservice in Asia to great acclaim. Luncheon meat is popular in Hong Kong but the market has been crippled by zoonotic diseases forcing consumers to switch to healthier, more sustainable options.
David Yeung, co-founder and CEO of Green Monday commented, "We are extremely excited to have OmniPork Luncheon available in this leading restaurant chain. With its extensive restaurant outlets in Hong Kong and Macau, we hope more customers can indulge without guilt and embrace green lifestyle anywhere and anytime."