One Planet Pizza, the UK's first and much-loved vegan frozen pizza company, announces today it has partnered with plant-based brands Meatless Farm, the legendary Applewood® Vegan cheese, and Mooshies vegan burger bar, to release a limited-edition Meatless Farm Cheezeburger Pizza.
This limited edition products unites for the first time three influential plantbased brands – Meatless Farm being the fastest growing meat alternative in the category, Applewood Vegan which famously sold out within 24 hours of its launch last year, and plant-based London venue Mooshies for its famous burger sauce.
One Planet Pizza's classic base is topped with a chia seed-infused tomato sauce, layered with Smoky Applewood Vegan Cheeze, topped with caramelised red onions, sliced gherkins and juicy chunks of Meatless Farm burger, then drizzled with Mooshies famous Burger Sauce.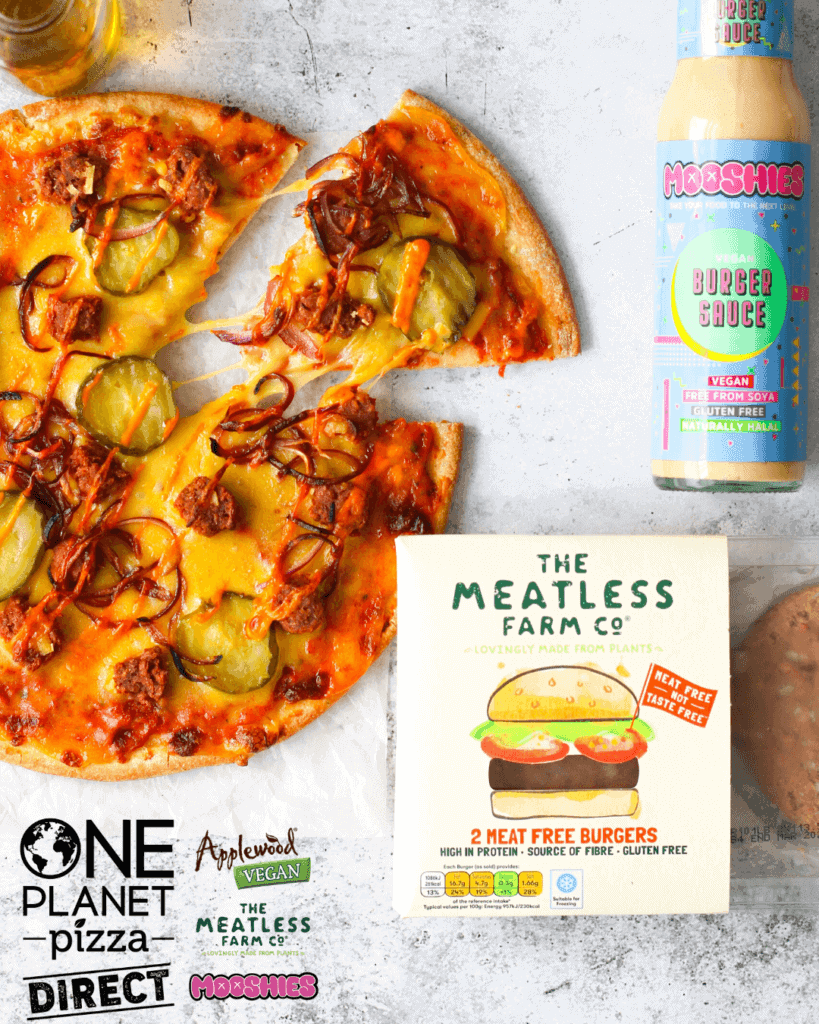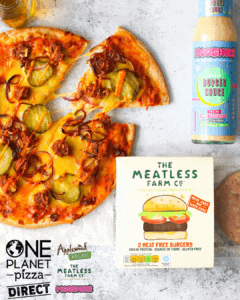 OPP Co-founder Joe Hill, says: "We're certain this is one of the most delicious and epic pizzas we have ever created here at OPP. We've always wanted to produce a cheezeburger pizza, and we think the combination of unique, plant-based toppings we've selected for the Meatless Farm Cheezeburger Pizza makes this the doughbased creation of every pizza lover's dreams! It's smoky, gooey and tastes just like a cheezeburger – without the animals. We're so proud to have combined so many incredible plant-based brands on one base, and we can't wait for you to try it!"
Morten Toft Bech, Founder of Meatless Farm, comments: "What better way to say reducing your meat consumption doesn't mean compromising on taste than a Meatless Farm Cheezeburger Pizza? This tasty combo will make swapping to plant-based food, even if it's once or twice a week, even easier. Whether you're doing this for the benefit of the planet, personal health or animal welfare – it doesn't mean shutting the door to delicious food. Especially when it comes delivered straight to your door!"
The Meatless Farm Cheezeburger Pizza will be available to purchase online from One Planet Pizza's direct to customer delivery service – OPP Direct, as well as online from the Meatless Farm's Farm Shop as a part of their Mega Meatless Combo, for a limited time only.