Multi award-winning Oumph! today announced its expansion in the UK, with supermarket chain ASDA. Five Oumph! products are part of the initial launch, which will take place the week commencing 1st of July: Pulled Oumph!, Kebab Spiced, The Chunk, Thyme & Garlic and The Oumph! Burger.
"We are delighted to confirm our launch with ASDA, as Oumph! is the perfect choice for the increasing number of consumers who are looking for tasty, easy to cook plant-based alternatives", says Laura Weadock, Account Manager at Oumph! and Food for Progress.
Gemma Rutter, Buying Manager at ASDA comments: "The plant-based category is expanding rapidly and with more consumers trying to reduce their meat consumption, Oumph! is perfect for them, for vegetarians and for vegans too. We're very pleased to introduce high quality Oumph! products to our customers as a part of our expanding frozen vegan and free-from range".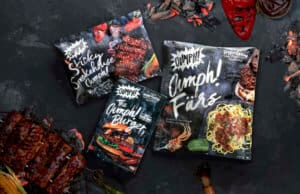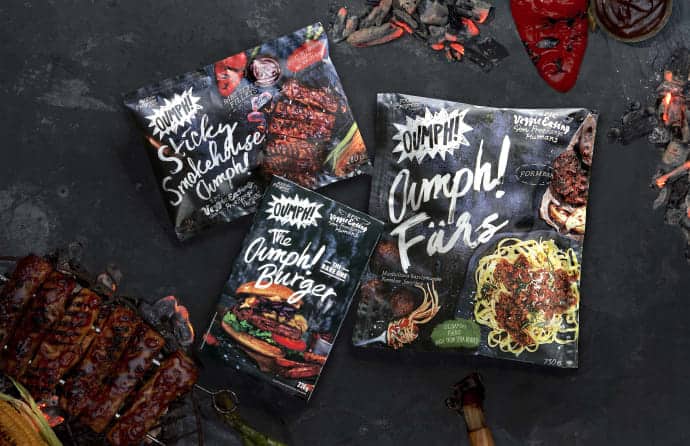 ASDA is the first supermarket in the UK to launch The Oumph! Burger, which weighs 113g, the equivalent of a Quarter Pounder. "The Oumph! Burger launched in the Nordic countries earlier this year, and off the back of that we immediately saw a huge consumer demand in the UK – it's sure to be a plant-based favourite on the barbecue this summer", continues Laura Weadock.
Oumph! at ASDA
Pulled Oumph! – Oumph! chunks in barbecue sauce. SRRP: £3.49 (280 g)
Oumph! Kebab Spiced – Oumph! strips seasoned with kebab spice mix. SRRP: £3.49 (280 g)
Oumph! Thyme & Garlic – Oumph! chunks seasoned with garlic and thyme. SRRP: £3.49 (280 g)
Oumph! The Chunk – Unseasoned, containing only soya beans, water and a little salt. SRRP: £3.49 (280 g)
The Oumph! Burger – Made with soya beans, the red colour comes from beetroot. SRRP: £3.49 (2-pack, 226 g)
Recent awards for Oumph!
Pulled Oumph! recently won three awards in important categories in the World Food Innovation Awards, which was presented at the International Food & Drinks Event (IFE).
Best Plant-based Product.
Best Streetfood Brand.
Best Product for Foodservice/Catering.
Oumph! Thyme & Garlic was recently awarded Gold in the FreeFrom Food Awards in the Store Cupboard category.
Oumph! Kebab Spiced was awarded 'Best New Food Product of the Year', Food Matters Live 2018.
Oumph! The Chunk was awarded Gold 'Food For Food Service', FreeFrom Eating Out Awards 2018.Oumph! Kebab Spiced – awarded Best Vegan Meat 2018 by PETA UK.