Fifteen plant-based burgers had their identities hidden and were served to a panel of testers at Good Housekeeping in the UK, with each burger being judged on its appearance, aroma, taste, and texture. The tested burgers came from several UK supermarkets as well as respected brands such as Vivera and Biona.
Perhaps somewhat surprisingly, in addition to winning Bronze at the 'Free From' Awards 2020, Lidl's W/O Meat Vegan Burger came number one in the Best Veggie Burger category. The burgers retail for just £1.99 and were regarded as superior to brands renowned for quality such as Waitrose and Marks and Spencer.
The Lidl burger scored 84/100 and came with these comments: "An authentic meat substitute with a thick and juicy bite, we loved the earthy beetroot and mushroom flavour and the subtle kick from the light spices. A substantial size, it had a lovely smoky aroma akin to being char-grilled on a BBQ."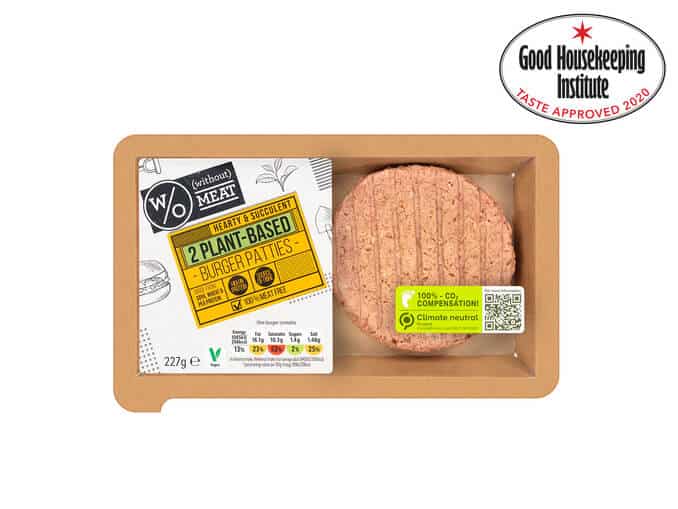 Runners up were:
In 2nd place the M&S Plant Kitchen The No Beef Burger which retails in-store only, £3.50 for 320g.
In 3rd: Biona Sweet Potato Buckwheat Burger via Planet Organic, £4.40 for 160g.
4th – Aldi with its Plant Menu BBQ Jackfruit Burgers available in-store only, £1.79 for 240g
5th – Waitrose & Partners Vegan Jackfruit Burger available in stores and online from Waitrose & Partners, £2.99 for 200g.
6th – Morrisons 4 Spicy Bean Burgers available in stores and online, £1.35 for 454g.
7th – Tesco Wicked Kitchen 2 Jalapeno Griller Patties available in stores and online, £3 for 226g.
8th – Vivera 2 Veggie Burgers available via supermarket stores and online, £2.69 for 200g.
9th – Aldi Plant Menu 2 Spicy No Chicken Burger available in stores only, £1.79 for 240g.
10th – Asda Plant-Based Quarter Pounder available in stores and online, £1.50 for 260g.