Omni, a UK-based vegan dog food brand, has launched a meat-style wet food range after a year of research and development.
The range currently consists of beef and chicken-style options, combined with vegetables for additional health benefits. Both flavours can be purchased either in a can as a full meal, or as a topper sachet to be combined with dry food. Omni plans to develop more flavours, such as lamb, turkey, and salmon, in the coming months.
"Omni's Complete Dog Food gives dogs the juicy and fibrous mouth feel they crave"
According to the brand, pets consume 20% of the world's meat and fish, and feeding a dog a meat-based diet is responsible for as many emissions as driving a Land Cruiser SUV for a year. Switching to a plant-based food such as Omni's could therefore have huge benefits for the environment.
Furthermore, plant-based pet foods often contain as much or more protein than meat-based foods, and tend to be lower in fat. Omni's products are developed in collaboration with Nottingham Vet School and other experts in pet nutrition, including those from the European pet food industry regulator FEDIAF. A study published last year in the peer-reviewed Fortune journal found several statistically significant health improvements in dogs fed Omni's food, including less itching, a glossier coat, and reduced anxiety.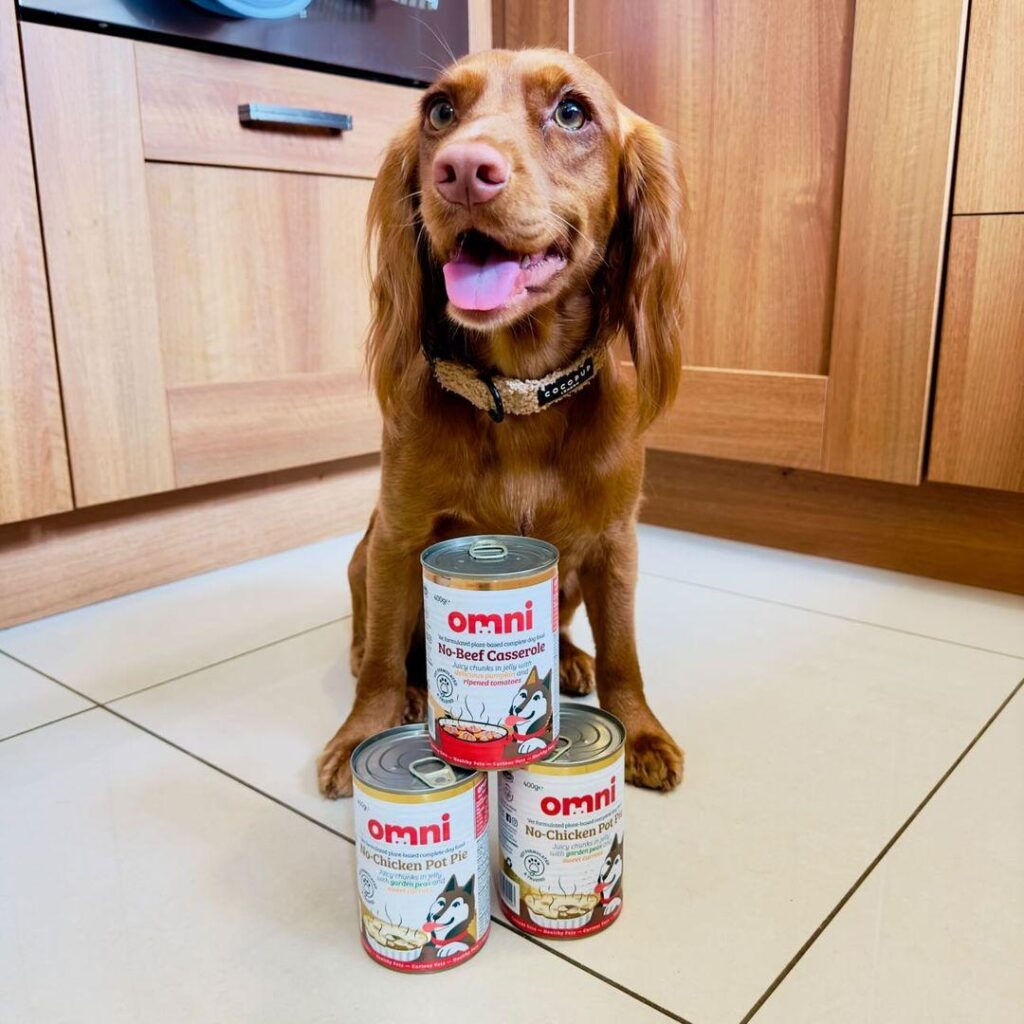 "Flying out of the door"
The new launch follows a highly successful crowdfunding campaign by Omni at the beginning of the year, where the brand set a new record for its category by achieving the £400,000 target within 15 minutes of the campaign going live. Omni sold half a million meals in 2022, reporting a 30% average month-on-month revenue growth since its launch in 2021.
The crowdfunding campaign came just a year after Omni secured £1.1 million from investors such as ProVeg International, Trellis Road, and Kale United. The funding was used to develop a range of functional dog treats, targeting health conditions like joint and skin issues.
"Where previous plant-based wet pet foods have been quite mushy and stodgy, Omni's Complete Dog Food uses proprietary technology to create meaty textures that set the range apart and give dogs the juicy and fibrous mouth feel they crave from their food. In just two weeks, we have already had superb feedback and the range is flying out of the door," said Dr. Guy Sandelowsky, veterinary surgeon and co-founder of Omni.