PLT Health Solutions introduces a new pulse protein solution for the meat alternative sector. In collaboration with its manufacturing and technology partner Nutriati, LLC, the company launches Artesa Textured Pulse Protein which they claim will become the basis of next-generation meat analog solutions.
New Jersey-based PLT says that the pulse protein, derived from yellow pea, is gluten and allergen-free, offering "optimized solutions for creating a 'real meat' experience" and is suitable for applications ranging from hamburgers, meatballs and pizza toppings to chicken, fish and pork products.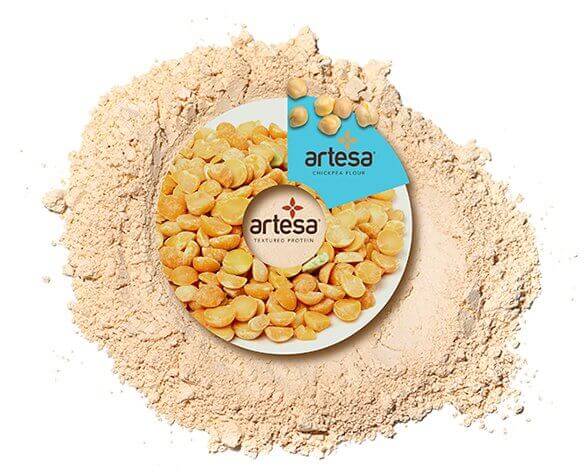 The Artesa Pulse Protein is a combination of Artesa chickpea flour and yellow pea protein. Artesa is not new per se since the chickpea flour component was introduced by Nutriati and PLT Health Solutions in 2018 as a replacement of wheat flour in the development of gluten-free products. The new solution, Artesa Pulse Protein, is soy-free and is produced without the need for other texturizers, binders or emulsifiers, allowing the elimination of ingredients like egg whites, wheat gluten and methylcellulose making it vegan and gluten-free.
Michael Spinelli, Founder and Chief Innovation Officer at Nutriati spoke in a press release about the key element for success with its new product: "Artesa Textured Pulse Protein is the result of several years of research and development by Nutriati's Culinary Team working with plant-based meat producers creating comprehensive solutions to improve manufacturability and finished product quality.
"In a number of cases, we have been able to improve existing formulations and nutrient content while removing ingredients and cleaning up labels. Our formulation and manufacturing expertise is an important part of our teams' ability to deliver unique Textured Protein Solutions to the market."