Pollo Tropical® recently announced that it is now available for delivery through Uber Eats' app or website in all markets across Florida. Delivery includes all fan favorites including its Vegan TropiChop made with Beyond Meat.®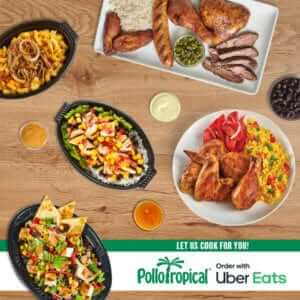 According to Uber Eats data, Pollo Tropical is among the highest searched for brands in Florida. To celebrate the launch, Pollo Tropical will be offering free delivery this weekend from Friday through Sunday.
"Pollo Tropical is always looking for ways to give guests what they want. Our fans clearly want us on Uber Eats, so we are very excited to give them what they have been looking for. Now, they can get the authentic, made from scratch food they love, delivered right to their door," said Richard Stockinger, President and Chief Executive Officer of Fiesta Restaurant Group, the parent company of Pollo Tropical.