brekki, a producer of ready-to-eat overnight oats, recently announced its new product line, Overnight Oats with Ancient Grains & Fruit Down Under. The company's new line follows the announcement of its acquisition by Cedar's Foods. 
The new "twist on oatmeal" uses its signature flavor, The Original, as a base before adding real fruit, fruit purees, and spices to the bottom of the package. The Original is a blend of oats, almonds, almond milk, organic coconut nectar, and ancient grains that include flax, chia, and buckwheat groats.
The Overnight Oats with Ancient Grains & Fruit Down Under comes in five flavors; Apples & Cinnamon, Açaí Berries, Bananas & Maple Brown Sugar, Blueberries, and Strawberries. Two current flavors, The Original and Vanilla are also available in a 5.3 oz, microwavable cup. The new line offers a clean label and all flavors are dairy-free, soy-free, gluten-free, non-GMO, plant-based, and vegan.
"We have been watching brekki fans consistently top their brekki cups with actual fruit and ancient grains," said Greg Peyser, Co-Founder & Director of Sales, brekki. "We know they want more convenience and less effort when choosing a ready to eat snack or meal. Our new product line takes the prep work out, providing the consumer with a delicious Overnight Oats option – convenient, complete, healthy, and versatile. Perfect for today's busy, health-conscious consumer."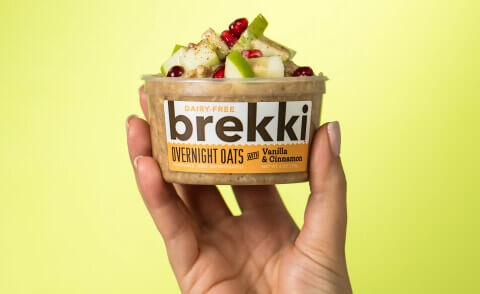 Cedar's Foods' acquisition lends distribution and marketing expertise to lead the brand to national retail partnerships. brekki products are co-packed at Cedar's Foods' production facilities in Haverhill, MA, utilizing Cedar's proprietary proven technology and processes.
"We have great insight into what our target consumers are looking for," said Nick Scangas, COO, brekki. "This new product supports consumers in living a balanced, healthy lifestyle by enjoying a product that 'checks all the boxes' for flavor, ingredients, and nutrition, with ready-to-eat convenience. There is no storing, washing and slicing fruit or chopping nuts required. The Fruit Down Under line is a perfectly balanced solution so consumers can focus on enjoying this delicious product while going about their busy lives. The texture and mouthfeel of true, whole ingredients are a testament to our commitment of making products we can be proud of."