As published on CNBC.com, a recent partnership between Pizza Hut and Kellogg's to launch the non-vegan Stuffed Cheez-it Pizza this week could lead to the addition of Kellogg's new Morningstar Farms vegan brand, Incogmeato, to Pizza Hut's menu. According to Pizza Hut's Chief Brand Officer, Marianne Radley, the companies are brainstorming new ideas for 2020.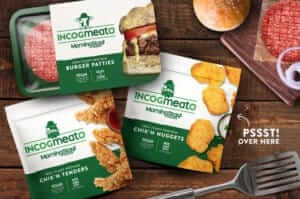 Earlier this month Kellogg's announced Incogmeato – its new plant-based product line. The portfolio includes ready-to-cook vegan burgers, Chik'n tenders, and nuggets. Made with non-GMO soy, the brand will hit grocery stores and foodservice in early 2020. 
Radley stated that Pizza Hut is looking into the plant-based meat trend kickstarted by Beyond Meat and Impossible Foods, but the product would have to taste good, hold up well in delivery, and not add too much extra work for employees. "It's a natural conversation that we're having with Kellogg's and with some other suppliers as well," she said.
Louisville, Kentucky-based Yum! owns Pizza Hut, Kentucky Fried Chicken, and Taco Bell. Kentucky Fried Chicken recently partnered with Beyond Meat to offer limited-release vegan menu item Beyond Fried Chicken at one of its Atlanta, Georgia restaurants. The menu item sold out in five hours. Taco Bell also provides a customizable menu that allows customers to make vegan choices by swapping beans for meat or ordering an AVA-certified vegetarian item, 'Fresco Style.' Taco Bell will also be targeting a national rollout of its vegetarian menu later this year. 
We reported in May that Pizza Hut had denied that it would be offering vegan cheese in its US locations. We will continue to report on any updates from Pizza Hut on the addition of vegan options.