A report of the most important trends between 2018-2022 by Technavio observed that over the last decade, the number of people preferring vegan diets has increased by 300%, and identified the global vegan ice cream market as a key market trend which is expected to continue to its growth within this period. The vegan ice-cream market will reach $2.45 billion by 2027 according to a further report by OpenPR, which predicted that "Towards the end of 2027, the global consumption of plant-based ice-creams will reach 500 thousand tonnes"
Technavio's senior analyst in food research stated, that to cater to the rising demand for vegan products, "Players in the market are also coming up with new and innovative flavours of vegan ice creams," and as such the fastest growing product was shown to be artisanal vegan ice cream, making up almost 8% of the total market share by 2022.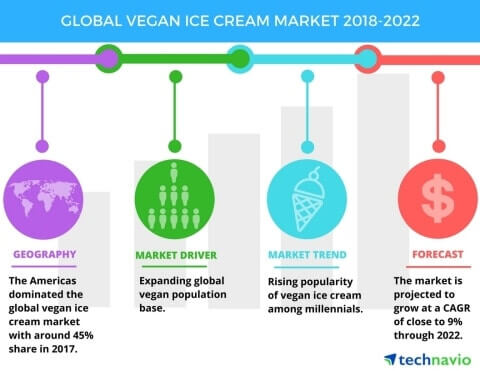 In this article we discuss ten brands currently on the market made through key players who have recently received mainstream media coverage within vegan media outlets with the following products.
So Delicious
So Delicious offer an extensive range of ice-cream and frozen desserts, made from cashew milk, coconut milk, soy milk and almond milk. The range includes ice-cream bars and sandwiches, gluten free products, no-added sugar products. The ingredients are non-GMO and the goods appear to be palm oil free but contain vegetable glycerine.
Ben & Jerry's
Ben & Jerry's have seen huge success in the vegan sector, with 20% of their products currently suitable for vegans. They are fair-trade, almond- based, and do not include palm ingredients. "We've partnered with Vegan Action over in the US to certify that our non-dairy doesn't include animal products of any kind – including eggs, dairy or honey."
Coconut Bliss
Coconut Bliss were described by our correspondent as "One of the most ethical companies I've come across in my research." Their 23 products are dairy-free, gluten-free, GMO free, and fair trade. The ingredients are sustainable and do not include palm oil. Coconut Bliss is available across North America and in some European locations, and they have been awarded various awards and high praise for their work.
Oatly
Oatly now offer tubs of traditional flavours vanilla, chocolate and strawberry ice-creams. These products contain palm oil, so not suitable for ethical vegans who choose to avoid this ingredient.
Häagen-Dazs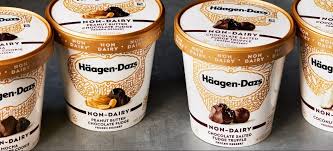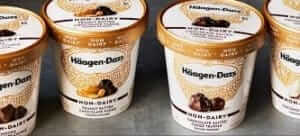 Haagen Dazs first launched to vegans in 2017 and expanded their non-dairy range in April of this year to great success. The line now includes seven dairy-free ice creams and a dairy-free ice cream bar. There is no palm oil listed on the ingredients.
Tofutti
Tofutti were the first non-dairy frozen dessert to be sold to the general public through supermarkets. The six flavours available are Almond Bark, Better Pecan, Chocolate, Vanilla Fudge, Vanilla, and Wild Berry Supreme. The ingredients are non-GMO. These products contain palm oil.
Cado
Cado is the new kid on the block, the world's first ice-cream made of avocado. Their product has been described as a hot new trend and has already received a large amount of positive press from the vegan and mainstream media. At present they have three flavours, available across North America, which are palm oil free.
Whole Foods
Whole Foods launched a new line of vegan ice-cream in May this year as part of their 365 Everyday Value line. Available in North America, with a wide range of flavours which are nut-based, gluten-free, and non-GMO. We have contacted Whole Foods to enquire as to whether these include palm oil.
Halo Top

Halo Top's ice-creams are made with coconut and are soy-free. Several of the products are also gluten-free. Five of the 14 products available were shown to include palm oil. In a press release last week, Halo announced the launch of four flavours to the Canadian market: Peanut Butter Swirl, Toasted Coconut, Birthday Cake and Chocolate, stating that the response in Canada had been "incredible".
Safeway
Safeway announced this week the launch of seven vegan ice-creams in their Open Nature line, which interestingly started out as a line of meats. Four of these goods are made with an almond base and three using cashew milk. A list of ingredients was not yet available at time of writing.