Choc Affair, an ethical chocolate brand based in York, UK, has added several new plant-based options to its range.
The new products include Oat M!lk Hot Chocolate and Oat M!lk Chocolate Buttons, with the latter available in "milk" and white chocolate varieties. Additionally, the brand has launched dark chocolate versions of both products, which are also suitable for vegans.
All five options have been certified by The Vegan Society and are packaged in fully recyclable paper pouches. They are made with single-origin Colombian cocoa, which the brand pays extra for in order to help fund reforestation projects.
Choc Affair already offers an extensive range of vegan-friendly chocolates, including Oat M!lk bars in the flavours Classic, Salted Caramel, Lemon & Raspberry, and Orange & Rhubarb. The brand's dark chocolate bars, available in various flavours, are also free of animal ingredients.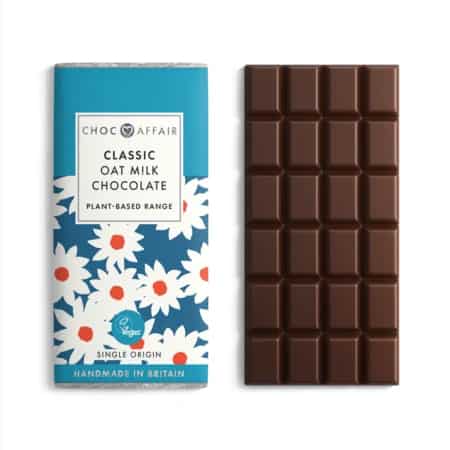 The vegan chocolate market
Several reports this year have looked at the future of the vegan chocolate confectionery market. They predict that the global market will be worth $1.3 billion by 2027, growing with a CAGR of 15.84%. Growing concerns about animal welfare and environmental issues are believed to be the key drivers.
The research also suggests that vegan chocolate producers are increasingly exploring new ingredients. Examples include sunflower — used for the first time by Cargill earlier this year — and nature-identical dairy proteins made using precision fermentation.
"Vegan claims are popping up everywhere, as consumer preferences shift toward products they perceive as better for themselves and the planet. In response, many of our confectionery, bakery, and dairy customers are exploring vegan formulations," said Ilco Kwast, commercial director at Cargill.