Much-loved sauce brand Henderson's Relish, based in the north of England, has launched bagged snacks made from soy and potato.
Called Hendo's, the snacks have the spicy flavour of Henderson's Relish and are compliant with the UK's new HFSS (high in fat, sugar, and salt) regulations. This means they will not face marketing restrictions when the regulations are introduced in October. The snacks are gluten-free and suitable for vegetarians and vegans.
Henderson's Relish was launched in Sheffield in 1885, made from tamarind and vinegar along with spices such as cloves, cayenne pepper, and garlic. The new snacks have already launched in the brand's home city, and are being rolled out across the rest of the UK.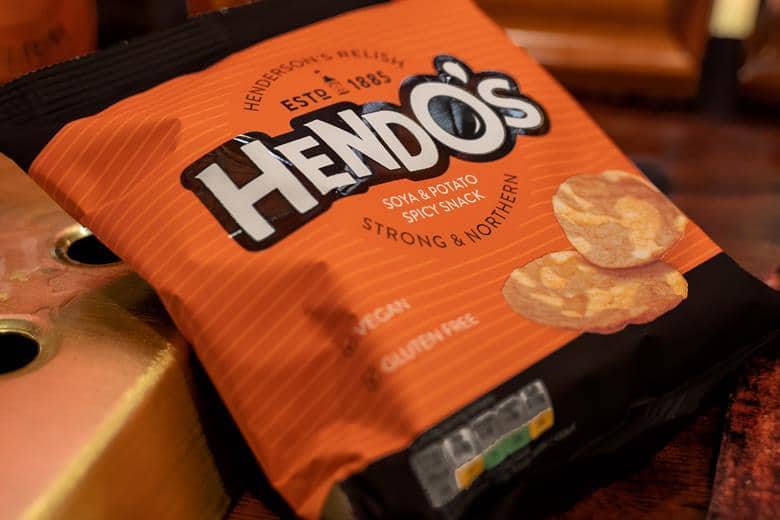 Legume-based snacks
Savoury bagged snacks are usually made from potatoes or grains, but many brands are exploring more nutritious and higher-protein alternatives. In the US, PeaTos has developed snacks that replace corn with peas, and several UK snack brands also use legumes — such as chickpea-based brand HIPPEAS. Similarly, Hendo's snacks combine potatoes with soy to improve their nutritional value.
"We're delighted with new Hendo's, they taste great!" Henderson's Relish general manager Matt Davies told The Star. "Hendo's are suitable for vegans and vegetarians, are gluten-free, and are healthier than fried crisps – they are lower in fat, sugar, and salt."