Kallø, the UK's leading jumbo rice cake brand, owned by Ecotone UK, is building on the success of its £25M1 snacking portfolio which includes its much-loved Veggie Cakes made from lentils and peas, with the launch of its first plant-based and gluten-free cracker, Kallø Veggie Thins.
Entering the UK's crispbread and crackers category, which according to Kallø is booming with a market value of £334M4, the new Kallø Veggie Thins are crunchy snacking flatbreads, made with chickpeas, baked not fried, and contain no artificial colours, flavours, or preservatives. The product debuts in three flavours: Kallø Veggie Thins Rosemary & Sea Salt; Kallø Veggie Thins Mixed Seeds; and Kallø Veggie Thins Beetroot & Mixed Seed.
Younger consumers pay more for healthy innovations
The crispbreads target the under-28's demographic which is documented as willing to spend more on healthy options and innovations, with the company noting that Veggie Cakes spend over index is three times in comparison to rice cakes5. Kallø reports that it has witnessed £7.1M2 in sales since the launch of its expanding Veggie Cakes portfolio, growing at +75% year-on-year3 as UK consumers look more towards healthier snacking options.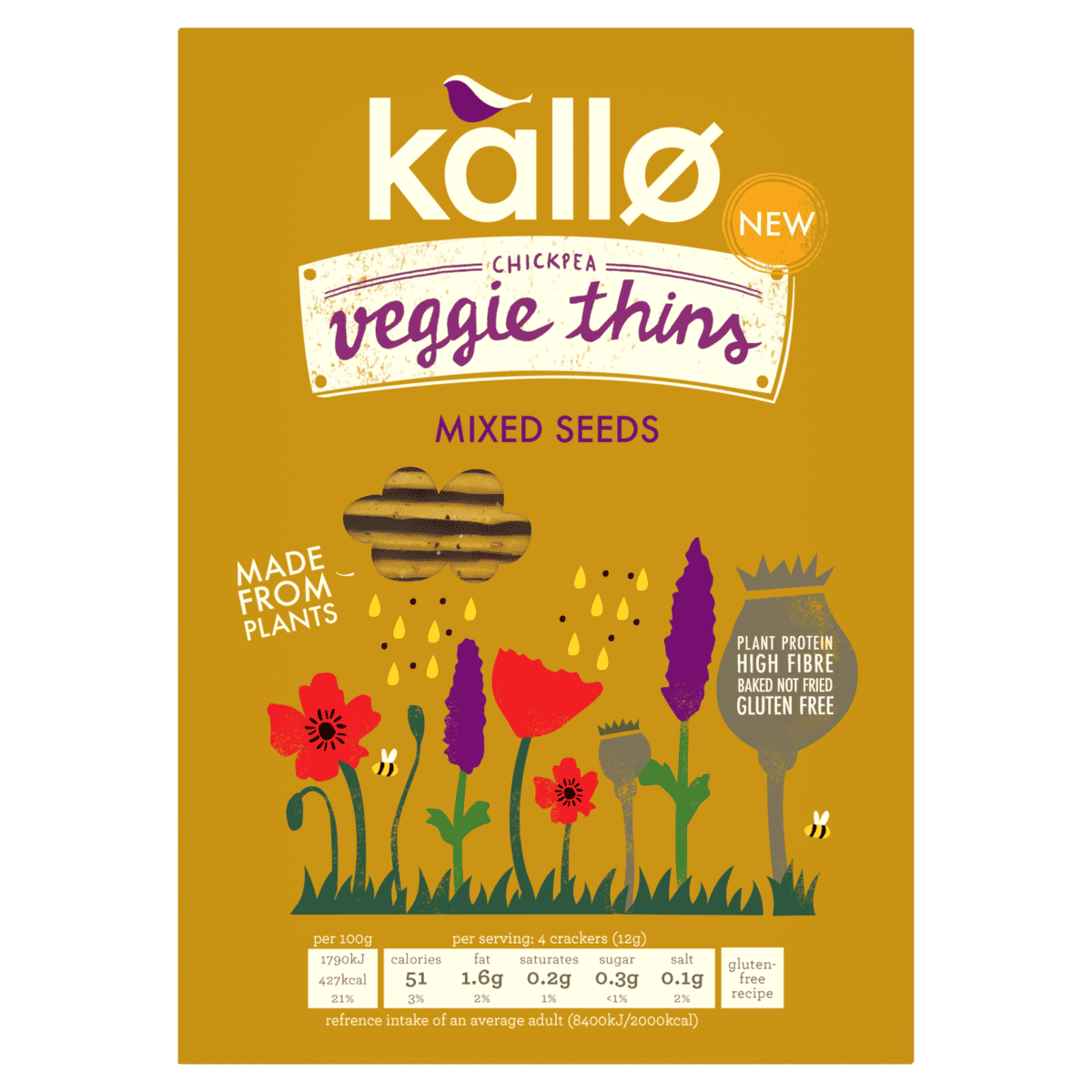 Marketing Director Adele Ward comments: "It's at Kallø's core to deliver delicious healthy products suitable and accessible for all, while making sure it's also the right thing for the planet. We're also meeting the rising consumer demand for plant-based and gluten-free products that can be enjoyed at any occasion. Our goal is to continue transforming snacking with healthy and innovative products that don't compromise on taste. With Kallø Veggie Thins, consumers can be proud to enjoy them both at the dinner table and as part of the ultimate sharing board.
"As with our wider portfolio, Kallø uses natural ingredients to provide healthier, everyday snacking solutions. Veggie Thins are a source of plant protein and help bridge the fibre gap – with an estimated 91%7 of consumers not getting enough fibre in their diets."
The range is initially launching into Waitrose as a major multiple exclusive from 23 October 2023, RRP £2.99, with an introductory promotion offer at £2.
Sources: 1-5: Circana, 52w/e 9 Sept 23, RSV, 6: Kantar data to 3rd September '23 Total Rice cake % of spend to <28's @ 4.0% vs 12.2% for Kallo Veggie Cakes), 7: Food & Drink Federation, Action on Fibre