Moving Mountains has been best known so far for its beeflike burgers, sausages and hot dogs, and now amid the releases of several pork alternatives around the world, and perhaps as a UK competitor to Impossible pork, the brand debuts its No-Pork Burger.
UK originated, international brand Moving Mountains develops products that come as close as possible to animal meat in terms of appearance, taste, smell and bite, in order to appeal to flexitarians and those who enjoy the taste of animal products. The structure of the No-Pork Burger is said to reflect the taste and texture of pork and contains natural ingredients like oyster mushrooms and beetroot.
Moving Mountains was present at the Dutch catering fair Horecava last week, and was well visited on their stand. Visitors were able to taste all vegetable products from the Moving Mountains range, including the new No-Pork Burger, and were pleasantly surprised. A few heard remarks: "Plant-based? Seriously?", "I'm not a vegan, but I think it's interesting to eat less meat and this is a good solution. The taste is the same, so why not?" and "I really like the bite. The texture and taste are very good on the palate."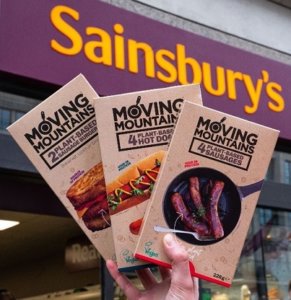 Products popular in supermarkets

Moving Mountains says it no longer focuses solely on restaurants, but also on the retail sector, as more and more EU retailers are incorporating Moving Mountains products into their range. The new No-Pork Burger was recently added by Sainsbury's, and the other products are available in retail in the Netherlands. The company says it is only a matter of time for the new No-Pork burger to be on the shelves of supermarkets on mainland Europe.
Jan Zandbergen will be the EU distributor for this new No pork burger product.