Wendy's, the popular North American burger chain has created its own vegan burger for its Canadian locations, in a bid to take a share of the plant-based revolution.
Not to be left behind, Wendy's has made the bold move not to enlist tried and tested products like other QSR's, who commonly team up with established companies like Beyond Meat, and have ventured out on their own.
The Plantiful, a patty with a pea-based protein and comes dressed with lettuce, onions, pickles, tomato and ketchup on a premium bun, is crafted in Canada.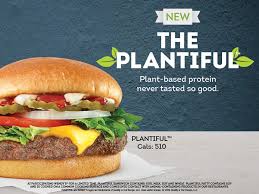 Wendy's says it wants to ensure that the evolving preferences of consumers are met with The Plantiful, as more Canadians crave new plant-based food options. Wendy's believe it was thoughtful in its approach to create a product with the highest standards of taste and quality, at an approachable price.
The product appears to be aimed at flexitarians as the downside is noted in the ingredients section of its website and that is that the buns are cooked in a common toaster with products that contain milk. Also, vegans should be aware that the cheese and mayo offered as standard is not dairy-free – so must be careful to order without these.
Wendy's was founded in 1969 in Columbus and has traditionally had a meat-heavy menu. Its mantra has always been to serve fresh food. In recent years they have realised the enormous growth in the plant-based market hence this introduction to keep up with consumer demand. The company and its franchisees employ hundreds of thousands of people across more than 6,700 restaurants worldwide.
Lisa Deletroz, Senior Director, Marketing, Wendy's Canada has stated in a recent press release: "Plant-based product offerings have become an expectation of Canadian consumers. We developed a flexitarian option the Wendy's Way — using high quality, flavourful ingredients — and this resulted in what we believe is the best plant-based burger available to Canadians. No one does food like Wendy's, and the idea of offering the same product as other competitors was simply not an option for the Wendy's Canada team."