Great news for vegan wine – wines labelled with the biocyclic vegan quality seal, which guarantees the product is vegan from cultivation to production, are now available on the market.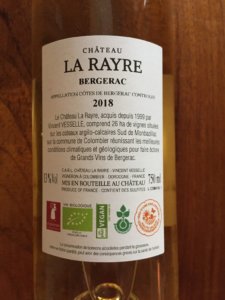 Vincent Vesselle has been producing organic wines from his vineyards of Château La Rayre, located in the Dordogne region of France, for more than ten years. The climatic and geological conditions on the clay and limestone slopes south of the village of Monbazillac are ideal for producing great wines. The prize-winning wines of Château La Rayre can be found on the wine lists of many renowned restaurants from France to Japan.
Veselle has now become the first certified biocyclic vegan winemaker in the world. The winemaker first became aware of biocyclic vegan agriculture through the French association, "Agriculture Biocyclique Végétalienne ".
Biocyclic vegan wine – what does it mean?
Only a wine labelled as vegan guarantees that no additives of animal origin—egg whites or gelatin—have been used throughout the whole winemaking process. The biocyclic vegan quality seal offers even more transparency—and a solution. It is a vegan form of organic production, which completely dispenses with commercial animal husbandry and slaughter and does not require any inputs of animal origin, which often include slaughterhouse waste, to produce high yields.
As a result, many organic winegrowers have expressed great interest in labelling their products with the biocyclic vegan quality label in addition to the vegan labels that are currently used. Further biocyclic vegan certifications are already in preparation.
From 12th to 15th February 2020, the International Biocyclic Vegan Network will showcase a range of biocyclic vegan products at the world's leading organic trade fair – the Biofach in Nuremberg. Representatives can be found in the section "Experience the World of Vegan".