Mycelium innovator The Better Meat Co. reveals it recently hosted "Night Under the Fermenters" – a special dinner to showcase the versatility of its Rhiza mycoprotein ingredient. Featuring 10 different courses, the fine dining experience offered guests a "taste of the future" with mycoprotein-based bacon, chicken, turkey, foie gras, caviar and even baked desserts.
"This is a whole food, high-protein ingredient that can make magic in both animal-free meat applications as well as meat hybrids"
Taking place March 14 at Better Meat's fermentation headquarters in West Sacramento, CA, the exclusive dinner featured notable guests, including Elysabeth Alfano from Plant-Based Business Hour and Didier Toubia, CEO of Aleph Farms. Guests, who reportedly paid $300 each, dined while immersed in the presence of Better Meat's mycelia fermenters, an active 3D printer and microscopic mycelium artwork.
The menu was curated by BMC research chef Jared Goldstein and prepared alongside Chef Dara Yu (winner of Food Network's "Master Chef"), Chef Franco Fugel (Team USA representative for the Bocuse d'Or), and Chef Marco Maletis (of Thomas Keller Restaurant Group).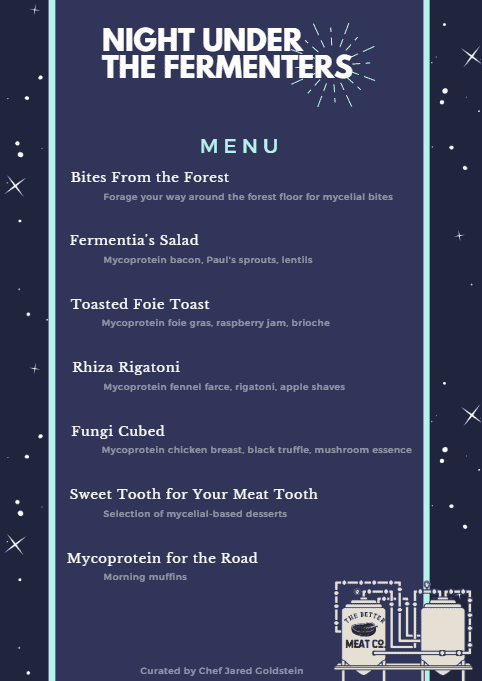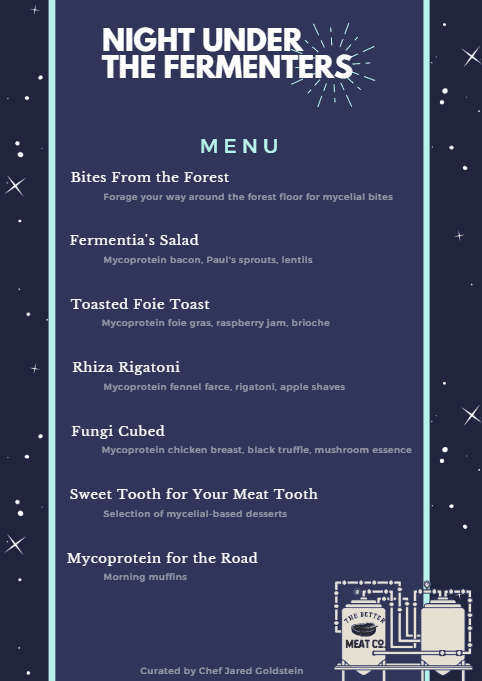 Menu items included:
Fermentia Salad – Mycoprotein bacon, Paul (Shapiro's) sprouts, lentils
Toasted Foie Toast – Mycoprotein foie gras, raspberry jam, brioche
Fungi Cubed – Mycoprotein chicken breast, black truffle, mushroom essence
Mycoprotein for the Road – Morning muffins
Founded in 2020, The Better Meat Co. uses fungi fermentation to create a wide range of realistic, animal-free meat products. Its star ingredient is Rhiza mycoprotein, which is derived from a unique species of fungus long used in the production of tempeh. In November 2022, Better Meat announced it had received a fourth patent for its proprietary mycelium fermentation technology.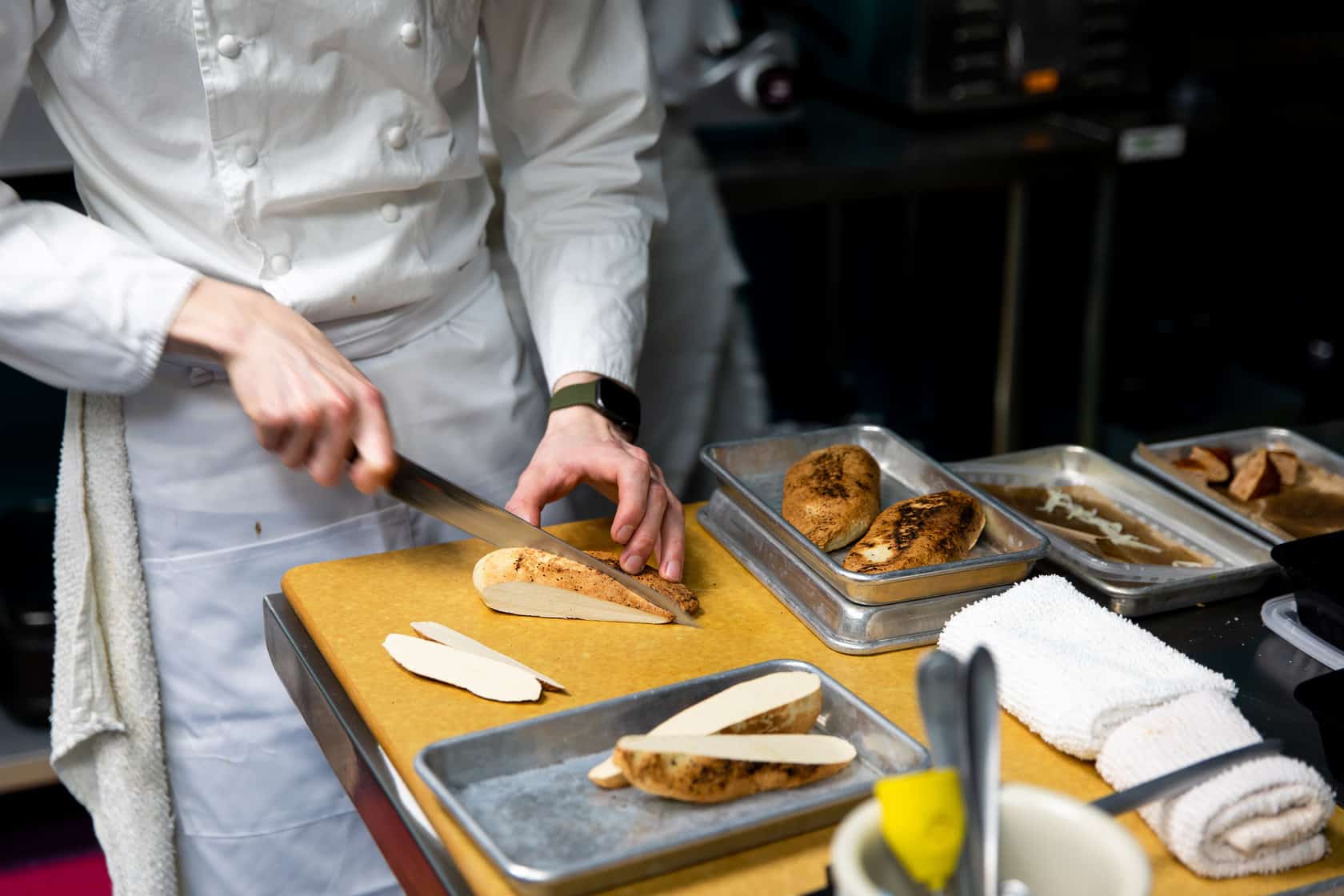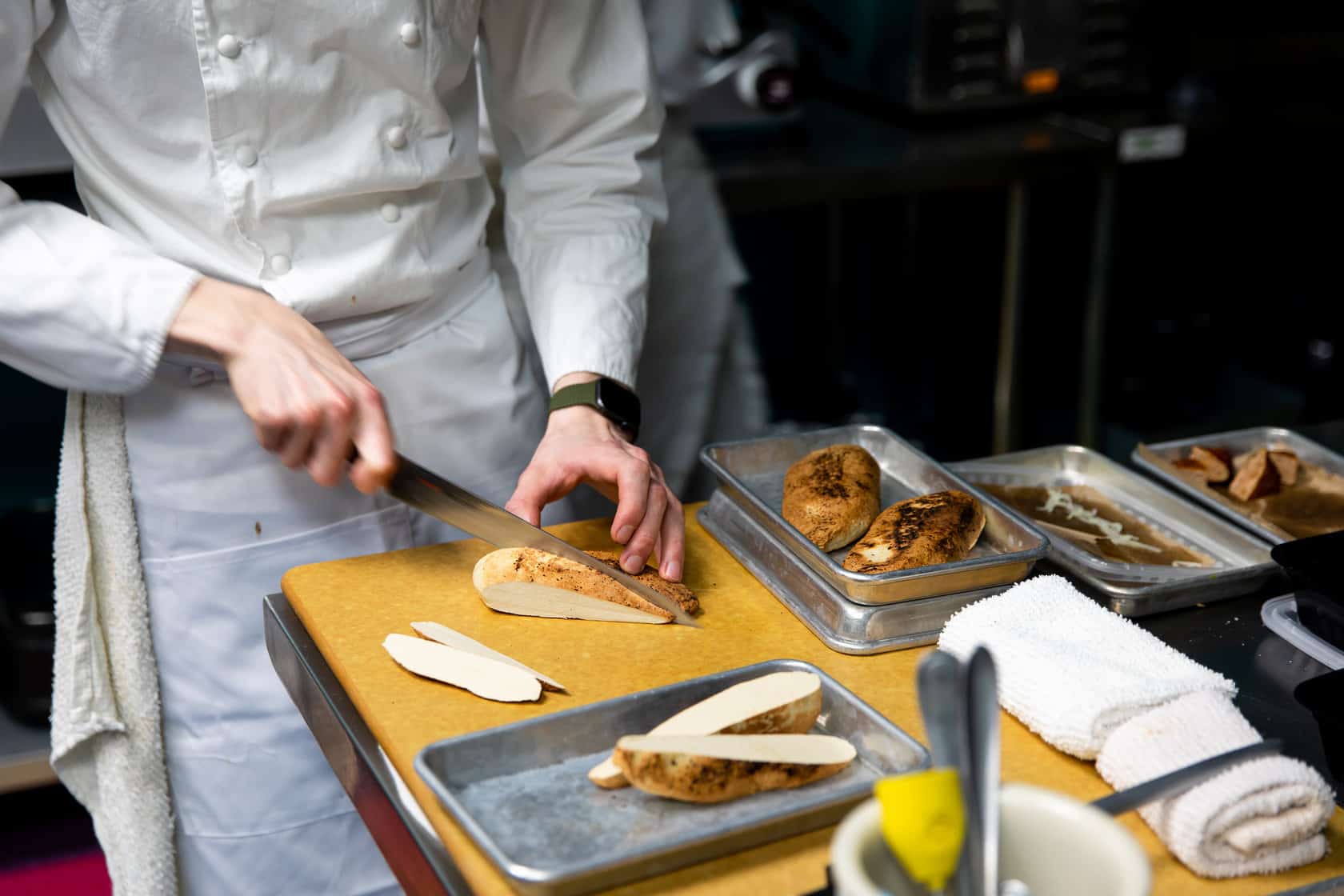 The following month, the company partnered with Greenleaf Foods, the plant-based division of Canadian meat producer Maple Leaf Foods, to explore alt-meat development using Better Meat's Rhiza ingredients and fermentation tech. To date, Better Meat has raised $9.6M in funding.
"We're honored to showcase the versatility of our Rhiza mycoprotein ingredient," shared Better Meat Co. CEO Paul Shapiro. "This is a whole food, high-protein ingredient that can make magic in both animal-free meat applications as well as meat hybrids."