Alt protein startups Oshi (the company formerly known as Plantish) and The Better Meat Co. announce the two companies have jointly been awarded a USD $1M grant from the BIRD Foundation.
Intended to promote R&D that mutually benefits both Israel and the US, the Binational Industrial Research and Development (BIRD) grant will support the work of Oshi and The Better Meat Co. to develop mycoprotein-based salmon fillets.
"Our goal is to create better alternatives to salmon with our friends at Oshi so we can leave more fish where they belong: in the water"
According to the companies, human activities like overfishing, dams and logging have severely impacted many wild salmon populations, leading to steep population declines and even extinction. In the Atlantic Ocean, it is estimated that 99.5% of all native Atlantic salmon has disappeared from the wild. Despite this ecological crisis, consumer demand for salmon continues to grow each year.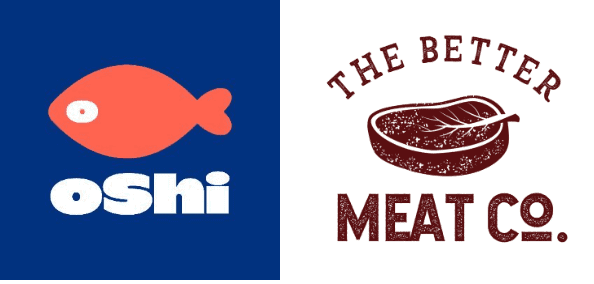 Now, Oshi and The Better Meat Co. are working to address this issue by using the BIRD grant to create mycoprotein-based salmon filets. Described as a healthy and humane alternative to salmon, the fillets are made by combining Oshi's 3D technology with The Better Meat's innovative mycoprotein fermentation technology. The high-protein, minimally processed whole cuts will deliver the same taste and nutrition found in conventional fish, the companies state.
Better than the real thing
Based in Rehovot, Israel, Oshi has set out to create the world's "first" whole-cut plant-based salmon. In 2022, the startup completed the development of a prototype – a boneless fillet with the same amounts of protein, B vitamins and omega-3 fatty acids found in traditional salmon. The company notes that, unlike salmon, its product is free from toxins like microplastics and mercury.
Oshi has raised $14.5M in funding and plans to launch its first products in US restaurants later this year. "We're honored to be selected for this prestigious grant with The Better Meat Co. and look forward to reducing pressure on our finned friends by making alt-salmon fillets that are better than the 'reel' thing," says Oshi co-founder Dr. Ariel Szklanny.
Harnessing fungi
Located in Sacramento, California, The Better Meat Co. is harnessing mycelium fermentation to create B2B ingredients. In 2022, the company received a fourth patent for its proprietary fermentation tech and most recently formed a scientific advisory board to advance the use of mycelium in alt protein.
"Humanity only stopped harpooning whales once there were better alternatives to whale oil," said Joanna Bromley. "Our goal is to create better alternatives to salmon with our friends at Oshi so we can leave more fish where they belong: in the water."