Chilean plant-based company NotCo announces a partnership with Burger King Colombia to offer flexitarians a veggie menu and continue the expansion of the plant-based movement across LATAM.
"More and more people believe that removing animals from the equation is the answer"
Using the slogan "We declare ourselves Flexitarians!", the fast food chain has added three new items made with NotCo's plant-based meat and chicken: Veggie Whopper (previously served with The Vegetarian Butcher's burger patty), King Veggie, and Nuggets Veggie. The new options are promoted as 100% plant-based, but it's yet to be specified if the bread and sauces are vegan.
"Hey, burger lovers from Colombia! We're feeling like royalty with the new veggie line from Burger King that joins the plant-based movement. More and more people believe that removing animals from the equation is the answer for a more sustainable yet equally delicious world. Let's move the needle one tasty bite at a time," says NotCo on social media.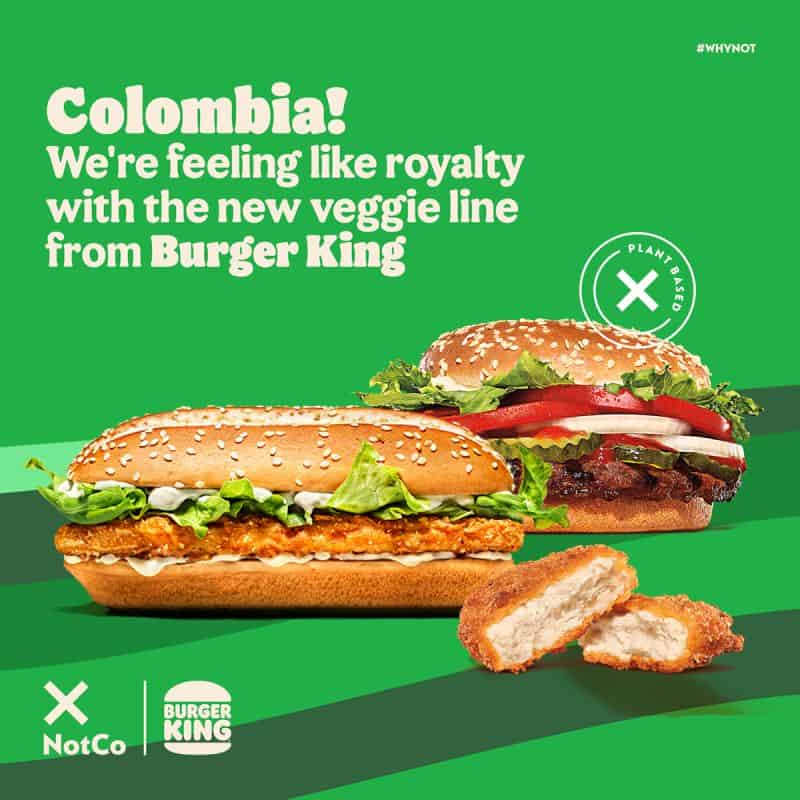 NotCo in LATAM
In July 2022, also targeting the flexitarian consumer (who is said to drive the growth of the plant-based market globally), NotCo announced a partnership with Burger King Chile to launch plant-based chicken sandwiches and nuggets.
In January, to coincide with Veganuary, Starbucks Mexico announced the expansion of its food menu by introducing two new plant-based options made with NotCo products: NotChicken Baguette and NotBurger Baguette. In February, the Chilean company also entered another collaboration with BK Peru to bring its plant-based burger patties to the country.
Furthermore, NotCo, which obtained B Corp certification in February, continues broadening its portfolio for the Chilean plant-based market. It recently introduced two types of vegan cheese wedges and launched a High Protein NotMilk in chocolate and peanut butter flavors, targeting the fitness and sports segment.
"The classics are now made from plants and are here to stay! Declare yourself a flexitarian with our new veggie products, which are so tasty you won't even know the difference.
"Enjoy our delicious Veggie Whopper made from 100% grilled plants, or how about some delicious and crunchy Veggie Nuggets… and the infallible King Veggie? What are you waiting for, we assure you that you'll love them," says Burger King Colombia.