Burger King Germany launches the Plant-based Long Chicken Cheddar Style in collaboration with Violife, and has developed a new breading to visually differentiate plant-based products from their animal counterparts.
All plant-based chicken patties and plant-based nuggets from Burger King are now offered with newly developed breading with green parsley sprinkles in order to differ in appearance from the breading used for animal meat products. Vegconomist will contact BK to ascertain whether this will be rolled out internationally.
Separate fryer
Burger King says that employees and guests can now easily identify the plant-based products directly at first glance due to the new parsley coating co-developed by Burger King and The Vegetarian Butcher. The chain says the plant-based products are also cooked in a deep fryer used exclusively for vegan products.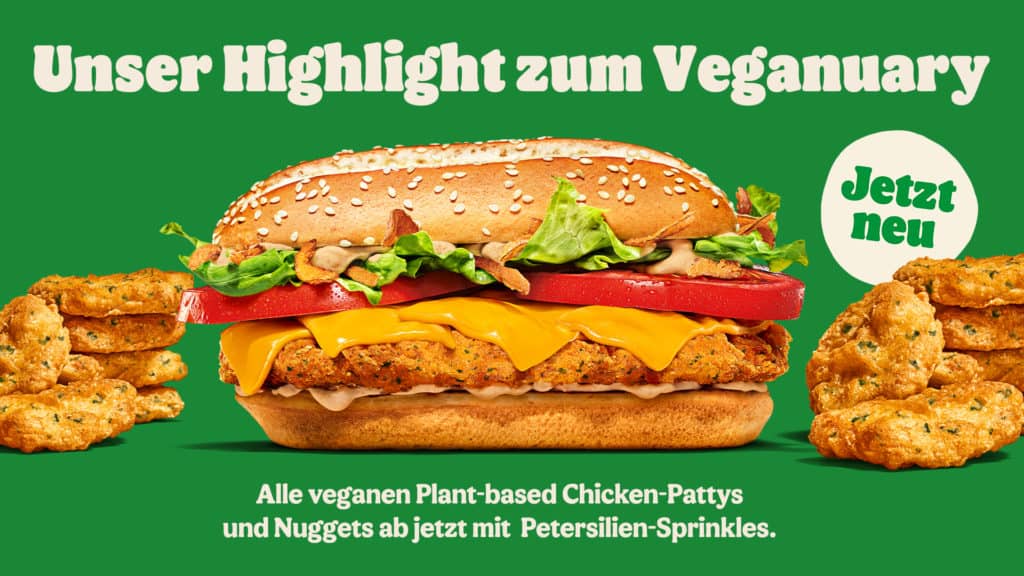 "With the new parsley breading, we have further developed our vegan chicken alternatives together with The Vegetarian Butcher™ so that our guests and teams can recognise them immediately and clearly. This provides safety," explains Tim Lenke, Senior Innovation and Product Manager at BURGER KING Deutschland GmbH. "There are larger and smaller parsley sprinkles that are evenly distributed in the breading. But the rule still applies: 0 % meat. 100 % taste."
Plant-based Long Chicken Cheddar Style
In cooperation with Violife and The Vegetarian Butcher, Burger King has launched the Plant-based Long Chicken Cheddar Style especially for Veganuary, with the cheese made by Violife exclusively for this burger.
Florian Gorzny, Head of Violife Professional DACHIT, comments: "Our goal is to promote the topic of plant-based in gastronomy and make it accessible to as many people as possible. Through our partnership with Burger King® and with the Plant-based Long Chicken Cheddar Style with Violife, we can now convince many people that you don't have to compromise on enjoyment when you choose the plant-based option – not even when it comes to cheese!"