McDonald's recently announced the Germany-wide launch of its new vegan McPlant Nuggets and McPlant Burger. As a plant-based pioneer in the German fast food industry, Burger King has now "welcomed" its competitor to the plant-based family as part of a social media marketing campaign.
With two advertising trucks emblazoned with tongue-in-cheek slogans, BK makes a cheeky comment on the smaller offering from Mcdonald's in comparison to its much larger plant-based range. One truck reads "Hello you two (referring to the McDonald's plant-based nuggets and burger) – welcome to the family!", while the other reads "Better late than beef".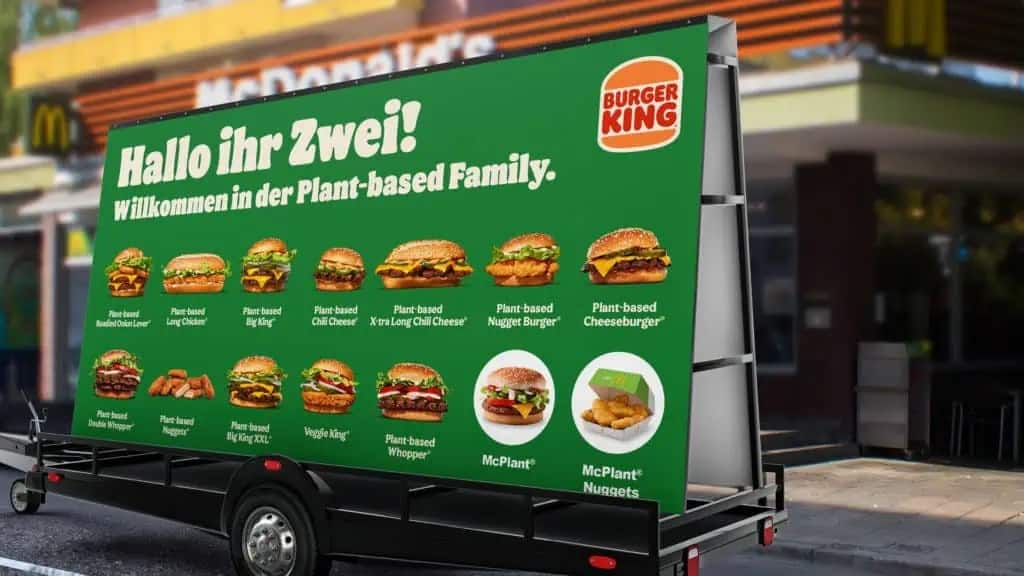 "We think it's great that McDonald's is now offering plant-based products – albeit on a small scale. This allows even more people to try plant-based fast food. Since 2019, we have been showing that plant-based can also be extremely successful in fast food and is becoming increasingly popular.
"Therefore, we are happy to announce that the Plant-based Family is now growing by two products. Of course, we welcome the two there in typical Burger King® fashion," says Klaus Schmäing, Director Marketing at BURGER KING Deutschland GmbH.
Read more at www.instagram.com.