US fast-casual chain Veggie Grill furthers its partnership with Beyond Meat (Nasdaq: BYND) by introducing an expanded range of Beyond Steak options.
Veggie Grill opened the doors of its flagship location in Irvine, California, in 2006, and by 2020, it expanded to 36 locations across the US. While the chain has scaled back to just 17 locations across California, Oregon, Washington, and Massachusetts, it's focusing on innovating its menu with fresh items such as those featuring Beyond Steak.
Innovating the menu
All Veggie Grill locations will now serve Romaine Caesar Salad with Beyond Steak, Steak Fajita Quesadilla, and Sonoran Bowl with Beyond Steak. Beyond Steak can also be added to other select Veggie Grill menu items, including the Caesar Salad Wrap.
Veggie Grill has received a positive response to its Beyond Steak offerings since they were launched in April, with Co-Founder T.K. Pillan commenting, "We were thrilled that our guests loved Beyond Steak as much as we did, and following the success of the Steak Fajita Quesadilla, we're extremely proud to grow our partnership with the Beyond Meat team by diversifying our Beyond Steak lineup"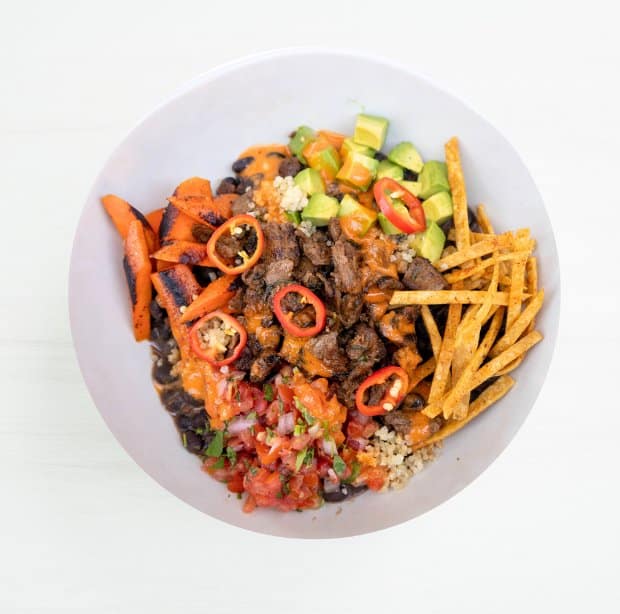 Pillan added, "We are confident our Veggie Grill guests will continue to embrace its flavor, versatility, and better-for-you health benefits — enjoyed with some of our most popular menu items."
Heart healthy
Beyond Meat announced that Beyond Steak had become the first plant-based meat certified by the American Heart Association's Heart-Check Program earlier this year. Each serving has 21 grams of protein, 170 calories, and no cholesterol, GMOs, or added hormones or antibiotics, making it a nutritionally sound addition to the current offerings at Veggie Grill.
"As fellow plant-based leaders and innovators, we're proud to be longstanding partners of Veggie Grill as we look to introduce people of all diets to better-for-you and sustainable plant-based options," said Akerho Oghoghomeh, Senior Vice President of Global Marketing at Beyond Meat.