Global food service provider, Aramark, continues its commitment to plant-based, climate-healthy menus. Its plant-forward initiative has elevated the role of healthy ingredients on its menus in sports arenas and ballparks, colleges and universities, hospital cafés and workplace break rooms.

Aramark data indicates that 60 percent of consumers want to reduce their meat consumption, with 33% identifying health and 17% identifying weight management as motivators. In addition to offering guests more choices, developing more plant-based menu options aligns with Aramark's efforts to accelerate climate-healthy menus that lower greenhouse gas emissions.
With consumers looking for plant-based meal options, Aramark chefs are using products, like Beyond Meat's burgers, sausage, and crumbles. Also, JUST's vegan egg, and Ocean Hugger Foods raw, plant-based tuna to expand menu selections and provide the choices that meet individual lifestyle and dietary preferences. Aramark currently offers or is developing vegan bowls, plates, burgers, sausage, and brats using Beyond Meat's products.
Aramark serves nearly 2 billion meals each year that include more than 200 new plant-based recipes. More than 1,200 chefs have been trained in the plant-based culinary innovation workshops conducted by The Humane Society of the United States. The vegan and vegetarian menu offerings have grown by 30 percent. Moreover, there is a 5 percent reduction in the amount of red meat in its recipes.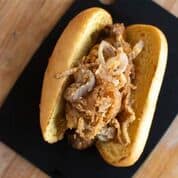 Aramark is recognized as one of the World's Most Admired Companies by FORTUNE, as well as an employer of choice by the Human Rights Campaign and DiversityInc. It serves Fortune 500 companies, world champion sports teams, state-of-the-art healthcare providers, the world's leading educational institutions, iconic destinations and cultural attractions, and numerous municipalities in 19 countries around the world. Aramark employees 270,000 team members that provide services in food, facilities management, and uniforms.
"The trick for us is to develop and offer unique meatless options that taste great and appeal to consumers who might want to try something new and those who follow plant-forward diets," said Heidi Hogan, Vice President of Product Development and Culinary Innovation at Aramark. "Early on, we understood that consumer preferences were driving a need for quality plant-forward offerings and our culinary team has been working with a broad range of plant-based products, to create more enticing menu choices."