News from LA's thriving plantbased scene is that Joaquin Phoenix's favourite vegan burger joint, Monty's Good Burger, is launching a new green vegan shake ahead of St Patricks Day tomorrow. Also in LA, Iconic 1950's style diner Johnny Rockets has been replaced by plantbased burger heaven Nomoo.
Monty's, well known in California for its tasty plant-based burgers, received a priceless endorsement from Mr Phoenix when he was photographed enjoying one straight after the 2020 Oscars last month, with fiance Roony Mara. The cult burger joint, which sources its patties from Impossible Burger, has released a green mint shake called SLIME!, created in collaboration with clothing outfitter Pizzaslime. It will be available at all three restaurant locations in California until the end of March 2020.
Monty's supports animals by holding a monthly cat and dog adoption drive as well as donating a dollar from each $7 shake sold to Monty & Friends Animal Adoption, which places loving pets in loving homes.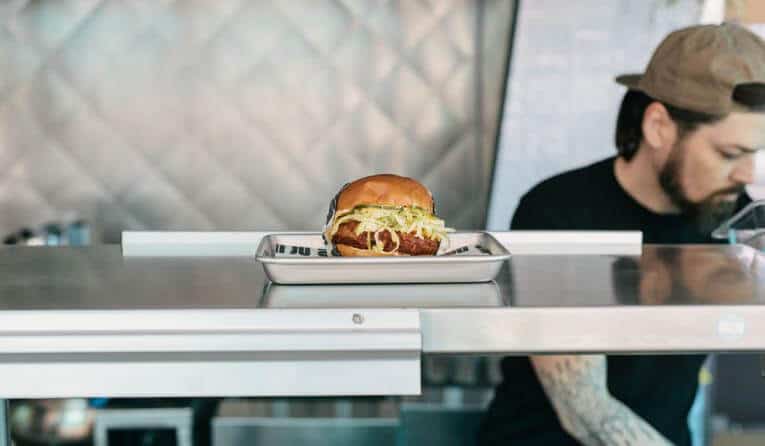 Other California Burger restaurant news is that Nomoo, a new plant-based burger restaurant, has replaced the original Iconic 1950's style diner Johnny Rockets, on its site at West Hollywood, CA. Johnny Rockets was famous for its classic meat hamburgers. The company vacated the premises in 2015 after nearly three decades of operation. Nomoo has now teamed up with Studio Unltd. to rejuvenate the 1,500 square foot space, whilst retaining some of the former occupant's classic diner feel. Arguably this switch is more evidence that quality meat-free burgers are leading the trends in California.
Nomoo also sources its burgers from Impossible. Other items on the menu include a Nashville hot chicken sandwich made from fermented seitan soaked in coconut milk, fries, salads, and cashew-based milkshakes. Th restaurant will donate 10 per cent of profits each month to a local charity, its first beneficiary will be 'Mercy For Animals', which is dedicated to ending factory farming.