Rudy's Vegan Butcher opened on November 1st in Islington, London, to coincide with World Vegan Day, and the first day was such a success that the company has reported that they have sold out of everything. Online sales that can reach across the UK were also incredible with 100 sales made in the first ten minutes and also sold out that day.
The impressive queue for the shop stretched far before the doors were even open and didn't slow down for hours, according to Rudy's Facebook page.
The opening could be seen as perfect timing as the UK prepares to enter into another lockdown from this Thursday. Plant-based products are riding high as consumers acknowledge the health and environmental benefits, and establishing a strong online presence is key in such uncertain times.
Rudy's Butcher follows the success of Rudy's Dirty Diner, an American-style eatery based in Camden market, which the owners opened in 2018. The diner also has meal kits available for consumers to re-create Rudy's menu at home. Meal kits are emerging as big business themselves during this pandemic, restrictions on movement and extended periods at home are causing people to seek pleasurable meal options that fit the current state of affairs.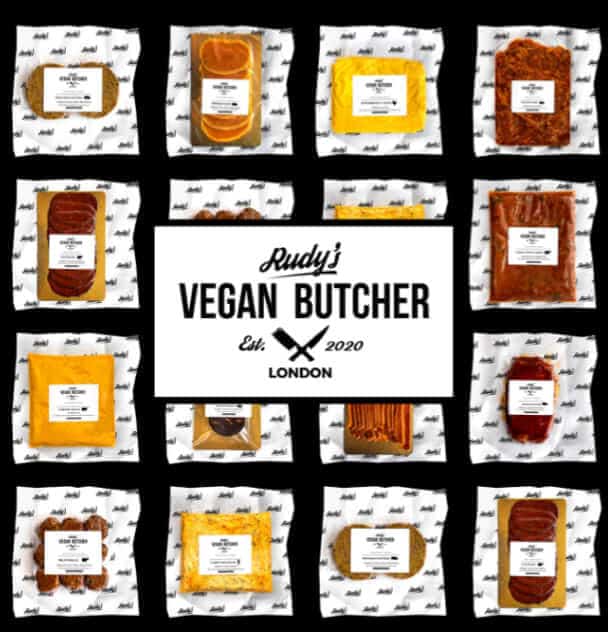 Rudy's butcher stocks a range of alternative plant-based meat products, for example, charcuterie options which include: sliced meats and ingredients for an English breakfast; rack of jack; burgers patties; and pulled pork. The extensive list and even includes seasonal offerings like a Christmas turkey roll – all currently sold out, though the website states that they are working really hard to restock.
Rudy's Facebook page has this recent post: "After such a mad rush we've sold out online. Thank you so much for your support. We'll be back with updates when our dedicated, hardworking team of chefs has restocked. Don't worry, they're cooking away day and night to get it done."
Stay tuned for our coming interview with the founders of Rudy's.