Swiss company Brandmover, headed by sexual health specialist Martina Hammer, formerly of Johnson & Johnson, launches new sustainable Feelgood Condoms.
The condoms are vegan and produced with green electricity, according to the brand, whose motto is "Not only for vegans & animal lovers: Feelgood satisfies everyone".
Speaking to vegconomist, Martina explained, "The electricity used for the production of the feelgood condoms comes 100% from energy sources that meet the internationally recognized standards of EKOenergy. This is generated in a CO2-neutral manner and there is no interference with existing ecosystems or a general impairment of fauna and flora. EKOenergy ensures that, for example, no electricity is drawn from wind turbines in bird sanctuaries. In addition, part of the electricity costs flows into the climate and environmental fund of the EKOenergy network, which promotes the expansion of environmentally friendly energy production worldwide."
Eco credentials
100% vegan and free of animal ingredients.
Free of animal testing.
Made of 100% FSC-certified natural rubber latex.
Eco-friendly box made from 100% recycled paper.
Produced with 100% green electricity.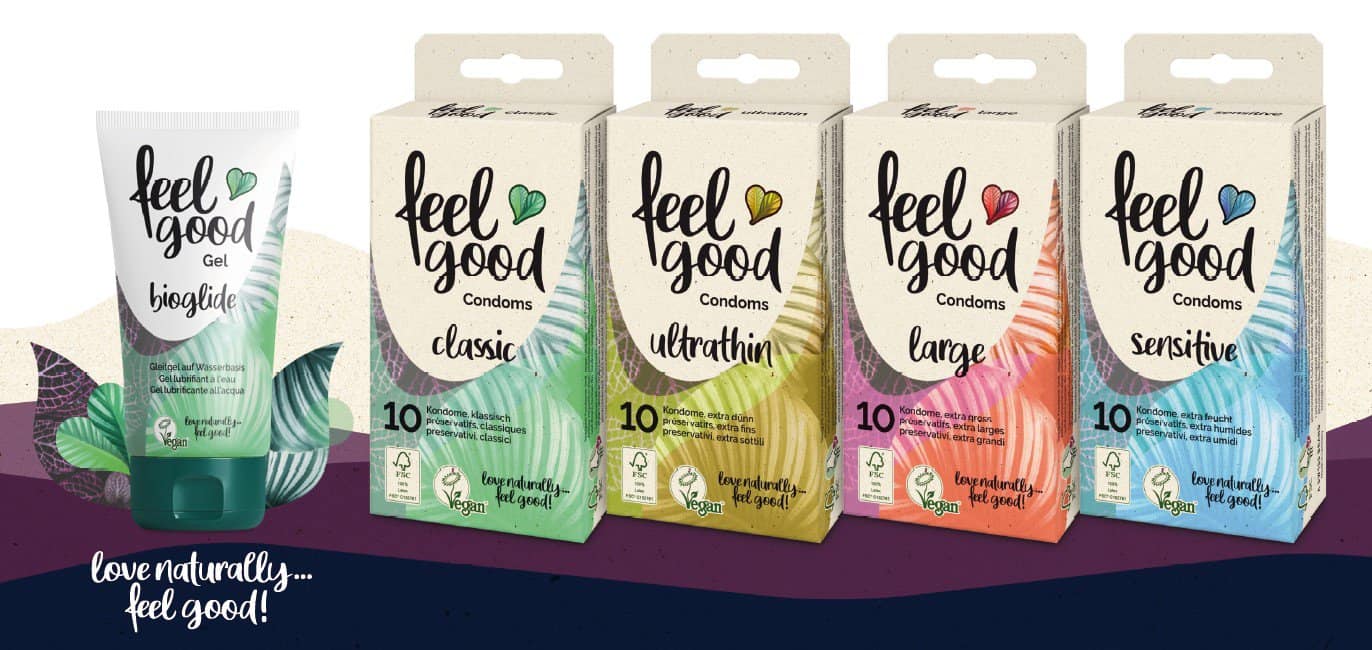 Feelgood condoms and lube are certified by the Vegan Society and created from certified natural rubber "obtained in an ecologically and socially sustainable manner".
Additionally, each box is made from 100% recycled paper, which reportedly makes Feelgood one of the first condom brands to be allowed to use the internationally recognized FSC mark.
Here you can read our 2018 summary of vegan condoms, here for a 2021 summary of ethical sex toys, and here to read about the world's first sex toys to achieve Vegan Society Certification.
Feelgood condoms can be purchased online at Kanela.