Founder of Liobites, Anna Oldbury, decided to create Liobites when her younger daughter started picking the dried fruit out of her breakfast cereal. Realising that children loved the taste of freeze-dried fruits, Anna created a product in order to satisfy the need for five portions of fruit and veg per day, in a way that is delicious for children.
The process used to make LioBites is called lyophilisation, also known as freeze-drying. The fresh seasonal fruit is picked, sliced, then frozen to lock in all the nutrients. This is a snack with a broad market appeal; with a strong market trend for reducing obesity, LioBites offer an alternative, healthy and low calorie snack for the on-the-go market, lunch boxes, health and leisure industries and vending machines.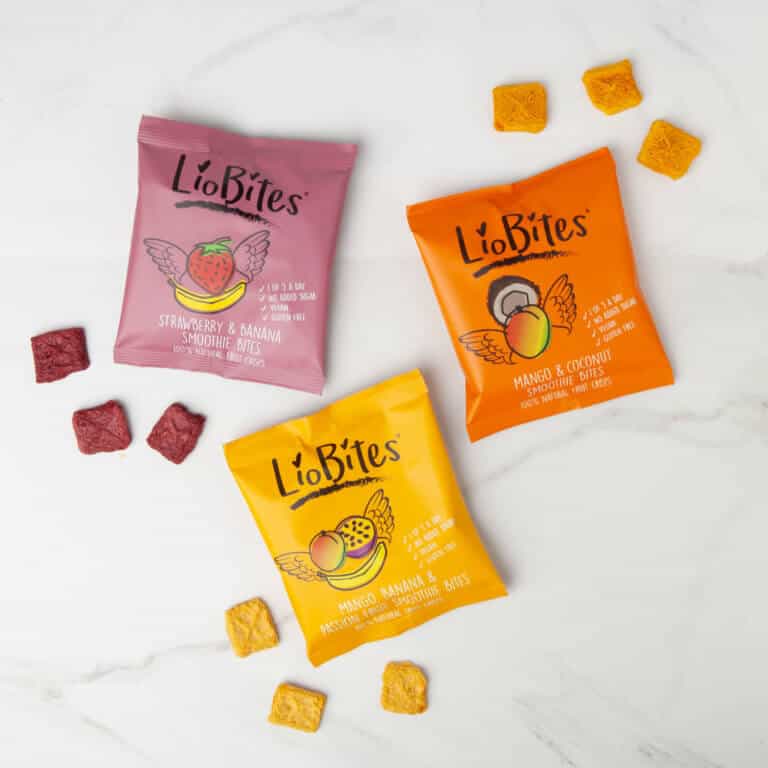 LioBites are manufactured in Germany, packaged in the UK by the BRC accredited co-packer. Ready packs are placed in the SRP cases, palletised and stored in the UK-based BRC accredited warehousing facility, ready for distribution. Currently available are six flavours of LioBites: Strawberry Crisps, Apple Crisps, Banana Crisps, Mango and Coconut Smoothie Bites; Mango, Banana and Passion Fruit Smoothie Bites and Strawberry and Banana Smoothie Bites.
As a vegan snack, Liobites participated in Veg Fest 2018, Plant Based 2018 and Free From Festival in Olympia. Ms Oldbury said to vegconomist, "Plant based customers can't get enough of LioBites and compare our coconut smoothie bites to a perfect substitute to a honeycomb. LioBites are made from freeze-dried fruit and nothing else. Our product is vegan, gluten free and contain no added sugar or preservatives."