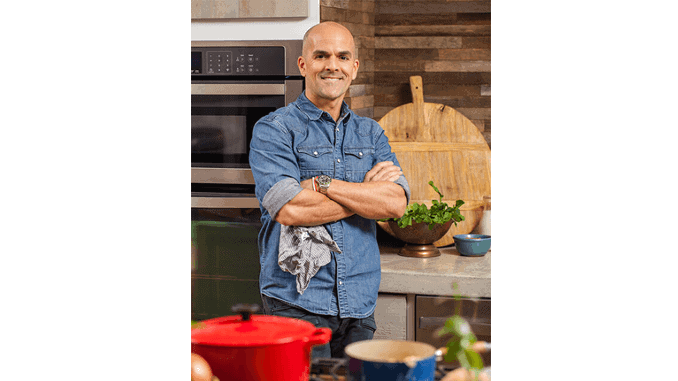 Marco Borges, exercise physiologist and personal nutritionist to the stars, is a New York Times bestselling author who founded 22 DAYS NUTRITION, which is co-owned with JAY-Z and Beyoncé. Borges has announced a plant-based movement called The Greenprint, which comprises a book, digital tool, documentary, and clinical trial, with the intention of inspiring the coming generations to embrace plant-based life more than any other time in history.
Marco Borges has inspired millions to experience a plant-based lifestyle, and has famously worked with well-known entertainers Jennifer Lopez, Shakira, Ryan Seacrest, and Pharrell Williams, amongst others. Using this celebrity platform, Borges announced recently that he has created a new movement for nutrition and lifestyle, with the "mission to elevate awareness and action around the boundless benefits of plant-based foods and its effect on you, your family, your community, and the planet."
The digital tool element
Launching this autumn, the online element is called the Greenprint Project and it will illustrate the positive impact that choosing plant-based meals can have upon the planet across a lifetime. Collaborators Beyoncé and JAY-Z, commented, "The information is hard to ignore. The benefits of a single plant-based meal a day can have such a profound impact on our health and the environment…We want to challenge you as we challenge ourselves to move towards a more plant-based lifestyle and acknowledge you for standing up for your health and the health of the planet."
The book
The Greenprint book will be available on December 31, 2018, and can be pre-ordered at www.Greenprintproject.com. The Greenprint: Plant-Based Diet, Best Body, Better World, is said to be a "life-altering manifesto and ground-breaking plan for changing your relationship with food and creating long-term, plant-based habits that will improve your health, your weight and the planet," and offers meal plans, more than 60 delicious recipes, step-by-step guidelines, and inspirational success stories.
The documentary
The documentary part of the movement will be released next autumn, and is being produced by a division of Endemol North America, Marco Borges and JAY-Z. "The Greenprint will explore the impact of a plant-based diet on the individual, the family, the community, and, ultimately, the world. The Greenprint will tackle the real-life obstacles of underserved communities, and uncover solutions anyone can adopt.  Anchored by clinical experts and some of the biggest names in entertainment, music and sports, The Greenprint will speak to a new audience in a style all its own."
The clinical trial
In addition, a clinical trial a took place in one of the top Hospitals in New Jersey. As part of the study, 200 participants were divided into vegetarian and vegans and underwent extensive medical testing following a 22 day period. "Some of the most significant results include: BMI going down over 5x more and Body Fat reducing over 4x more on a Vegan than Vegetarian Diet.  Most importantly, LDL went down over 200% more and overall cholesterol reduced by over 400% on a Vegan than Vegetarian Diet. The plant-based cohort also experienced more energy, better digestion, and improved sleep, among many other positive changes."
Michael Maron, President & CEO of Holy Name Medical Center, said, "People reported having more energy, fewer digestive symptoms, they were sleeping more soundly, even their skin looked healthier. The effects were so far-reaching, it was, frankly, astounding."
Why?
Borges commented on his epic project: "Each of us have the ability of changing our lives, the lives of our families, the health of our communities, and the condition of our world by making one powerful and basic choice – deciding what is on the tip of our forks.  Let's define our own destiny.  Let's create our own Greenprint."