This year has seen vegan versions of classic burgers around the world, with McDonald's being conspicuously absent  from the list so far, other than the PLT trial in Canada and the new McVeggie in New Zealand. In January it will finally launch a fully vegan meal, even with vegan cooking methods, meaning it will not share the grill with meat.
After seeing an 80% increase in vegetarian orders over the past year, McDonalds has decided to respond to demand and provide a fully vegan option. Next month, to benefit from Veganuary, it will introduce Veggie Dippers, an alternative to Chicken McNugget, which will later be a full meal available as a wrap or sandwich.
According to The Independent, the dippers, which consist of rice, sundried tomato pesto, and split peas, will be available initially in the UK. The chain plans to serve the meal with vegan-friendly french fries; a McDonald's spokesperson confirmed to The Independent that both the ingredients and cooking method, unlike with other recent "vegan" options in fast food, have been certified by The Vegan Society.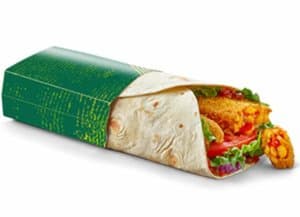 It goes without saying that fast food is detrimental for both our health and the planet, and it is far more sustainable to prepare meals at home, however many people lack the time and seek convenience. Fast food manufacturers play an integral role in increasing the overall eco-friendliness of our food supply. Hopefully, once a wider range of vegan options continues to appear on menus everywhere, more people will consider switching to a primarily plant-based diet. Only wide scale action by consumers and corporations alike can stem the tide of the pending climate crisis.
McDonald's UK's Head of Marketing Thomas O'Neill said: "In the last 12 months we've seen an 80% uplift in customers ordering vegetarian options at McDonald's, so it is time for the brand famous for the dippable McNugget to launch a dippable option for our vegetarian, vegan and flexitarian customers. The Veggie Dippers are a delicious addition to our menu and we're looking forward to seeing what customers make of our first vegan Extra Value Meal and Happy Meal in the New Year."