Adesse New York is a premium line of 12 Free, Vegan, Leaping Bunny and PETA Certified Cruelty Free beauty products. Now, due to the increasing demand for vegan and cruelty-free beauty products, Adesse is debuting their products in Europe for the first time.
We spoke with Adesse founder Suzanne Roberta, whose inspiration for Adesse was born out of her twenty years of working in product development in the beauty industry; having made skin care and color cosmetic products for iconic brands including Revlon, Avon, Origins and Estee Lauder.
Can you tell us a little about the background of your business?
I started thinking about how we spent every day creating beauty products that turned back the aging clock for our faces and bodies, but did nothing for our nails and cuticles. Hands, nails and cuticles are a primary part of our bodies that show the first signs of aging, yet we were not creating anything to address that. There had to be a better solution, so in January of 2014, I decided to leave my Executive role and strike out on my own. My mission was to use all of the knowledge and experience I gained in the beauty industry and change the nail category by creating formulations with high performance ingredients, advanced skin care R&D and high tech manufacturing practices to create finish products that delivered results.
It took a year and a half to develop our formulas and we launched in April of 2016. Sales in our first year totaled 7,000 units and to day, our sales have grown to over 6 million units.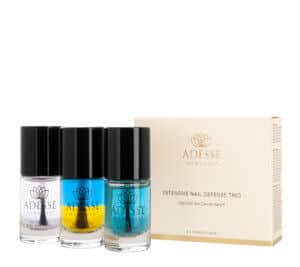 Tell us about the expansion to the European market – why the decision to expand and why now?
Our intent, when developing Adesse New York, was always to expand into the European market because of the high demand for vegan, clean, safe and non-toxic beauty products. Consumers in the European market are very savvy and sophisticated and looking for clean beauty products, without compromising luxury. Adesse was a natural answer for consumers in this market who want beautiful natural nails without harmful and toxic ingredients.
What is your current vegan product portfolio?
Organic Infused Nail Lacquer, Age Defying Nail Treatment Essentials, Lip Treatment, Voluptuous Plumping Lip Gloss, Lip Polish Luxury Lip Gloss, High Definition Liquid Lipstick, Waterproof Gel Lip Liner and Volumizing Lip and Cheek Stick.
Tell us about the market for vegan and cruelty-free beauty – what trends do you see?
In both the US and globally, we are seeing a dramatic increase in the demand for Vegan and Cruelty Free beauty. I attribute this two two factors; first, to the tireless work of organizations like PETA and Leaping Bunny who educate consumers, apply pressure to beauty brands to stop animal use and animal testing and work tirelessly with governments around the world to ban animal testing and the sale of animal tested beauty products. Now, as a result, many countries have in fact banned animal testing and many brands have changed their practices and don't sell in countries that still require animal testing.
Secondly, I attribute this to the commitment of indie beauty founders who choose to make products that don't harm or use animals. There is a collective conscience within the indie beauty community that is very much against the use of animals and a mission and philosophy of making clean, safe products without hurting living beings.
If I could also add here; I would also say that consumers, when looking for vegan and non-animal tasted products need to do their homework, not just on the brand, but on the parent company because, sadly, there are still brands that claim Vegan and Cruelty Free, but are owned by larger companies that still test on animals.
Where can people find your products (region/countries)?
Adesse is currently sold in the US on our web site, QVC, Birchbox and Amazon. In the EU, Adesse is sold through Amazon in the UK, France, Italy, Germany and Spain and is available in twenty eight countries through the EU.
Do you have plans for further expansion into other regions?
Yes, we will be expanding into prestige retail in the US and have plans to launch on QVC in Europe. We are also planning expansion into the Middle East and LATM countries.
In your opinion, why should the beauty industry continue to acknowledge veganism?
I have always had a very strong belief against harming any living creature and particularly for the sake of beauty. Animals do not have a voice and so it becomes the responsibility of brand owners and beauty consumers to be that voice. I believe that consumers now, again thanks to the work of brands and organizations against animal use in beauty products, are so much more aware and conscientious that I don't see this reversing any time in the future.
Where do you see Adesse in the next five years?
It is my dream and vision to see Adesse as a household name and the brand that is recognized world wide as the go-to for Vegan, Cruelty Free, healthy, safe and non-toxic beauty products that don't compromise on luxury.