Avocado Green Mattresses offer affordable eco-friendly mattresses made of the finest natural, organic and non-toxic materials since 2015. All their products are handmade to order in California, including their recently introduced vegan matresses, which are made of organic cotton instead of wool.
Avocado Green Mattresses' mission is to be the most respected source for organic mattresses and pillows, while maintaining environmentally conscious, ethical and sustainable business practices. We spoke with Jay Decker, Head of Customer Experience and Co-Founder of Avocado Green Mattress.
Please describe your vegan mattress for our readers
Avocado Vegan Mattresses are handmade-to-order in our Los Angeles factory. Each is made from a combination of high-quality eco-friendly and natural materials — including 100% natural latex (tapped from sustainably harvested trees) and GOTS certified organic cotton. They are free from all animal products, including the natural New Zealand wool featured in our original Avocado Green Mattress. In our factory, we follow strict protocols to ensure there is no cross-contamination during the production process with animal byproducts.
Avocado Vegan Mattresses also feature a recycled steel innerspring unit for pressure-point relief and support. They're Greenguard Gold certified, which means they've been tested to meet some of the most rigorous standards out there for chemical exposure.
Because we believe a good night's sleep doesn't have to compromise individual health or the health of our planet, our goal is to provide affordable — yet of the utmost quality — products that promote overall wellbeing and health.
How have your sales for vegan mattresses performed over the past year?
We just launched our Vegan Mattress this past summer, but it's quickly becoming an essential product in our collection.
Is the demand for vegan mattresses rising?
Our customers asked for a vegan version of our mattress — so, simply put, we created one. Because we are a mission-driven company, we largely attract conscious consumers that care deeply not only about the long-term repercussions of their purchases but the types and origins of materials. It only made sense that vegan consumers were drawn to our brand, but needed an wool-free solution.
On the whole, our culture is growing more introspective about the choices we make — including the foods we eat and how we shop. More than ever, there's a movement to "vote with your dollar" and support companies and products that align with your values. We don't see this trend slowing down anytime soon.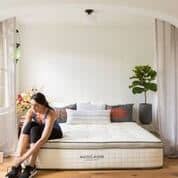 Do you plan to expand your portfolio of vegan mattresses?
We tend to keep our product line streamlined, so that we can focus on keeping the quality and integrity high and the prices affordable. For this reason we simply offer two versions of our Vegan Mattress — a Standard (gentle firm) and a Pillow Top (plush.) With the addition of Vegan Mattress Toppers to further customize, we believe this fully meets our customers' needs.

Which vegan products, if any, will be launched or in development in the next months?
Currently we offer Avocado Green Pillows which are vegan and filled with natural latex and Kapok fiber. In the near future we plan to launch vegan mattress protectors, as well.

Where can people find your products?
Visit AvocadoGreenMattress.com. We currently offer free shipping anywhere within the US (including Hawaii and Alaska.)

How do you see your brand and your vegan portfolio in the next five years?
Two of our essential brand pillars are to be the most sustainable and responsible company possible, so our future plans are to drive toward upcycled and certified organic materials, as well as vegan options. We do this for the benefit of our customers and the communities that make our products.