North Carolina based Barvecue Inc, produces a hugely popular wood-smoked vegan pulled pork from soy and wheat, and is proud to produce with clean-label, non-GMO, US grown and processed ingredients. The company aims to "bring the best tasting barbecue to vegetarians, omnivores, and adventurous carnivores around the globe."
Founded in 2017 by by Lee Cooper, Zack Werner, and Jeni Cooper; this vegan barbecue meat startup secured $2 million in a seeding round led by Stray Dog Capital this summer, to further its mission to "create the best tasting plant-based barbecue on the market, build a company that cares about people, animals and the planet, and connect with people and share our brand with the world."
We were excited to speak with Barvecue founder Lee Cooper about the story behind Barvecue and plans for the future.
For our global readers, please introduce your brand and tell us the story behind its launch
Barvecue is a plant-based protein company based in North Carolina. Our aim is to produce the best tasting plant-based barbecue on the market. We launched in 2017, but our story began over 30 years ago when we first realized that eating a plant-based diet was a choice we could make. At that time, in the south, restaurant options were minimal at best.
Fast forward to 2016… fate smiled on us when Jeni met Andy, a Special Education teacher hired to help with our eldest daughter. After introducing her to our three pigs, we discovered a common love for animals that paved the way for a special bond. A seed had been planted, but fate had even more in store. Having recently sold a successful business, Lee was beginning to ponder the next stage of life. Traveling and seeking out unique vegetarian fare had become a favorite pastime of the Cooper family and, living in the heart of the Carolinas, finding a plant-based barbecue sandwich was at the top of our list.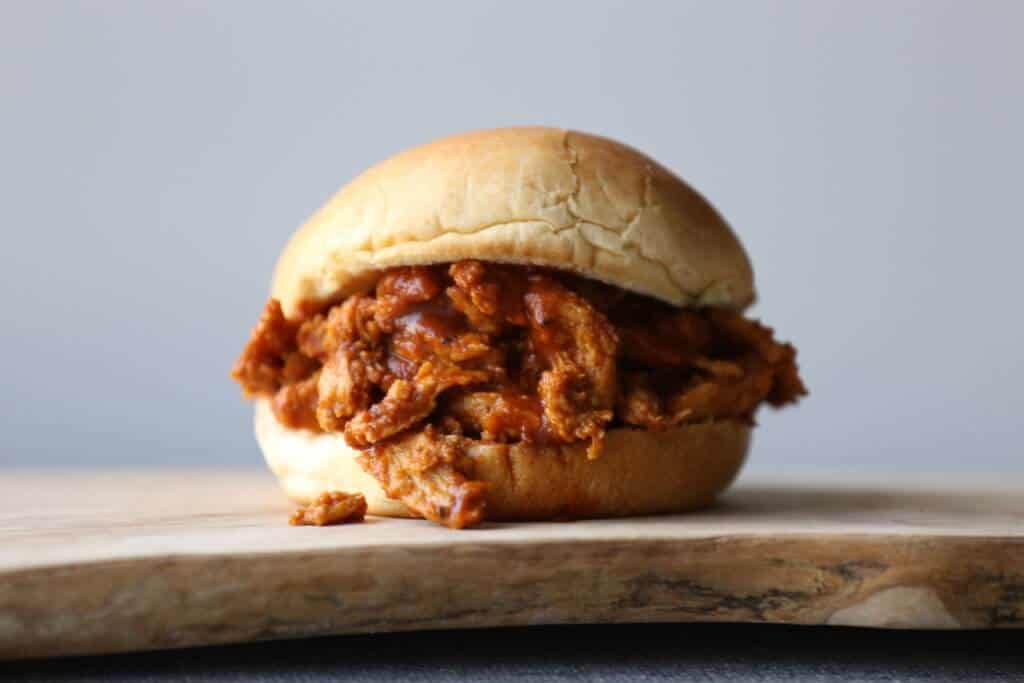 This search eventually became the spark that would fuel Lee's next venture. We wondered if we could create a plant-based modern take on this traditional southern food and offer this opportunity to others. Lee had the business prowess, but there was a missing piece to the puzzle. Enter Zack, Andy's husband. He too, we discovered, was plant-based. But to our surprise, Zack had a degree in food science; recently attended culinary school; and was itching to make an impact in the food industry.
In October of 2017, Barvecue® was born! Now we are on the exciting journey of connecting with people and sharing the Barvecue® brand with vegans, vegetarians, flexitarians, and omnivores around the globe. It has been an incredible journey so far!
What is your current portfolio, and which are the bestsellers?
We currently offer four products in retail and foodservice packaging, our signature Original Pulled BVQ, and Original Chopped BVQ (gluten-free) along with Naked versions of both products (which are lightly seasoned with no sauce).
What differentiates Barvecue from other alternative meat products, how do you stand out against any competitors?
Our products are clean label, every ingredient is recognizable and easy to pronounce. In addition, Barvecue is wood-smoked and Non-GMO Project Verified. Those who are looking for a meat-tasting product are satisfied by the texture, mouthfeel, and wood-smoked flavor of the traditional meat counterpart. However, those who are seeking to avoid the taste of meat are equally as satisfied due to the flavorful smoke, seasoning, and nutritional profile.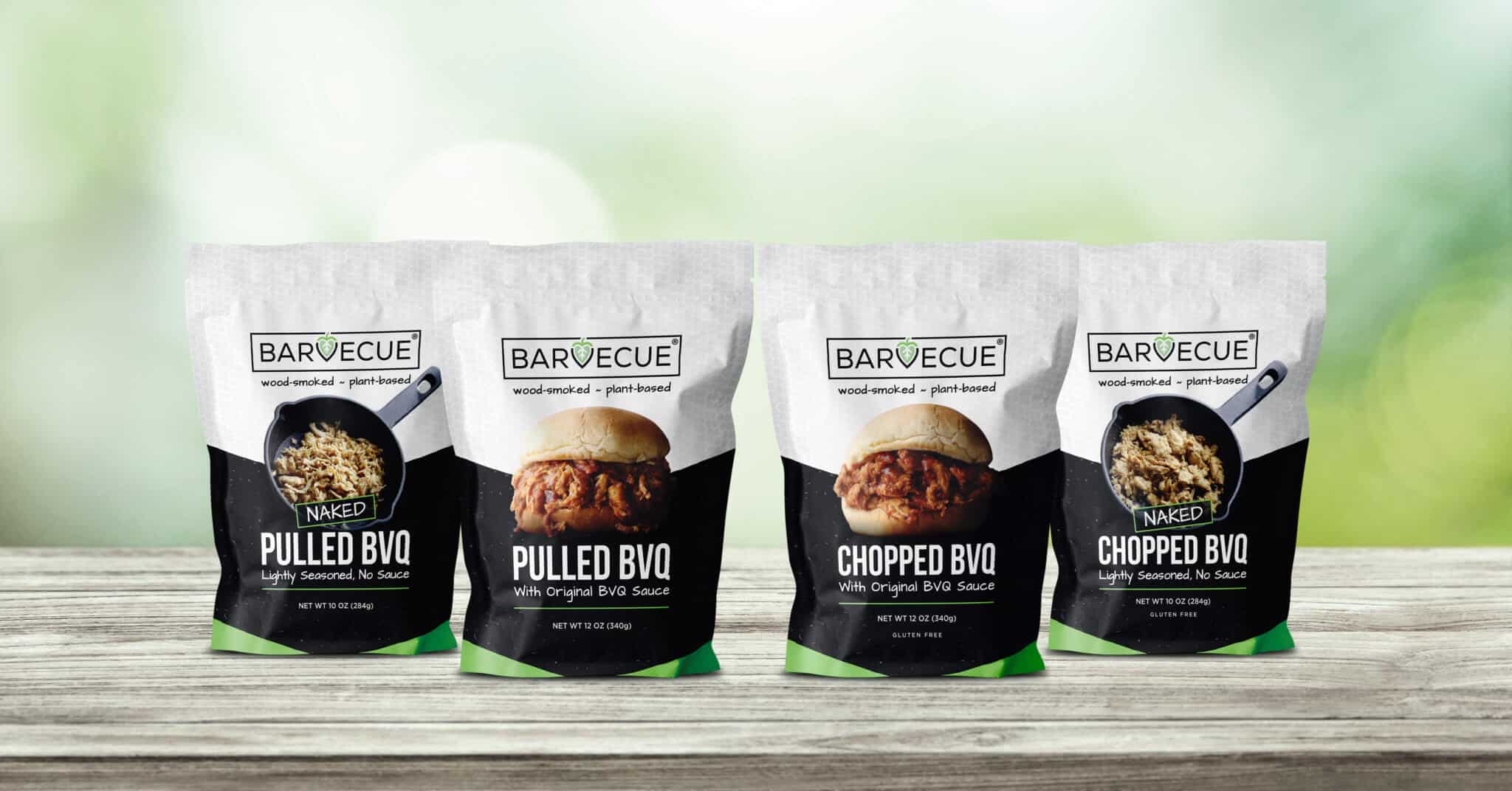 We associate barbecues with summer; do your sales remain stable all year?
Demand for Barvecue® is not seasonal. Barvecue products, especially Naked versions, are well suited for numerous food applications throughout the year, including tacos, chickUN salad, stews, pot pies, tamales, pizza, etc.
Where are your products available to buy? Do you plan to extend that reach internationally?
Currently, Barvecue can be purchased online from several partners including VedgeCo.com, VeganEssentials.com and GTFOItsVegan.com. We are also represented in various brick-and-mortar markets. Visit Barvecue.com/pages/where-to-buy for more details.
We are continually increasing availability with regards to both retail outlets and foodservice. And we do intend to expand internationally in the future.
Please tell us about the ingredients you use, and how sustainable these are?
We are proud to use the following clean-label, non-GMO, US grown and processed ingredients to make our protein blend: whole soybeans, textured wheat protein (only in Pulled style), North Carolina sweet potatoes, apple cider vinegar, canola oil, nutritional yeast, and high-quality spices. Our BVQ Sauce includes non-GMO tomato puree; and non-GMO, vegan-certified molasses and brown sugar. We care about our ingredients and the farmers and suppliers that provide them.

We reported this summer that you had secured USD $2 million, led by Stray Dog Capital, what is the total that you have raised to date and what will this latest funding be used for?
We completed our $2 million seed round in August. Funds will be used to increase production capacity and for accelerated growth into regional and national markets.
Do you have any new vegan products that you will launch or that are in development?
In the near term, we are 100% focused on scaling up with our current products, however, we expect a robust culinary innovation program in the coming months.
Tell us your personal experience with the growth of the plant-based market in the last year – what has surprised or excited you the most?
It's an awesome time to launch a plant-based protein company! The word 'excited' doesn't begin to express how we feel about the possibility of having an impact in the plant-based space and, therefore, an impact on the health and welfare of animals, humans and our shared environment.
What do you think the future holds for our global food systems?
We believe global food systems are going to change dramatically over the coming years and generations. The potential and momentum are prime for huge change, driven by multiple factors including the health and wellbeing of animals and humans, and our shared environment. But it is also being driven by awareness of the many innovative, flavorful, colorful and exciting new options for our palates and plates. Modern-day consumers are much more aware with regards to food origins and production. They are also dedicated to change, and we believe this will only continue to grow. We are very excited to be a part of it all.
What are your plans for the rest of 2020 and what are your future ambitions in general?
For the remainder of 2020 we are focused on commercialization efforts to expand production capacity and increase product availability in retail and foodservice. Barvecue wants to claim a slice of the exponentially growing market for plant-based meat and become the number one plant-based barbecue brand globally.