Fish and chips is undoubtedly one of the most loved traditional British dishes, and now with over 7% of the UK population currently identifying as vegan, it was only a matter of time before vegan fish and chips took over. Currently this new trend is riding the beginning of a wave that is set to be huge.
With one of London's famous Sutton and Sons' locations recently re-opening as a 100% plant-based fish shop, family pub chains and high street restaurants starting to offer the dish to consumers around the country, businesses both small and large are realising that this is a profitable trend which is in fact far more than just a trend. Battered was one of the first vegan fish and chips outlets in the UK and are now a highly successful take away who were one of the leaders in the movement.
Please introduce Battered and say a little about how you got started.
We (Joe Lorcan and Emily Turnbull) started Battered in early 2016, mostly as a way to offer vegan outreach and let the people in our local area try a different type of vegan food, as we were having a lot of people telling us that vegan food just consisted of lentils and dull veggies! The events went down really well, so we continued with them and came up with the 'Battered' idea, (we had help with this via a not-for-profit group called 'Something Fishy' who did a vegan fish and chip trailer back in 2008, with half of the Battered team working as a volunteer frier for them). We developed the brand and got a trailer.
Quite soon after that, we got our first major booking at Strawberry fair in Cambridge.  We were then spotted a few days later on Twitter by Sean (aka Fat Gay Vegan), who invited us to be part of his first vegan market at Hackney Downs Studios – the first proper vegan market in London. Obviously they are every where now. We have been sought-out for events and have done little in the way of marketing until recently. The Truman Brewery spotted us this year and offered us a permanent pitch in Ely's Yard, Brick Lane from August. We have just bought trailer number 2, so we can continue with the Hackney Vegan market and other events. Festival weddings are also growing trend for us!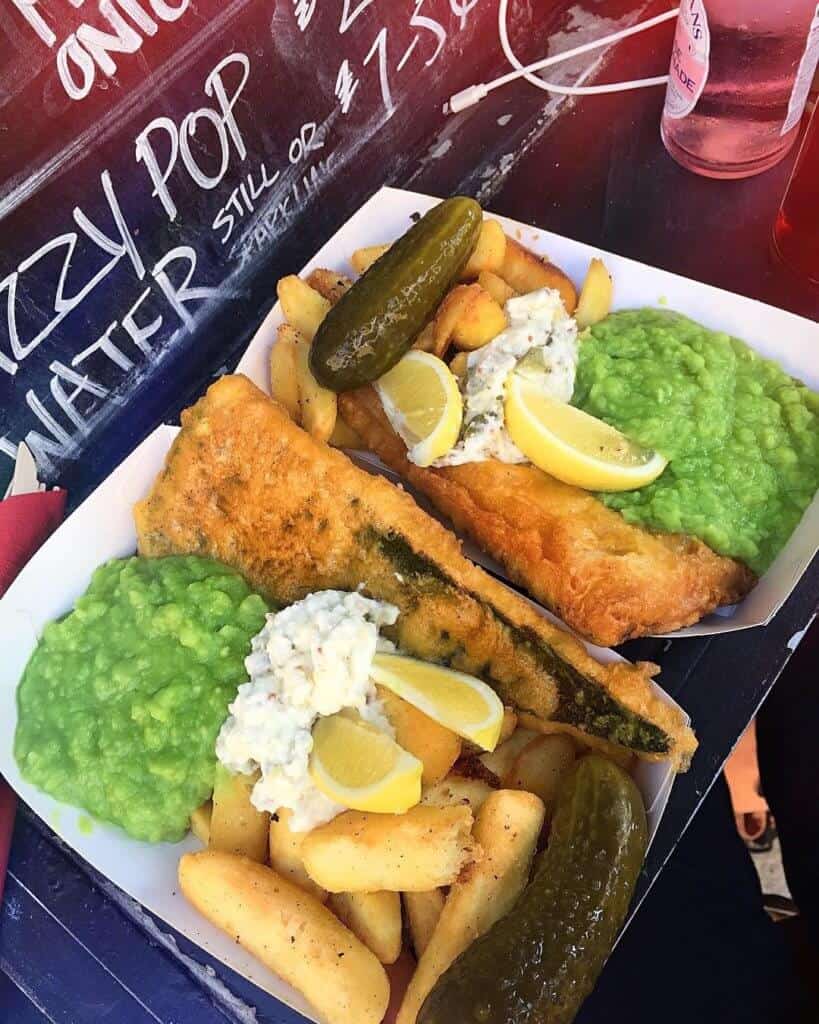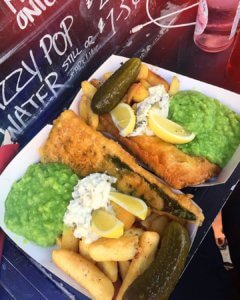 What products do you currently sell, and which are the most popular?
We sell vegan 'fish' and chips (the most popular on the list), battered sausages, battered pies, 'fish' burgers, homemade vegan tartare sauce, mushy peas curry sauce and gravy, anything you would find in a traditional fish and chip shop. Plus a few wildcards now and again, like battered vegan prawns and battered pizza!
Can you say a little in terms of the growth in the vegan market since you started out?
Joe (one half of Battered) has been involved in the vegan 'fish' frying business for 10 years (via the 'Something Fishy' vegan food trailer, which was a volunteer led, not-for-profit food trailer) and has seen a huge audience change over that time. I've not eaten meat for 30 years, so the change has been hug. It has nearly become mainstream. We now have a food trailer in Ely's Yard, Brick Lane, alongside the meat food trucks, which would not have happened 5 years ago.
In the past people would have laughed about vegan fish, but now people try it and like it. A lot of meat eaters try their friends' food, are amazed that they like it and then come and get their own. Our branding has also helped, as meat eaters like the look of the trailer. We do worry a bit about the lack of animal rights activities connected to the new vegan food shops though. We give all the money raised from our gherkins to grass roots animal charities.
You are a mobile business – have you noticed any particular parts of the UK which have more demand for vegan food than others?
London has always been good for us, but also vegan fairs around the country have always been good too, some times the queues are even longer now. Vegan Camp Out in Newark Show ground this year, had constant very large queues for 2 days, 12pm till 1am!
How is your "fish" made and what makes it stand out from the competition?
Our fish is quite different to the tofu 'fish' version, it's made from soya and potato starch, with a nori base. The texture is firmer and more flaky
Have you noticed any particular food trends of interest in your time as owners of a vegan food business?
Vegan burgers have been huge. For a while it was cupcakes, but I think that may be shrinking a bit. Doughnuts are pretty popular and ice cream. Also there's a rise in healthy vegan food, that may be too much hassle to do at home. I think anything can be veganised, which needs to happen for the average everyday person to give being vegan a chance.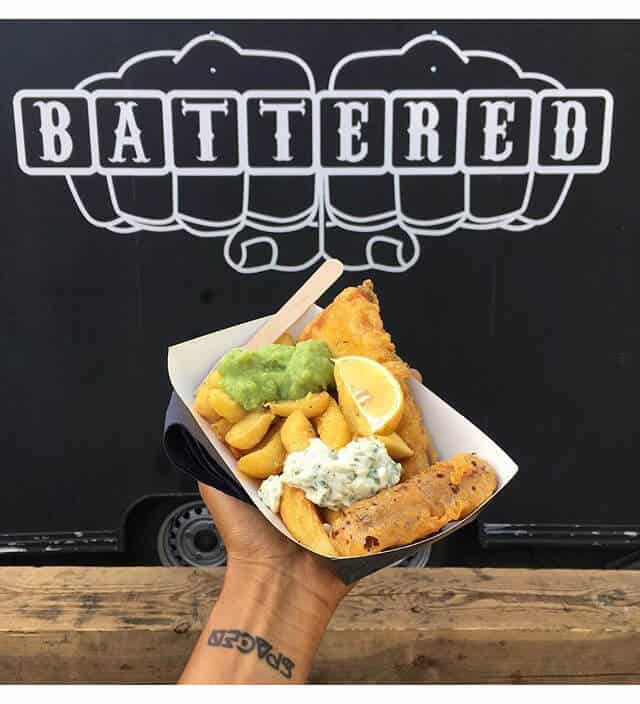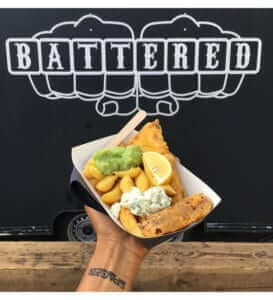 Do you have any plans to expand or open a brick and mortar location?
We do! We are working on a pitch break now and have a potential investor interested. We'd ideally would like to open a shop in the next 6 months. Emily (the other half of Battered) has been designing shops for large brands for over 20 years, so it's the next logical step.
Are you seeking investors or partners, and if so in which areas?
Yes, we'd ideally like to be connected to vegan investors and people with experience in the vegan food industry.
Do you have any future plans in terms of new products or ingredients?
We'd like to be the vegan version of the late night take away, with our usual fish and chips, kebabs and maybe pizzas, plus a few healthy options like battered cauliflower!
We are in the process of developing merchandise as our branding is quite strong.
How do you see the future for your business?
We'd like to be in every large city, just like a normal chip shop but vegan. We also are seeing a lot of interest from New York and California, so maybe we can spread further afield.