Ex presenter of the cult TV show Dirty Sanchez, Matt Pritchard, has transformed his life through veganism, and is set to host the BBC's first ever vegan cookery programme. In each episode of Dirty Vegan, the trained chef receives various challenges to create vegan food for groups of people with specific nutritional needs – a women's rugby team, the Women's Institute, teenagers, and mountain rescue services.
Dirty Vegan is the television tie-in to Matt's cookery book of the same name, which aims to demonstrate how easy and cheap it can be  to convert to cook vegan. The show will examine the science behind ingredients such as egg alternatives.
Dirty Vegan starts on 2 January on BBC One Wales at 7.30pm, and will also be available on BBC iPlayer.
What first got you into veganism?
I started researching it when I started training as a lot of ultra-endurance athletes were vegan and it improved their performance. The more I looked into it the more it made sense, and I really love animals. I then watched a documentary called Cowspiracy and had the shock of my life and it really did wake me up. The next morning I went vegan and never looked back.
We are great admirers of the charity Animal Aid – can you tell us a little about the work you did with them?
I'm actually a patron for a charity called "The Sound of Animals" that rescues dogs from the dog meat trades in Cambodia, Korea and Thailand. They do some great work and Dr Michael Chour quite literally puts his own life in the firing line just to rescue these dogs.
You started with a YouTube cookery channel for vegan food – what was the catalyst to launching this onto the BBC?
It was something I'd wanted to do for a while and it literally just came down to – if I'm going to do it I need to do it now, or it will never happen. So we jumped into the deep end and started filming and the response was really good.
The market for veganism is clearly expanding all the time as the interest in vegan food grows by the week. Do you hope to grow Dirty Vegan or expand your show into other markets?
It's so good seeing the rise of veganism and it stokes me out knowing that more and more people are starting to wake up to the cruelty of animals. With Dirty Vegan we have quite a few plans going into the future which I'm afraid I'm not able to share at the moment.
How many Dirty Sanchez fans do you think will be tuning in to your new vegan cooking show Dirty Vegan? Do you have any estimates for viewing figures at this point?
I haven't a clue but from the messages I've received since going vegan its 50-50 to be honest. I've had some great messages of support from the Dirty Sanchez fans but I've also had some sketchy ones too. I hope people watch to see what it's all about.
Would you say the hope is that you will be converting a whole new demographic into veganism? One might say that the group of people interested in a show like Dirty Sanchez would typically be hardcore meat-eaters and generally uninterested in vegan food?
I'm not here to preach but if what I do makes people think about their food choices, then that's great.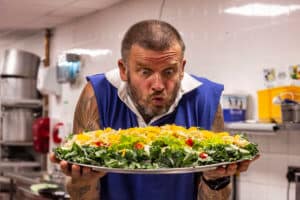 Some of your followers from the Dirty Sanchez days would copy your stunts from before, are you hoping they might now copy you and try out veganism? Would you say that members of your old audience may have taken more of an interest in their health as they have grown older too?
It would be great if they copied me into veganism, the more the merrier. I've had a few messages already and there have been a few that have already tried it out. Like lots of people, I started to take an interest in my health as I grew older. Looking back at my Dirty Sanchez days was hard, and I knew I had to change. I started to look after myself more, and the veganism is a big part of that.
What do you find is the biggest benefit of being vegan?
I would say health but there's plenty of vegan junk food out there! Ha, ha, ha! The biggest benefit for me is knowing that I'm not supporting the slaughter of animals and doing my bit to help our home, planet Earth.
What would you say to your fans who might not take veganism seriously, who still claim to love meat and don't see vegan food as appealing?
Watch the series and hopefully it'll surprise you. I hope I've managed to prove that vegan food is appealing. IF I CAN GO VEGAN THEN ANYONE CAN.