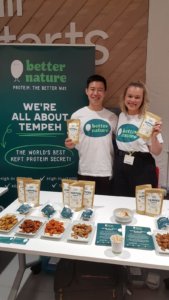 UK-based startup Better Nature is aiming to help make the food system more people-, planet- and animal-friendly by providing various tempeh products. We spoke to Elin Roberts, co-founder and marketing manager with Better Nature, about the company's mission, current products and projects, and plans for the future.
Can you please introduce your brand to our readers – what was the motivation behind your launch?
Better Nature was founded by Driando, Chris, Fabio and Elin – four plant-based eating enthusiasts – with one simple mission: to create a world that's better for people, the planet and animals. And we think we've found the perfect way to do this – through the power of tempeh! Tempeh, or the world's best kept protein secret as we call it, is a plant-based protein originating in Indonesia, made through fermenting cooked soybeans (or actually any legume, nut, grain or seed!) which then binds them into a meaty block that's high in protein, fibre, naturally gluten-free and filled with prebiotics (gut-friendly bacteria!). It is also, of course, plant-based and planet-friendly!
The inspiration for the business came from Driando, who's from Bogor in Indonesia himself and has been eating tempeh since he was a baby. He has long been an advocate for the health and environmental benefits of tempeh, especially as it's so under-appreciated in Indonesia – seen as 'peasant food' people buy off the streets, not the game-changing protein source we know and love. He also recognises the vital role it can play in overcoming protein-energy malnutrition, as through the fermentation process, a range of crops increase their protein content, decrease their carb content and become complete protein sources. Therefore, educating people on how to make tempeh means that even with just access to raw crops, they're able to create a complete protein source on an ongoing basis.
If relevant, which kind of partners are you looking for (wholesalers/retailers, organic shops,….)?
Since our mission is to make tempeh more mainstream and provide as many people as possible with wholesome, highly nutritious plant-based protein products, we'd ideally see our products on supermarkets' shelves. This is something we're working on so that we can maximise our impact. We also recognise that the tempeh market is still young and so people understandably aren't entirely sure what it is let alone how to cook with it, so we also would like to see our tempeh in restaurants. We hope that this will help to educate people on tempeh and how delicious and versatile it can be, encouraging them to cook it themselves. Additionally, we're looking to partner with some smaller, more specialised retailers including online stores. To make all this happen, we're also looking to collaborate with selected distributors.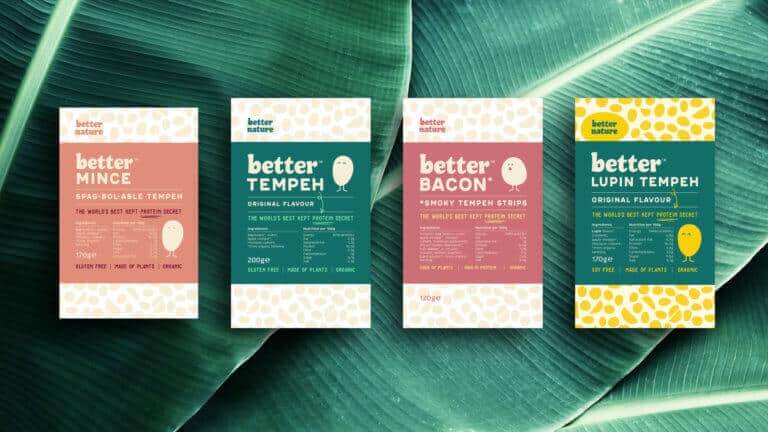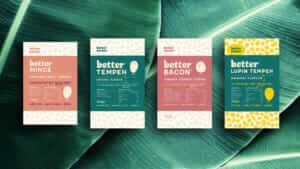 What is your current line / portfolio and which are the bestsellers?
We have just finalised our first product range – our Better™ Mince (or as we call it, spag-bol-able tempeh!), Better™ Bacon (delicious smoky tempeh strips), Better™ Tempeh (original flavour) and Better™ Lupin Tempeh (original flavour). As we haven't started selling yet, we don't have any bestsellers but we've had great feedback for them all, especially the mince and bacon as they are more familiar to people and therefore easier to imagine on their dinner plate.
Where is your product / line available and do you have plans to expand into other markets?
We haven't started selling our products yet, but now that we've finalised our product range we plan on doing so very soon. Our current focus is to establish ourselves, and more importantly tempeh, in the UK market before we look to expand abroad.
What is your USP / what differentiates Better Nature from other tempeh products?
We don't like to compare ourselves with any other tempeh brands – we all have the same mission, to make tempeh and plant-based eating mainstream, and we're just so happy there are other people who recognise how amazing tempeh is and we're very excited to build this market together!
Do you have any new vegan products that you will launch or that are in development?
Yes! We're currently developing a lot of new and exciting tempeh-based products in our product development lab. We have already developed some more tasty, marinated tempeh products that we expect to launch early next year. Beyond that, our main focus for the time being is our Better™ Burger – an all-natural, high-protein tempeh-based patty that is both delicious and nutritious, and next we plan to refine our Better™ crisps (also made of tempeh of course!). But these are only the beginning. Watch this space!
What are you aiming for as a company or what is your mission, and how do you hope to achieve it?
Our mission is to create a world that's better for people, the planet and animals. We believe that a key way to do this is to provide the world with foods that are delicious, nutritious, sustainable and, of course, plant-based. Tempeh ticks all these boxes, yet it is still not well-known or widely appreciated.
So, in order to make our mission a reality, we plan on doing three things:
Bringing tempeh to the mainstream and educating people about why we see it as such a game-changing food and protein source!
Innovating with tempeh to make it one of the most nutritious and delicious foods out there. Our food science lab in Indonesia are experimenting with the starter cultures (in a totally natural, safe way) used to begin the fermentation process and in doing so have managed to reduce the fermentation process to less than half (48 to 18 hours), which will improve taste and efficiency without compromising nutrition. They've also managed to increase the vitamin B12 content of tempeh. Next, they plan on looking at increasing calcium and iron contents. This technology has not been implemented into our current range of products, but should be in the near future.
Releasing more and more tasty tempeh-based products. We have an incredibly innovative product development team that are always experimenting with new and exciting tempeh products. Tempeh is a very versatile food, so the opportunities are truly endless!
In your opinion, how do you see the market for proteins changing in the next decade?
We think it will totally transform, for the better of course! So many incredible plant-based products have been released and we only see these continuing to grow as the shift moves from animal-based proteins to plant-based proteins. We see constant innovation being important as the market grows and consumers begin to demand more from the foods they're eating. We're very excited to see this happen, to make our food system as people-, planet- and animal-friendly as possible.
Where do you see Better Nature in the next five years?
We see us having helped to establish the market for tempeh in the UK, making it a go-to protein source for everyone and anyone. We then will have hopefully expanded further afield, to mainland Europe, the US and the APAC region and helped to grow awareness of and excitement around tempeh there as well.
We see us having expanded our Better™ range, including our (by then) well-established Better™ Burger, as well as lots of other products we have up our sleeves.
We see us having established our program for donating our Tempeasy™ to those who need it, helping to alleviate protein-energy malnutrition all over the world.
We're sure plenty more will be happening we can't even imagine yet, but we're very excited for all that's to come!
For more information: @betternature_ for Instagram and Twitter and @betternaturefoods on Facebook.