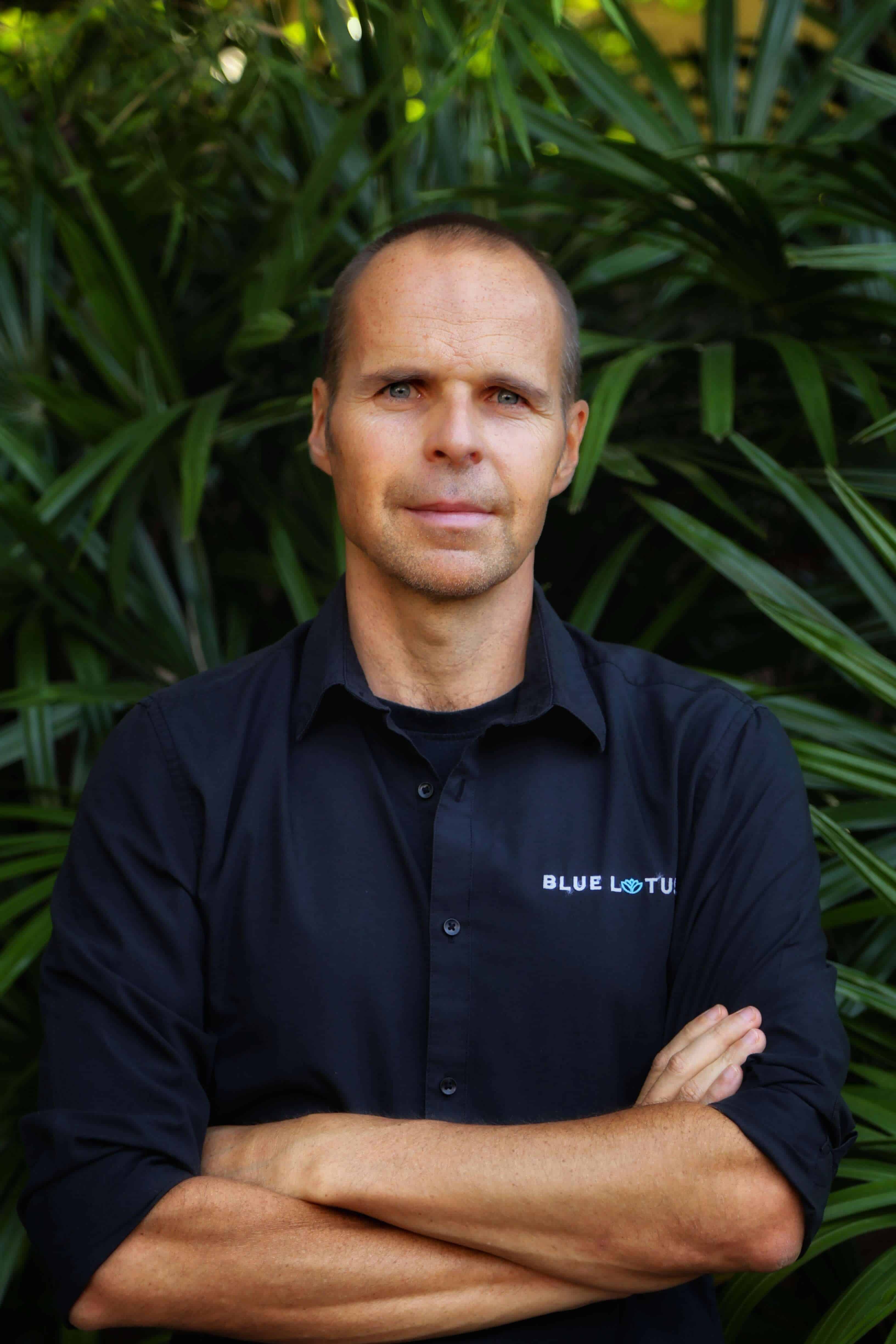 Christophe Berg, Director of Education of Blue Lotus Hua Hin, is part of the team launching the first learning centre dedicated to a plant-based cuisine in Thailand. We talked to him about their various offerings and courses, success stories and the future of the vegan lifestyle.
Tell our readers a bit about Blue Lotus Hua Hin.
Blue lotus is a learning centre dedicated to plant-based cuisine and located in the Evason Hua Hin resort in Thailand. So we make and teach only 100% plant-based cuisine, which is made from scratch and mostly using whole ingredients.
We started a bit more than 2 years ago. Our curriculum includes pure & simple whole food plant-based cuisine for active people (« Pure Energy »), soul and feel-good food inspired by Thai Classics (« Green Thai Cuisine ») developed with our Thai Chefs and more advanced classes like our « Chef's Training » or « Business Coaching ».
We are working on a « Blue Lotus Instructor Training » in 4 weeks (164 hours) as we have demands from both sides: students willing to learn how to setup their own cooking workshops, but also the wellness retreats organizers, vegan café and cooking studio owners who are looking for qualified professionals in plant-based cuisine: https://bluelotushuahin.com/
What is your target group?
It depends from one class to another. It goes from curious eaters and foodies mostly women for the cooking workshops and weekend intensives, active health conscious for Pure Energy week, plant-based travelers/foodies for Green Thai to more professionals like plant chefs wanting to develop their cooking skills or conventional chefs looking to add a new speciality to their portfolio.
You also offer business coaching? Who is it for and what can participants learn?
Having a background in Project Management, I soon realized that one very common missing piece in most vegan oriented projects was organization, time management and essential project management understanding.
I coach people on how to visualize, setup their project and manage it by simplifying and clarifying, so that they can focus on what matters the most for them. I help passionate people to design a sustainable project both from personal and professional stand points. Not everybody is looking to become rich overnight. Some people care about having a healthy lifestyle, living honestly on their own terms, preferably from their craft while keeping on learning in the process.
Each participant starts with a project. The week is designed as an « Opportunity Study » to question, visualize and clarify their idea. It is meant for people who are willing to run a sustainable small-scaled business around their passion and interest for pure plant food and/or healthy, active and eco-conscious lifestyle: https://bluelotushuahin.com
Where do people go after the business coaching?
Well it depends. Some will develop further their project, look for investors, start something new or go back on the drawing board to edit their project. It's oriented on self-knowledge and as a precious time for self-care and questioning their aspirations and motivations. It's perfectly fine to switch to another idea by the end of the week.
Can you share with us a success story from a past participant in the business coaching?
There is very few place or moment in life, when you can reflect about your next move in a safe and relaxing environment before starting and being too involved that you lose perspective. This is precisely what we are offering: a safe and motivating environment to question an idea before starting, before putting any money on the table and investing your energy and time on it.
So a success story for me would be someone who ends up editing or reevaluating his project into something he wouldn't have expected initially. Which sometimes includes changing his mind, confronting the initial plan and accepting that maybe the timing isn't exactly the right one or that he is missing some key resources, that he needs additional skills or partners.
I will share here the experience of Damiao Lo in his own words. Damiao did two times the « Business Coaching » week.
This course has created a self-reflection journey for me just before the launch of my plant-based studio. In the back of my mind, I knew I was missing a business focused scientific way to determine pricing scheme on products, customer validation, kitchen logistics and last but not least, "Am I ready and 100% full in?".
In the hands-on kitchen workshops as part of this course, he demonstrated the importance of food creativity and team! With imaginations, ingredients could turn into different dishes. This approach paralleled Minimum Viable Product (MVP) cycles. With a well cohesive and collaborative team with an aligned business purpose, we will succeed. It was transformational leadership at work. The approach has proven to make a business more profitable over time.
In your opinion, how will the vegan lifestyle develop in the coming years?
It's hard to guess. To be honest, I have been vegan for the past 15 years, yet I didn't necessarily foresee such a drastic evolution within the last two years especially in terms of plant-based products now available in any supermarket or restaurant.
I can elaborate a bit more on what I would like to see emerging. More small scaled, independent and sustainable projects driven by well centered human beings, who are not necessarily only driven by greed, their ego or the will of setting up the next monopoly.
I would think that we have enough big corps, food industry giants and that a bit more indie cafés, creative artisans, inspired freelancers and independent concept-stores owners would be more than welcome. These are the people I care about the most and I am willing to help as much as I possibly can. I am on a lifelong learning journey in which I learn by coaching, exploring and experimenting. So I don't really know what's coming next, which is fine as I will figure it out as I keep going.
Still being pragmatic, I need to say that the food industry is working on 3 main criteria: reducing food costs, expanding shelf life and making their product as addictive as possible. None of which includes your wellbeing or long-term health. So I am not really expecting anything magical from overly processed foods even when tagged as vegan.