Among the major global fast-food chains, Burger King stands out for its efforts to offer a wide range of plant-based products. In 2021, the company committed to making 50% of its menu plant-based by 2030, and said it would drop some meat products from the menu.
Since then, Burger King Germany has become particularly notable for offering a meat-free version of every item on the menu, stating that it intends to become a plant-based pioneer. In 2021, the chain opened the world's first plant-based Burger King restaurant in Cologne, starting a trend that would spread worldwide.
Klaus Schmaeing, Chief Marketing Officer at Burger King Germany, told us more about the chain's work to promote plant-based options and its plans for the future.
Burger King Germany has been actively increasing its vegan offerings and running campaigns about them. What motivated the company to focus on expanding its vegan options?
We have been investing in plant-based alternatives since the mid-1990s. Today, we offer by far the largest plant-based range in German system gastronomy. That is because we want to offer the right product for every taste — whether with or without meat.
"…we want to revolutionize fast food in Germany"
More and more people are watching their meat consumption and eating a flexitarian, vegetarian, or vegan diet. With our large plant-based selection, we now offer all guests a choice without having to compromise on taste. In this way, we want to revolutionize fast food in Germany.

How has the response been from customers regarding Burger King Germany's increased vegan offerings? Have you noticed any significant changes in customer preferences and demand?
Since the launch of our plant-based range in 2019, our plant-based products have become increasingly popular. And the best part, of course, is that the feedback from our guests is overwhelmingly positive. Even though the majority of people do not follow a strict vegetarian or vegan diet, many want to reduce their meat consumption. We offer them just the right option for this: an alternative without abstaining from taste. We are pleased that more and more vegetarians and vegans are finding their way into our restaurants.
What factors did Burger King Germany consider when developing and introducing new plant-based products to its menu? Can you provide insights into the research and development process?
For Burger King and in particular my team, plant-based is really important and we put our heart and soul into continuously driving it forward. We are convinced that good taste should not depend on the source of the protein. Of course, we are also inspired by trends and like to try out new ingredients. In January, for example, we used a vegan cheese alternative for the first time. It is always a long way from the idea to the finished product coming to restaurants. A lot of taste tests are necessary, until we and our guests are fully satisfied.
In what ways has Burger King Germany's marketing and advertising strategy evolved to promote its vegan options? What specific campaigns or initiatives have been successful in capturing the attention of consumers?
Above all, our communication must do one thing: make people want burgers. Burger King is supposed to be fun, and sometimes it's allowed to be a little bit provocative. We want to entertain, bring the brand to life, and surprise our guests and fans again and again with extraordinary promotions. Our world's first Burger King Plant-based Restaurant, which we opened in Cologne in June 2021, was particularly successful. For one week, we sold only plant-based products.
"We were brave and tried something new, yet we remain true to ourselves"
The event received a lot of approval, and not just in the media; during the campaign week, several thousand guests and fans visited the Plant-based Restaurant. For us, this is further proof of how important this offer is for our guests, but also how we can generate enthusiasm for this topic internally, because afterwards there were "imitators" in many Burger King stores around the world. Of course, this has motivated us to continue on this path.
Since summer 2022, we have been offering plant-based versions of almost the entire product range. With local activations in five cities in Germany, we have celebrated this huge milestone with our guests. At the same time, we also settled what is probably the most famous dispute on German reality TV between Désirée Nick and Claudia Obert. With these campaigns, we bring plant-based directly to our guests. We are satisfied when people talk about it, or simply think about it, and choose the alternative, because that's when our marketing has really worked.
Could you share any insights into the impact of Burger King Germany's plant-based offerings on the company's overall sales and revenue? Have you seen a positive correlation between the expansion of vegan options and business growth?
We see that our plant-based range becomes more and more popular. The extent to which the sales figures and the ratio between plant-based and meat burgers develop is determined by our guests through their purchasing decisions. However, we can say that approximately one in five Whoppers is now sold with a plant-based patty. In the case of the Long Chicken, almost one in four products are ordered with a plant-based patty. But we are not stopping there. We will continue to surprise our guests and fans with exciting innovations and offer them opportunities to try plant-based alternatives.
How does Burger King Germany ensure the quality and taste of its vegan products while maintaining the brand's standards and identity?
The most important things for a brand are authenticity and genuineness. We give that to our guests, because a Whopper always tastes like a Whopper. We are constantly working to improve our processes and try out new recipes, because quality, taste, and operational feasibility are closely linked. The best example of this is our switch to mayo without eggs. This showed that taste and product quality can remain the same without animal ingredients. In the extensive taste tests we conduct before launching our products, it even performed better than our previous mayonnaise.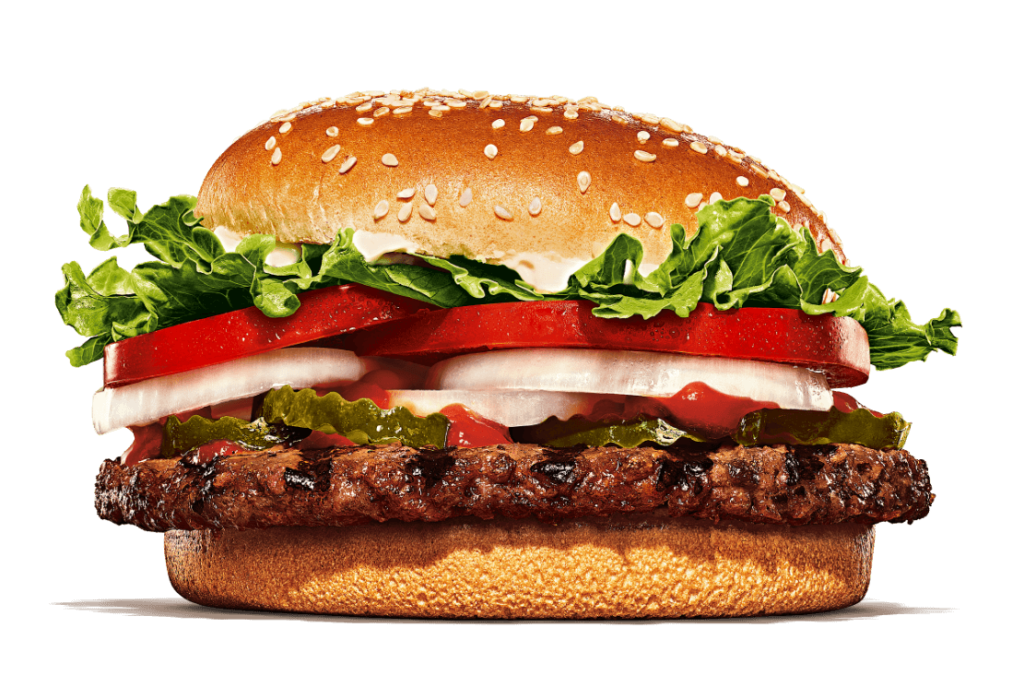 For us, it is quite clear that our high Burger King standards — which go far beyond the legal requirements — must be complied with. That's why our 750 restaurants in Germany are regularly inspected by external experts. The areas of hygiene, food quality and safety, preparation processes for plant-based products, and guest service are closely scrutinized. The restaurant's guests can see from notices in the restaurant that it has passed the independent inspection and thus meets the strict Burger King standards. In addition, we invest specifically in training — by June 2023, the restaurant teams had collectively logged around 180,000 hours of training time.
Burger King Germany's vegan offerings have gained significant attention in the media and among consumers. How has the company utilized this attention to further enhance its brand image and differentiate itself from competitors?
In the plant-based segment, we are the first movers in system gastronomy: we were brave and tried something new, yet we remain true to ourselves, because our claim "Make your King" is aimed at all burger fans — whether they like meat or not, because we don't want to be missionary but want to offer people a choice.
"We are continuously looking at how we can expand our plant-based range even further"
Today, Burger King no longer just stands for flame-grilled burgers, but also for the largest plant-based range in German system gastronomy. We are proud of this pioneering role and will continue to strengthen it. At the same time, however, we also want to create awareness for alternative protein sources. That's why we are also a member of BALPro, the association for alternative protein sources, to help raise awareness of alternatives. Plant-based is and will remain an important topic for us, which we will continue to show more strongly in our brand communication.
Are there any future plans or initiatives that Burger King Germany has in mind to further expand its vegan offerings or cater to the evolving demands of the plant-based market?
We are pleased that our plant-based products are becoming increasingly popular, so we are continuously working on product innovations and looking at how we can expand our plant-based range even further. To mark the start of Veganuary, we developed an exclusive product: the Plant-based Long Chicken Cheddar Style, for which we used a vegan cheese alternative from Violife for the first time.
However, we also want to develop further in other areas, such as milk alternatives, so we decided to cooperate with Oatly in ten restaurants. So far, the feedback on this has been very positive, especially in metropolitan areas like Berlin or Cologne, where the plant-based alternative has been very well received. But we are also currently looking around for alternatives in the desert area. We will continue to draw attention to our plant-based range and the importance of offering alternative protein sources in system gastronomy with further exciting campaigns and collaborations.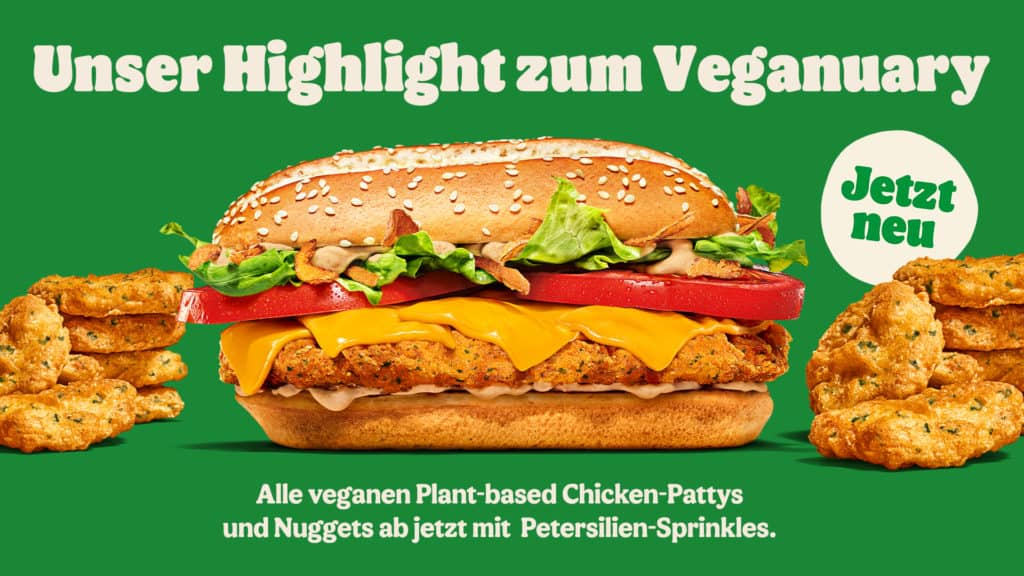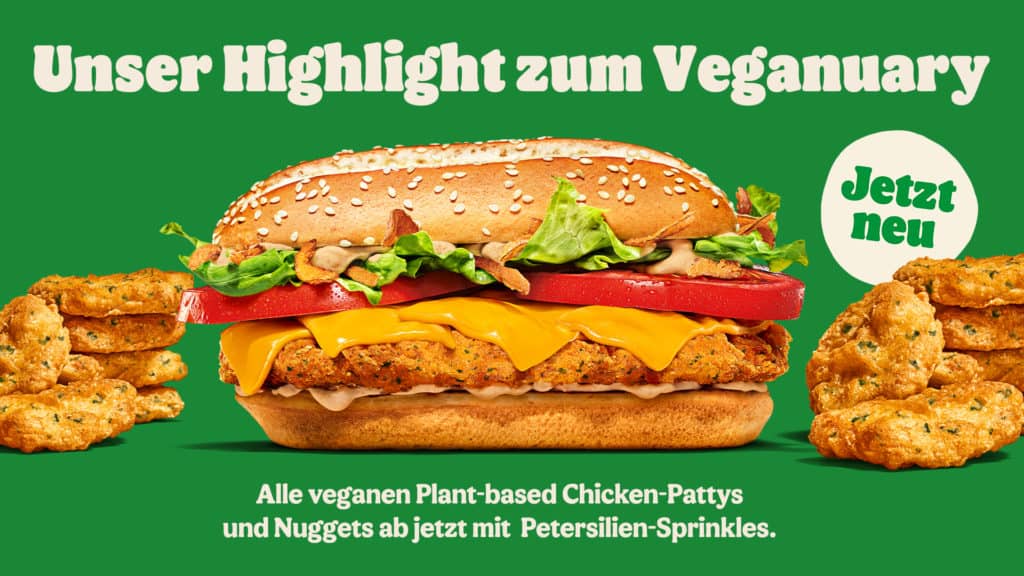 How does Burger King Germany approach collaborations or partnerships with plant-based food suppliers or other businesses in the vegan industry? Can you provide any examples of successful collaborations that have helped the brand strengthen its position in the market?
Since launching our first plant-based product in 2019, we've been working with our longtime partner The Vegetarian Butcher. We developed all of the patties for our burgers as well as our nuggets together and are working on a plant-based alternative that tastes just like the original. In addition, as mentioned above, we have successfully collaborated and created exciting products with Violife, Oatly, and also exclusively and uniquely with Rügenwalder Mühle. We also support initiatives that advocate alternative proteins, for example with our membership of BALPro. With all our partners, we have one goal: we want to further promote the growing trend towards plant-based products in Germany.
"We expect the market for meat alternatives to continue to grow enormously."
However, I want to make it very clear that we do not call our plant-based products vegan. While plant-based patties and plant-based nuggets are purely plant-based in their raw form, we prepare all of our products fresh in the same kitchen. Despite the special processes that we have developed specifically for the preparation of our plant-based chicken products, they are prepared in the same kitchen as the animal products. This is why we cannot exclude cross-contamination. The question of when a product is actually vegan is an interesting topic that we want and need to discuss with our partners and our community in order to find a solution together that is satisfying for everyone and at the same time easy to implement.
As the CMO of Burger King Germany, how do you see the future of plant-based food in the fast-food industry? What opportunities and challenges do you anticipate in the coming years?
We are seeing a stronger democratization of nutrition. More and more people are eating flexitarian, vegetarian, or vegan diets. They want to decide for themselves what and how they eat. Plant-based meat alternatives have already arrived in the middle of society and it is hard to imagine retail or the restaurant trade without them. In the future, we expect the market for meat alternatives and alternative protein sources to continue to grow enormously.
This is a great opportunity for us; we want to firmly anchor Burger King in people's minds as a plant-based pioneer. We have shown that plant-based also works for fast food. Together with our partners, we want to set new standards for the German food service industry and continue to learn. This also includes more exchange on the meaning of "plant-based", "vegetarianism" and "veganism" with partners and the community, but also in general in gastronomy. It is important to create a general understanding in order to make the guest experience even better.