Coop Italy is a system of cooperatives which operates the largest supermarket chain in Italy. First founded in Turin in 1854, Coop is the Italian market leader in grocery retail, with a 27% market share. Coop currently operates over 105 locations across the country.
We spoke to Silvia Mastagni at the Media and Institutional Communication Office, about their vegan range and perception of the vegan movement.
How many vegan products are currently in your range (own or manufacturer products)?
Until the end of the '00s, large retailers including Coop only had a limited number of products addressed to the needs of vegan and vegetarian consumers. However, since then we have experienced a clear change in consumer behaviour and the strong and sudden demand for alternative food solutions such as alternatives to animal proteins, has literally revolutionized the shelves of stores, including ours, to the point that new dedicated categories have also been created (such as vegan and vegetarian convenience food in the frozen and refrigerated sections).
Coop has been able to react to this demand as one of the leading figures in the Private Label world (what we call MDD in Italian) to offer certified vegetarian and vegan products under our Vivi Verde Coop brand which also underlines our environmental commitment: Out of ten organic coop branded products, 9 belong to Vivi Verde Coop. Vivi Verde has two cores: All food products are organic and non-food items are ecological because they are manufactured considering sustainable criteria and environmental compatibility. After a short time, even BeneSì (the Coop line that offers «rich in» and «free from» products aimed at consumers suffering from intolerances or allergies and) has promoted the first plant-based products, mainly in the refrigerated section such as plant-based alternatives to dairy milk.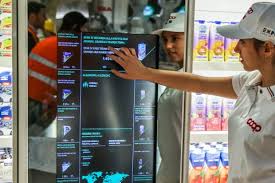 Do you also offer vegan products under your own brand?
Currently we have over 60 items in the two brands of our Private Label Coop, Vivi Verde and BeneSì, distributed in different commodity areas, from plant-based ready meals made, to grocery ambient products.
Which vegan product groups are particularly in demand?
After years of strong, tumultuous growth, the trends have slowed down. The market has cooled a bit and in some categories we have also witnessed a reversal of the trend. For example, the demand for ready-made alternatives to animal protein has decreased, especially in the frozen and refrigerated sections. The growth of the demand for plant-based drinks has also slowed down. In Coop, we have moderate results for our Private Label, even if the trends are far from two-digit increments, so frequent until a few years ago. In general, we are tonic in fruit and vegetables where we have a line of organic Vivi Verde ready meals, mainly vegetable soups. Good trend also for cookies suitable for a vegetarian diet.
What new vegan launches are you planning in the near future?
Although growth rates are no longer those of the past, we will certainly continue to develop this sector, focusing on the quality of our offer, based on ingredients free of animal proteins, suitable for the largest possible target group, so certainly for vegan consumers but also for people who are looking for a healthy diet, those who want to eat more plant-based food for environmental reasons and also those who simply appreciate plant-based products without necessarily considering to exclude animal products in their diet.
How do you promote your vegan products?
Mainly with dedicated offers (price cutting activities), through online communication in particular, sponsorship activities and product tasting.
Do you usually have a dedicated area for vegan products or place them alongside their non-vegan counterparts?
Normally, products for vegans or vegetarians are placed in the same shelves as conventional products and not in dedicated spaces, except for some larger stores which also have areas for plant-based products only.
In your opinion, how will the vegan lifestyle develop in the coming years?
Among consumers of vegan products in Italy, most consumers of vegan products in Italy are not exclusively vegan but have converted a more or less significant part of their diet from animal proteins to vegetable proteins, the so-called flexitarians. At the moment, after years of significant growth, we are in a rethinking phase. A lot will depend on how many flexitarians will eventually adapt their diet to a fully plant-based lifestyle.