This week on UK's Channel 4 show Aldi's Next Big Thing, Rob Brice, founder of vegan snack brand Crave, impressed the judges with his veganised versions of British crisp classics.
The win secured Rob a retail listing as well as a place in the heart of UK audiences. Crave's Pickled Onion Monster Feet and Smokey Flavoured Streakers are available on ALDI shelves as of this week. "It goes to show that vegan and free-from can be mainstream," said Brice upon the win this week.
We had to catch up with Rob to find out more!
Tell us more about the story behind your vegan snack brand – what made you decide to veganise these British classics?
We are all about FOMO (fear of missing out) and NOMO (no missing out). We don't think people should have to miss out due to either a lifestyle choice or maybe because they are allergic to milk! Food is emotive, people have memories around foods they used to eat and now perhaps can't. We know big suppliers and brands aren't always worried about providing for this need, so we think there is a gap to fill. We want to give customers the products they CRAVE!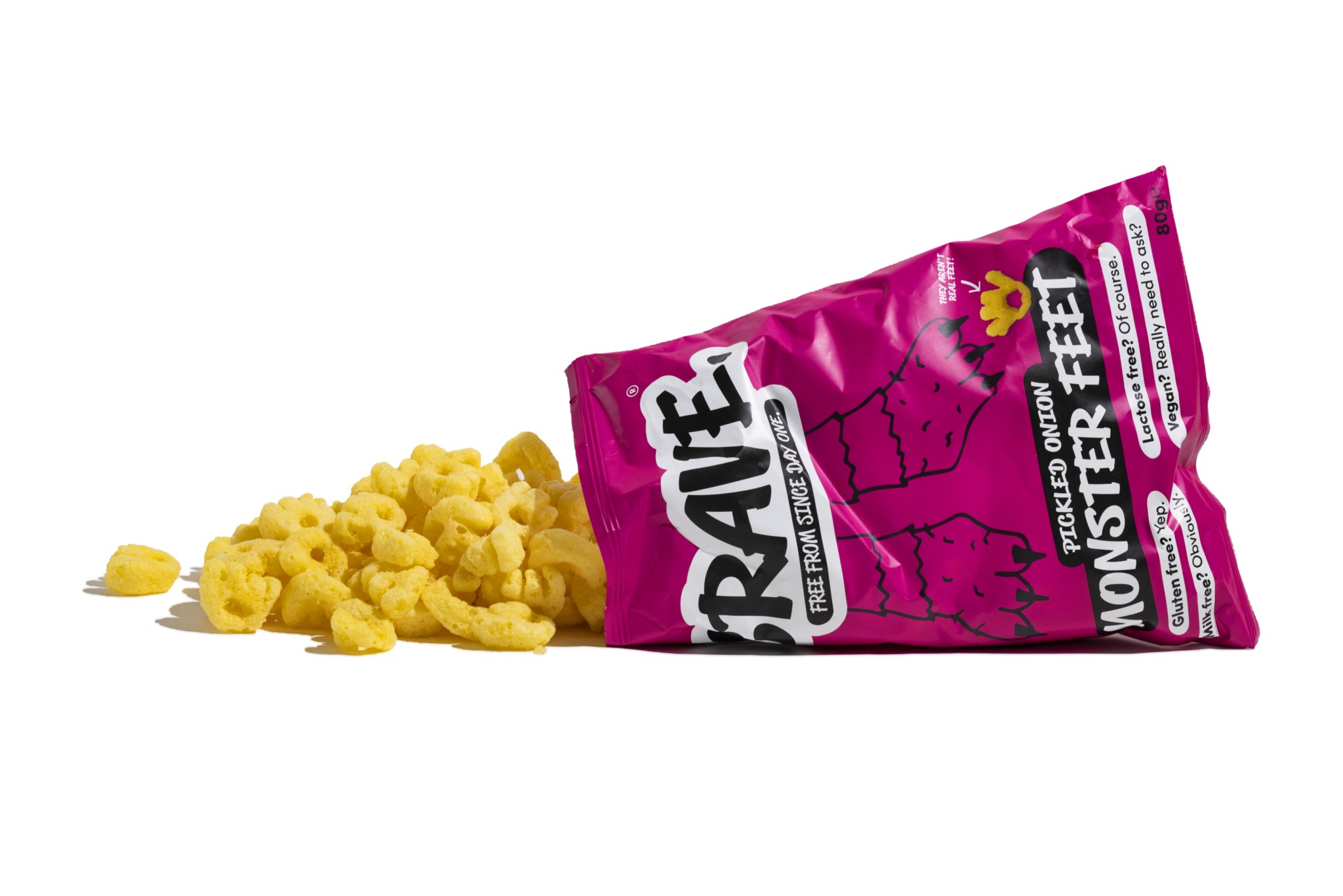 How have you funded the growth of the company so far?
Up until three months ago, the business has all been self-funded. It was super difficult trying to fund and run the business whilst also working to keep it going. We have been fortunate to now have an angel investor come on board. They are vegan and believe in what we are trying to do and how we do it. It's been amazing to finally be able to grow by expanding the team and pushing on with NPD!
Consumers in the UK love crisps, representing a market estimated at over 1 billion pounds – what role can CRAVE play in this highly competitive market?
We firmly believe that we can provide for the customers that haven't been able to get the snacks they have been missing out on, we can fill the gap in the market. We are hoping that although we are starting out in free from and vegan sections of retailers, we see no reason why this can't go into the mainstream and become the norm! Snacks for everyone, they are that good!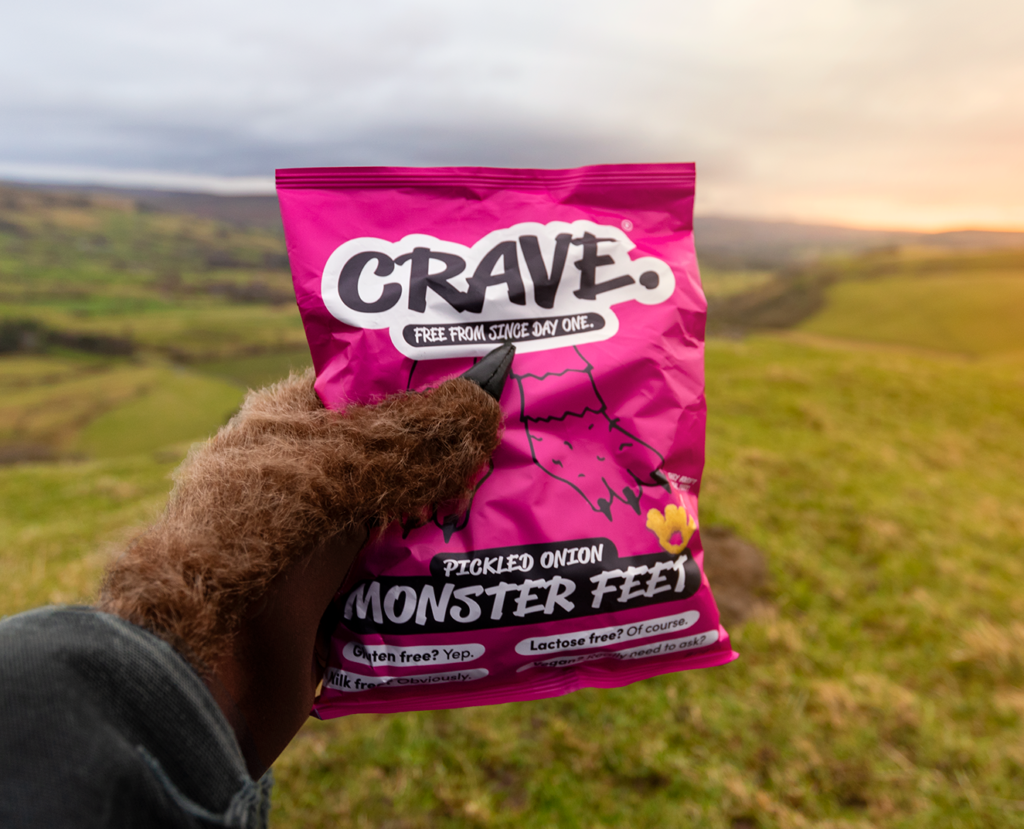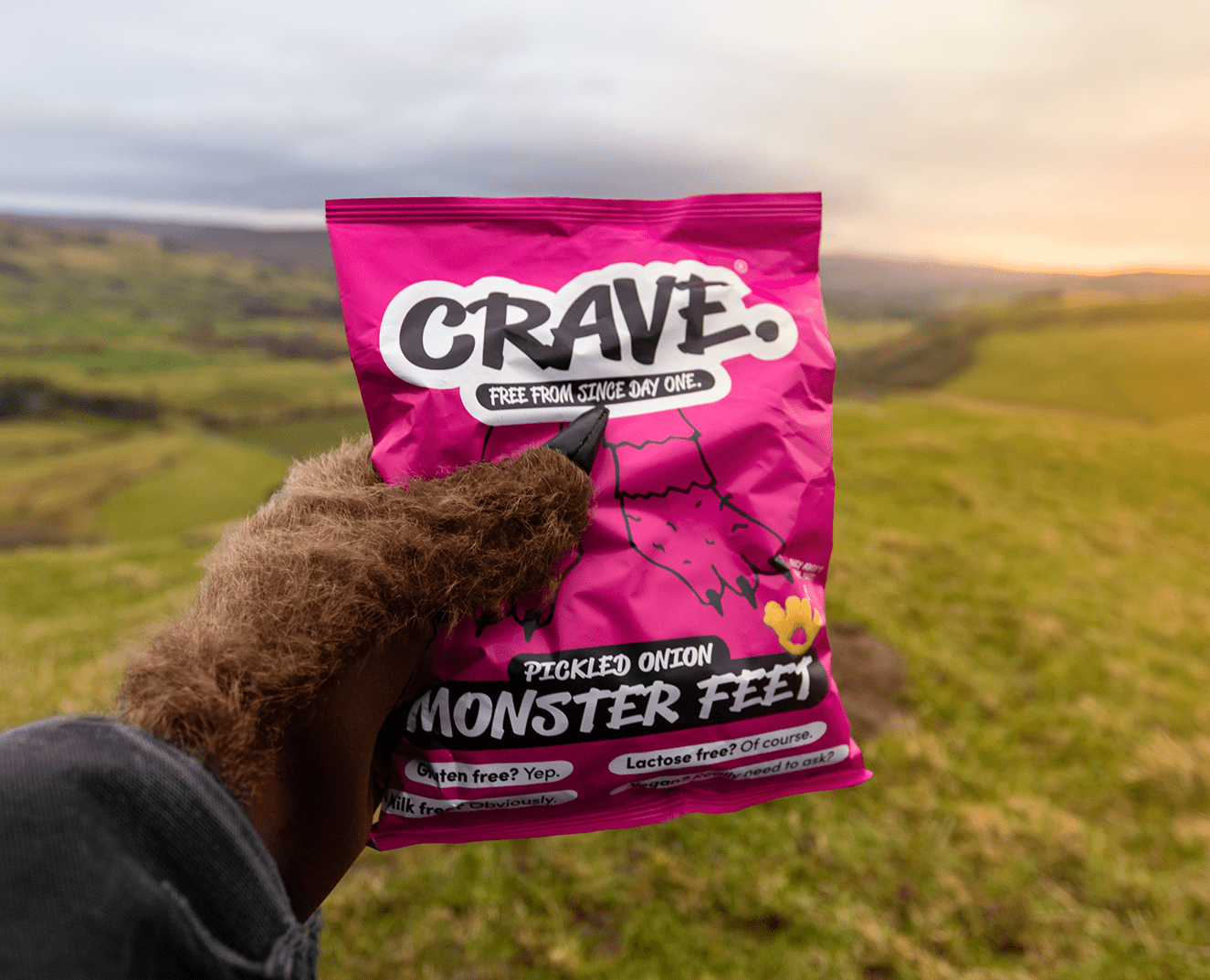 CRAVE was named the winner of the UK TV Show Aldi's Next Big Thing this week – your products were described as "fun" and "disruptive" in the show. Congratulations on your win! What will this mean for your brand?
Thanks! This is huge for us, it's a money can't buy exposure for us as a small brand and also a huge order with a major retailer. We have been the fastest selling of all of the Next Big Thing winners so that says something big about customers' desire to get hold of these vegan snacks. It's also now opened up the door for repeat orders with them too and who knows, maybe gave a bit of a nudge to some of the other retailers we have been chatting with.
How would you describe your USP – is CRAVE the first of its kind to veganise such snacking classics?
Hmmmm I think so!? We are all about giving people what they CRAVE, we are set to emulate lots of classic go-to products and give them the CRAVE twist; vegan and free from!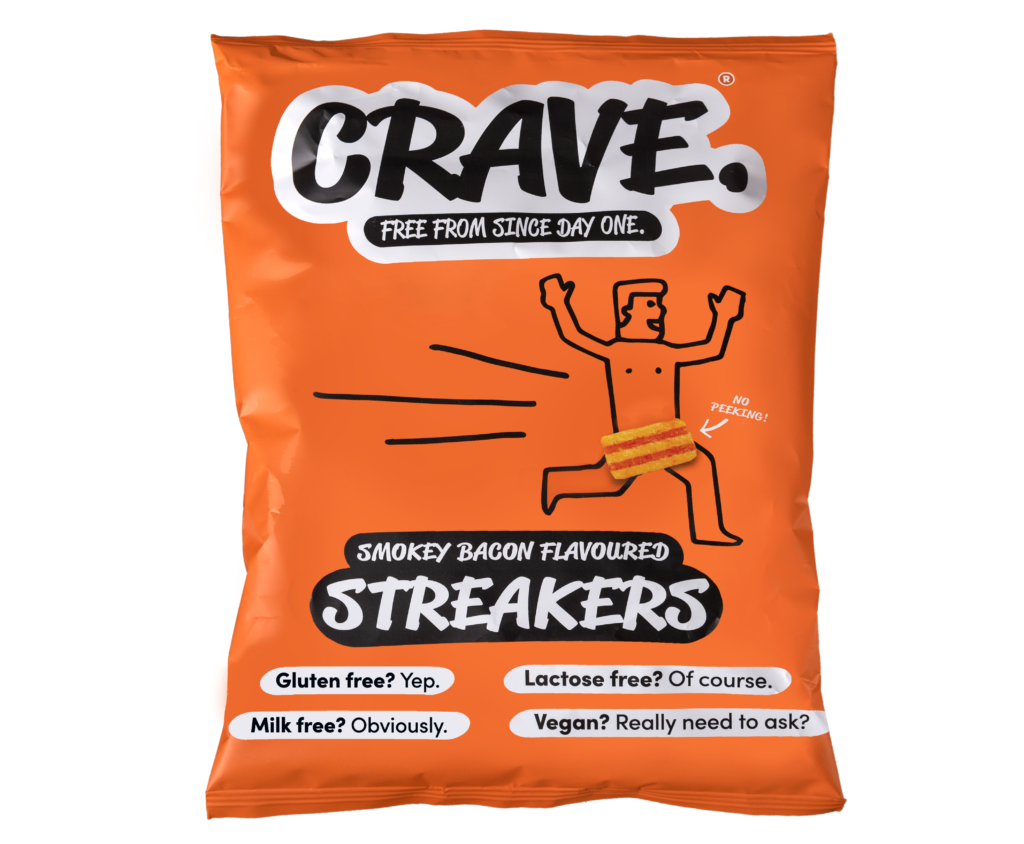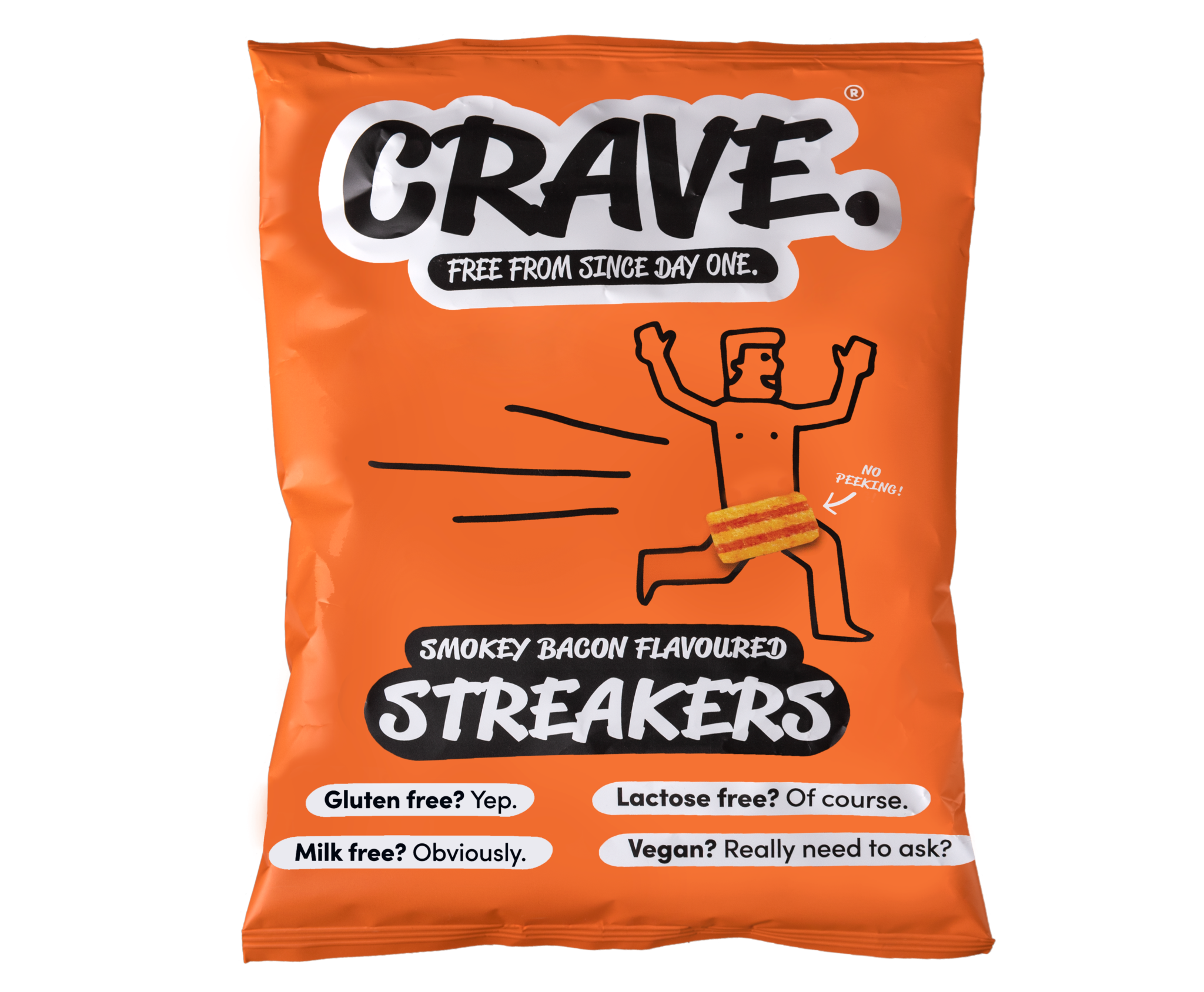 We like to think we are all about inclusivity, we stick out so you fit in, and that's what our snacks our doing. We are a brand that is all about taste and making products that can be shared by everyone. We are also not just a snack brand; we have some exciting NPD that may surprise people a bit.
As mentioned in the show, your crisps will be the first vegan and free-from crisps listed at ALDI UK – why is it important to you that your snacks have these labels?
We don't want people to miss out and currently they are! That's where the inclusivity bit comes in. For our free-from customers, eating the wrong thing can be a matter of life and death with serious allergies, we hate the thought of people missing out on these food experiences! Food is good for the soul. Even a ridiculously pickley pickled onion snack.
How do you intend to activate the inherent potential that lies in reinventing classics, such as the popular Monster Munch snack, to reach the mainstream?
Like they said in the show, we intend to be cheeky and do everything with a smile on our face, we are going up against huge brands and products and so may come up against some resistance from them. We are all about retail and getting products to the masses. We have some exciting out-of-home products coming up and also a few little cheeky bits to grab attention.
What are your future plans for CRAVE? Are there any new products in the pipeline?
We have loads of NPD in the pipeline for launch in 2023. Again some super iconic products given the CRAVE twist, although this time going beyond snacks. We will be launching our Flaming Wot'sinit (seen on the TV Show) and customers on social have been going mad to get their hands on them.
For later in the year we have some groundbreaking stuff which I am seriously excited about, it's honestly game-changing!