Don Robinson, former CEO of Mars Inc., was appointed as Chairman of the Board of Eat Beyond Global Holdings this Thursday. Eat Beyond is a Vancouver-based global investment fund that is seeking to invest in startups and businesses in the area of plant-based and alternative foods.
As we reported earlier in the week, the Canadian holding company received approval to trade on the Canadian Securities Exchange (the "CSE"), with the common shares commencing trading under the trading symbol EATS. Eat Beyond says it is the first issuer of its kind in Canada.

We had the opportunity to speak with Don about his move into plant-based and future plans within the plant-based industry.
Why did you start in the plant-based sector, from a business and a personal perspective?
I was inspired to enter the plant-based sector after personally switching to a vegan lifestyle and experiencing the amazing health benefits that it offers. I believe that once people realize not only what this lifestyle can do for their health, but also what a plant-based diet can do for our environment, we are only going to see this trend continue to grow.
From a business perspective, I think this sector represents a tremendous opportunity and so far we have really only seen the tip of the iceberg. It is accelerating every day and I think when the world realizes the truth, major consequences approaching due to climate change, then it is just going to explode.
What prompted you to recently convert to veganism?
I had been a meat and potatoes guy all my life. Prior to taking on a plant-based lifestyle, I will be honest with you and admit that I was a skeptic towards veganism and plant-based diets. This changed when I had dinner with a business partner who himself was vegan, and what he had to say was extremely compelling. He told me to watch the following documentaries: Forks over Knives, Game Changers and What the Health, which I did. And then I read The China Study. After educating myself I was changed forever. I saw that I needed to completely switch the way I thought about food and what it does to the body.
What are your hopes for the next five years?
I'm excited to share that this week Eat Beyond Global has been listed on the Canadian Securities Exchange. This will give us the opportunity to offer retail investors the opportunity to participate in the growth of the plant-based, alternative food and food tech sector.
Truthfully, I believe the sky's the limit when it comes to the opportunity for plant-based products to integrate into the market. Animal-based products simply can't sustain our growing population forever. There is a required 70% increase in food production by 2050 that is currently not achievable with animal-based options. Consumers will need to slowly make the switch to plant-based diets whether they want to or not. With that being said, the key to making plant-based foods successful in the mainstream market is to ensure there is no taste trade-off. That is how we need to look at these future products. Plant-based can't just be healthy and not taste good. No one is going to buy it. And the amazing thing I see is that many of these plant-based options actually taste even better than the animal-based options.
What kind of plant-based startups are you looking for?
We are looking for companies around the globe that are developing sustainable, healthy and innovative food products with a focus on plant-based foods and other innovations in dairy, eggs, meat, seafood, confectionery, and beyond. We look at every company on a case-by-case basis but generally target those that have run rates ranging from $20m to $200m. We also look at companies that are pushing the boundaries in terms of efficiently making plant-based products with innovative technology.
If we are thinking long-term, our farmable footprint will be close to nothing in the next 40 years. Ensuring longevity of products that aren't harming the planet is important. Some companies that we are looking at already have their products in the market, while others are more R&D-focused, such as those in the cellular agriculture industry.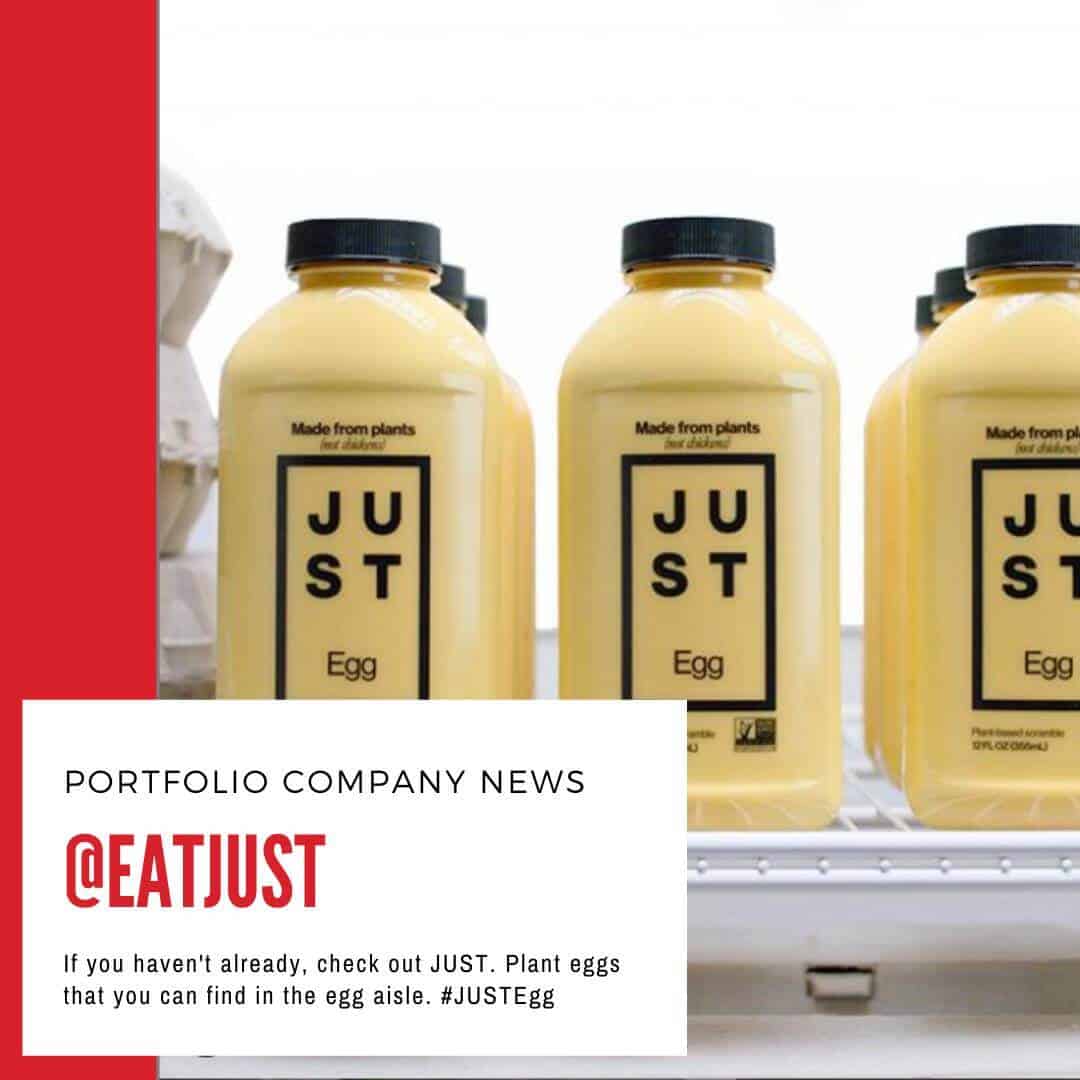 What kind of plant-based startups have you invested in so far?
As mentioned, one startup we have announced our investment in is The Very Good Food Company, which has a very clever and unique approach to plant-based alternatives to meat products. They talk about the fact that they butcher beans, not animals. It is a vegan butcher shop. Their flagship brand, The Very Good Butcher, features burger patties, pepperoni, ribs, steak, and other products you would typically find at the butcher shop, but all made with plant-based, whole-food ingredients.
What is it that you identify in early ventures which makes them stand out as a future success story?
The most important factor when it comes to assessing companies is the team. For one of our first investments, The Very Good Food Company, what stood out to us was the company's backstory, and their unique marketing idea about butchering plants, rather than animals. This was interesting because, from a consumer standpoint, companies shouldn't market their products as vegan. They should be marketed as great tasting food products that happen to be plant-based. Having potential consumers believe this is the first hurdle and what makes companies stand out if they can overcome it.
What amounts can startups expect?
This is always determined on a case by case basis, but the typical amount that we would invest is roughly between $200k-$500k per company.

How do you support the startups, aside from financially?
We are laser-focused on driving innovation in the food sector and have put together a team of industry veterans to assess and provide support to the companies that we invest in, making us a key partner for our portfolio brands. This includes not only myself – but Lloyd Lockhart, co-founder of Choices Market with 46 years of grocery retail experience, Diane Jang, a consumer packaged goods expert who has worked with brands such as Sunrise Soya Foods, Earth's Own Food Co Inc., Hempco Food and Fiber Inc., and Alan Linder, a food distribution expert with over 30 years of experience managing food distribution across both North America and Asia.