Founded by Chef Spike Mendelsohn, founder of PLNT Burger, along with Seth Goldman of Beyond Meat, Eat the Change is on a mission to create nutrient-dense snacks that are better for the planet and aligned with consumers' health goals.
"I believe this is just the beginning for Eat the Change® in the snack and beverage landscape"
After initially launching ultra-sustainable mushroom jerky, Eat the Change has continued to innovate with other healthy snacks, besides supporting other plant-based brands via grants. Now, the company is turning its attention to the beverage industry.
Co-founder Spike Mendelsohn is well-known for finishing in the top five on TV show Top Chef. He is a television personality, product developer, cookbook author, SNAP program advocate, chef, and restaurateur. We spoke to him to find out more about Eat the Change and making plant-based foods appealing.
What is the story behind Eat the Change?
On a mission to make an environmental impact through our daily diets, Eat the Change® was developed upon meeting Seth Goldman, co-founder of PLNT Burger, Honest Tea, and chair of the board of Beyond Meat, back in 2017 at a food policy panel we were both attending. It was there I was met with my first Beyond Burger and was instantly intrigued.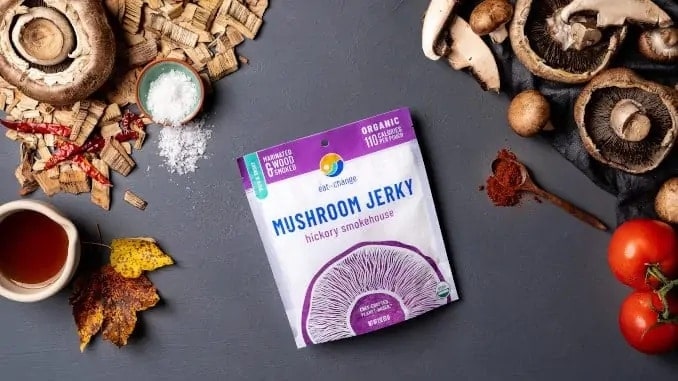 Delicious experimentation in the kitchen soon sparked a deeper conversation around food innovation concepts and PLNT Burger was born in 2019. Upon visiting a mushroom farm, we saw a blank canvas for other innovative, plant-based foods or snacks we could develop. Leaning into our "Eat the Change you wish to see in the world" motto, we developed Eat the Change® – the snack company – with our first product, Mushroom Jerky.
From there, we started developing new innovations that continue to hit shelves nationwide this year. This includes our Organic Carrot Chews and Cosmic Carrot Chews, both of which utilize carrots (an eco-friendly crop) as a base ingredient. We are also thrilled to be stepping into the beverage market in 2022, and reinstating Seth's beloved Honest Tea line under Eat the Change® called, "Just Ice Tea."
Based on your experience as a celebrity chef, what is the secret to making vegetables appealing to all ages?
The secret to making vegetables appealing to all ages is using organic fruit juice, and wholesome, natural sweeteners. For example, the carrots used in both our Cosmic and Organic Carrot Chews are gently-cooked, infused only with organic fruit juice and natural flavors, and then dehydrated to create a flavorful, chewy texture. It is everything one desires in a veggie without sacrificing flavor.
How do your Cosmic Carrot Chews get kids to choose healthier snacks?
Seeing as most "fruit snacks" are full of added sugars and are closer to "candy" than fruit, we make sure our snacks are filled with flavor but without the excess or unnecessary sugars. Our Cosmic Carrot Chews are chewy yet made with simple ingredients that appeal to kids too. In fact, my young son played a major role in the development of the Cosmic Carrot Chews. In the testing process, I found myself sneaking him chew after chew to make sure we were packaging a product kids desired day in and day out.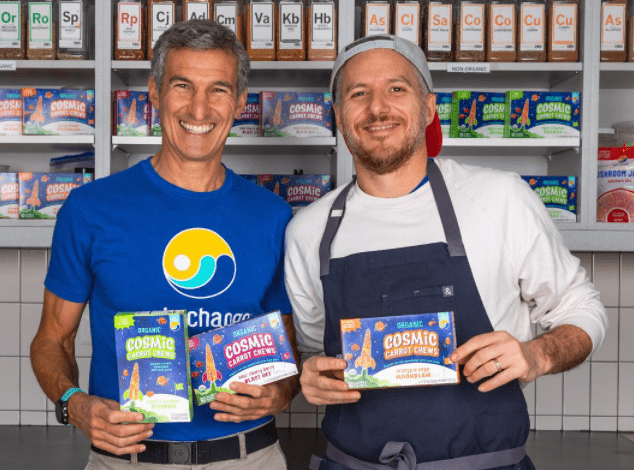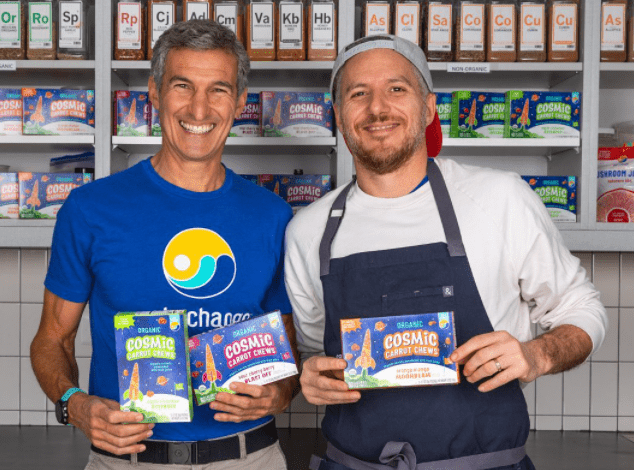 Tell us about the benefits of your organic carrot snacks in terms of sustainability and health.
Our main ingredient is organic carrots which are a primary source of vitamin A. Vitamin A is said to aid in one's vision, immune system, and general growth and development. In addition to the nutritional value of carrots, they also happen to be sustainably produced as a low water usage crop.
You recently launched the "grown-up version" Organic Carrot Chews for teens and adults. Tell us about the new line.
A recent study shows that only about 10% of American adults eat enough vegetables. So with the success of our Cosmic Carrot Chews for kids, we saw an opportunity in the market to create a vegetable snack for adults of all ages. Our Organic Carrot Chews™ are a great option to pack and enjoy at work, indulge in while traveling or really any time you want a tasty, nutrient-dense snack.
Your grant program Eat the Change® (ETC Impact) was conducted over the past three years to support healthy, planet-friendly foods. Tell us about the results in 2022 and the grants that were awarded.
The mission of the ETC Impact Grant program is to promote and expand access to climate-friendly foods. Over the past three years, the program has donated more than $1.25 million to support a diverse group of changemaking nonprofit organizations. In August of 2022, we announced the selection of 39 national and community-based change-making organizations as grant recipients of the program each ranging in size from $10,000 – $25,000.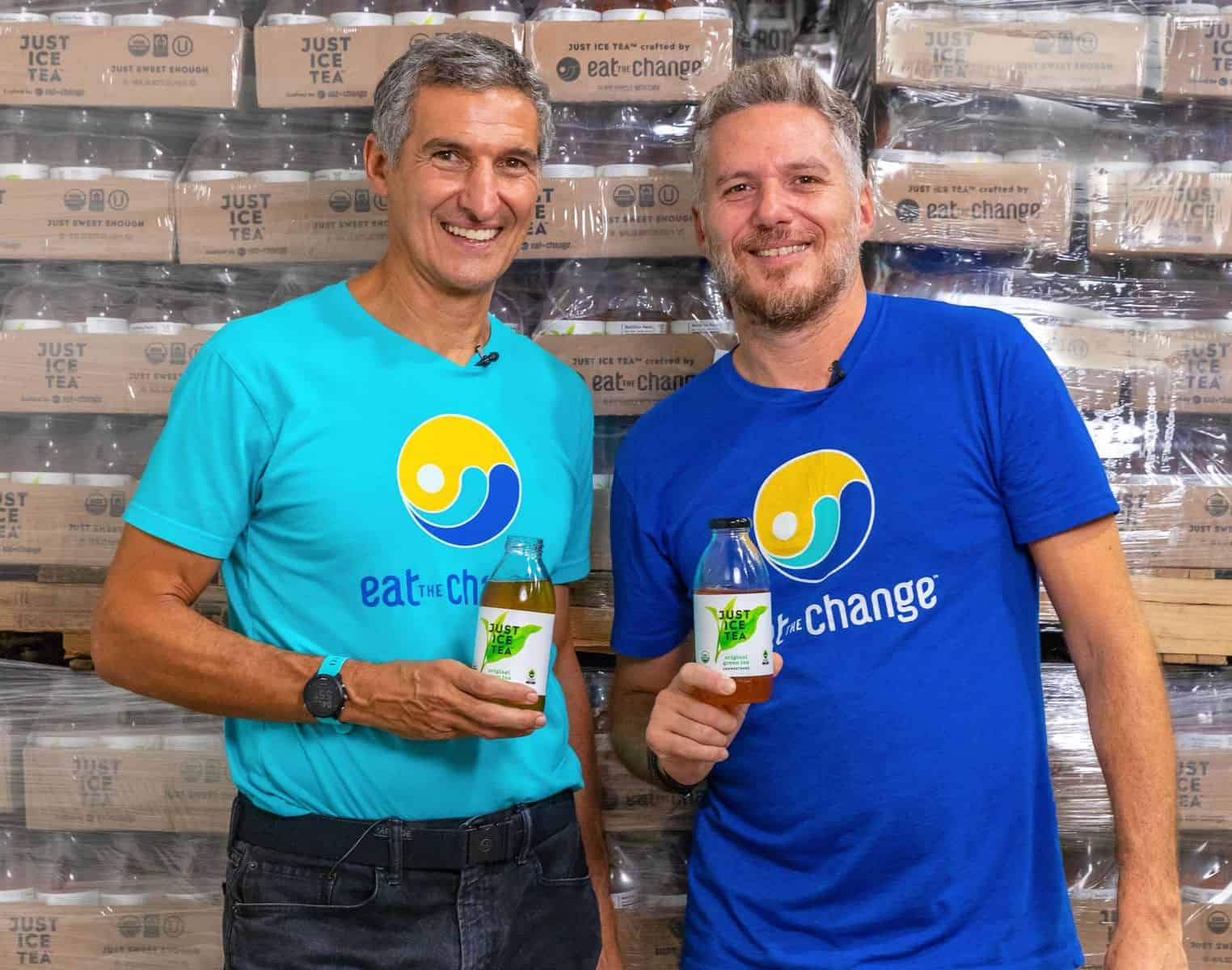 Do you have any new projects or products in the pipeline?
Our latest venture for Eat the Change® is our entrance into the beverage category with the September national rollout of "Just Ice Tea" — an organic, fair-trade, and OU Kosher-certified bottled tea line that offers a Just Sweet Enough taste using organic, fair-trade certified agave and/or honey. The refreshing teas are made from simple, organic ingredients and available in 6 SKUs at select retailers nationwide including Original Green Tea, Honey Green Tea, Moroccan Mint Green Tea, Peach Oolong Tea, Half Tea & Half Lemonade, and Berry Hibiscus Herbal Tea. I am pleased to help revive the tea line alongside original Honest Tea Co-founders, Seth Goldman and Barry Nalebuff, and aid in our fair trade mission.
Where do you see Eat the Change in five years?
Experimenting alongside Eat the Change® for the past few years has taught me there is endless potential when it comes to innovation and plant-based diets. I believe this is just the beginning for Eat the Change® in the snack and beverage landscape, and I will continue to push the boundaries when it comes to better-for-you snacking and sipping.