Glebe Farm says it has always prided itself on being the only UK company to produce gluten-free oat milk from scratch. Now, the brand is looking to shake up the UK plant milk market by encouraging a shift away from imported products.
A recent poll by Glebe found that 34% of consumers don't know where their oat milk comes from, despite 70% believing it is important to be aware of the origins of food and drink.
"THE BIG PLANT MILK CON: Yes we said it…Big oat milk names = big, hefty food miles. When we CAN grow oats in the UK why import from overseas? Support real British farming and legit sustainability." Glebe Farm on LinkedIn

Respondents strongly supported labelling plant milks with their origin, and almost half said they would switch imported products for local ones if labelling was clear. Consequently, Glebe's marketing is strongly focused on its locally-grown credentials.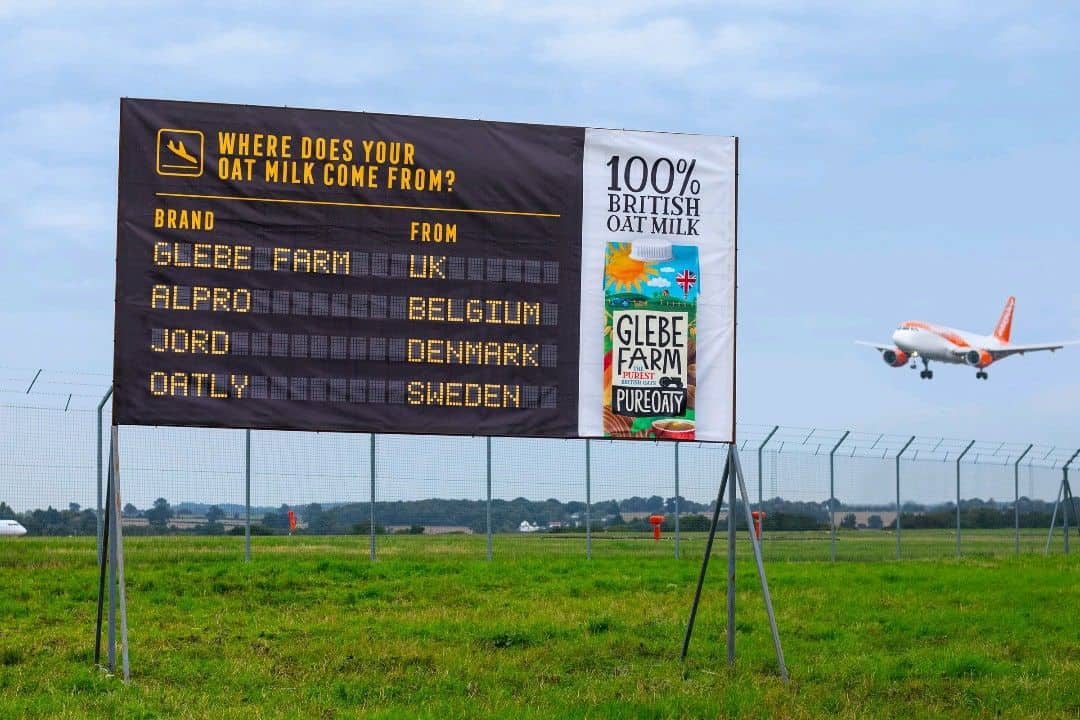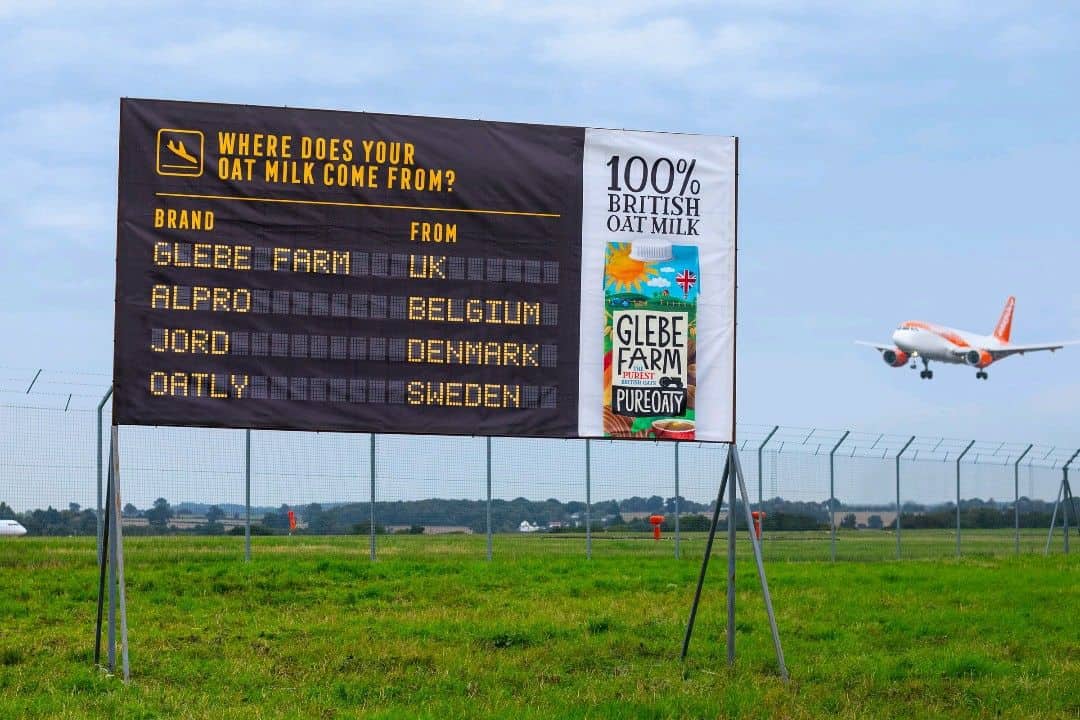 Having started as a relatively small-scale producer, Glebe famously made headlines last year when it won a court case against Oatly. The Swedish brand had claimed that Glebe's PureOaty brand was too similar to its own, but a judge decided that no copyright infringement had taken place.
The court case significantly increased awareness of the brand, which has since launched at major retailers such as Morrisons. We spoke to co-founder and managing director Philip Rayner to find out more.
What's the story behind Glebe Farm?
The heart of the British countryside is where we call home; our independent family-run farm, based in Cambridgeshire, is run by me and my sister Rebecca.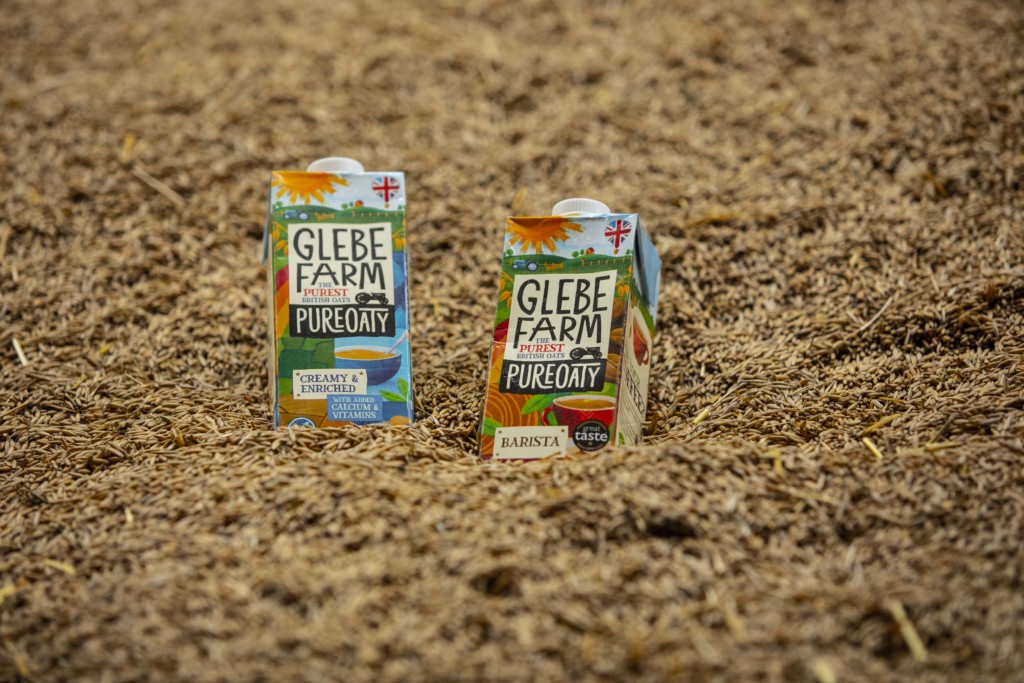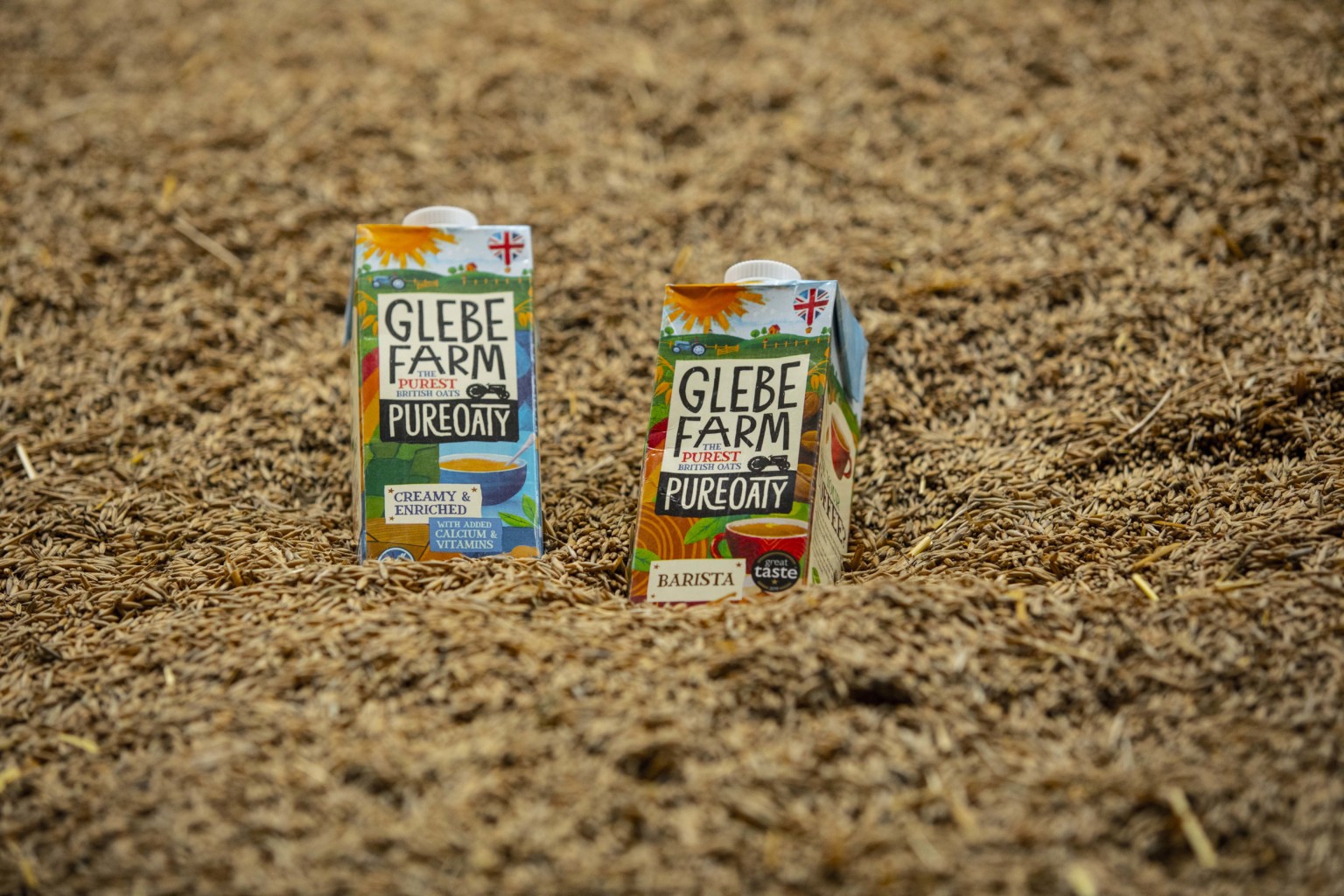 As a family, we've been farming for over 50 years and today, we're the only plant milk brand in the UK producing 100% British oats, straight from the farm.
Since we're involved in every step of growing, milling, and manufacturing our oats, we know exactly what goes into everything we produce. We believe in natural goodness and real farming, so you'll find no syrup base in our drinks; unlike other brands, due to our secret "milking" method.
"We're the only plant milk brand in the UK producing 100% British oats"
We have big plans to redefine the UK plant milk market and move it away from being dominated by imported "big food" milk alternatives and food conglomerates. We need to educate consumers (who don't realise their plant milk is imported from overseas) that buying British oat milk does not only support UK farmers, but is also much more sustainable and beneficial to the environment too.
Gluten-free foods are a hot topic – what made you choose to grow gluten-free oats and do you believe the demand is there?
Although we are now self-professed oat milk connoisseurs, we surprisingly didn't begin in the plant-based or gluten-free market. We initially started by providing organic bread and cake mixes at farmer's markets, and customers started asking Rebecca for products that were wheat-free. She moved into spelt products, which were kinder on the stomach – but the demand for gluten-free proved to be the most popular, then our gluten-free oats were born.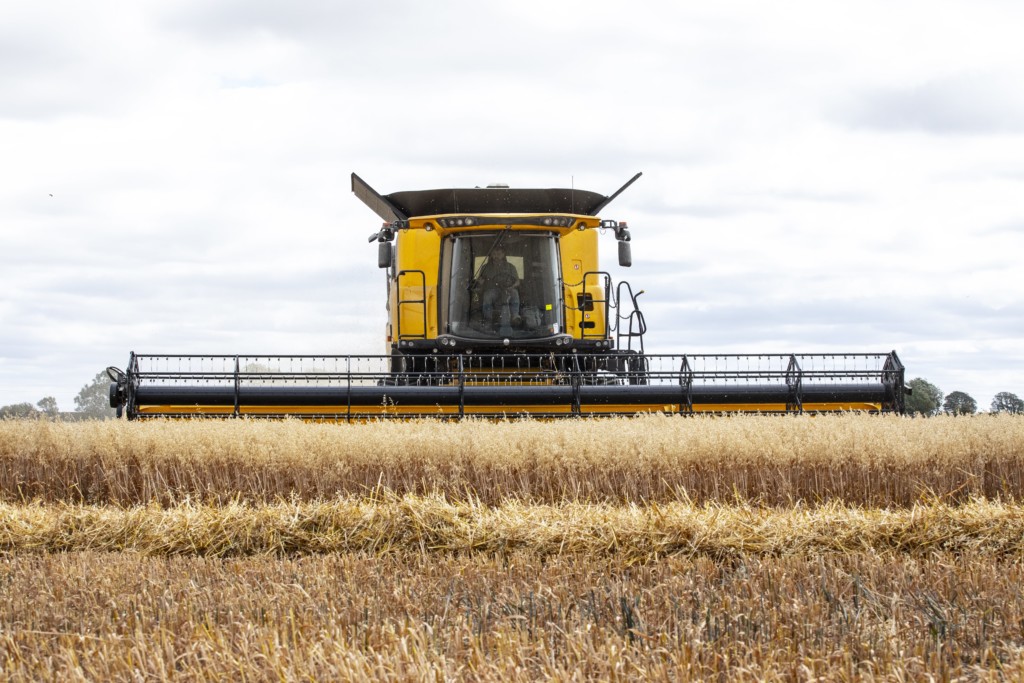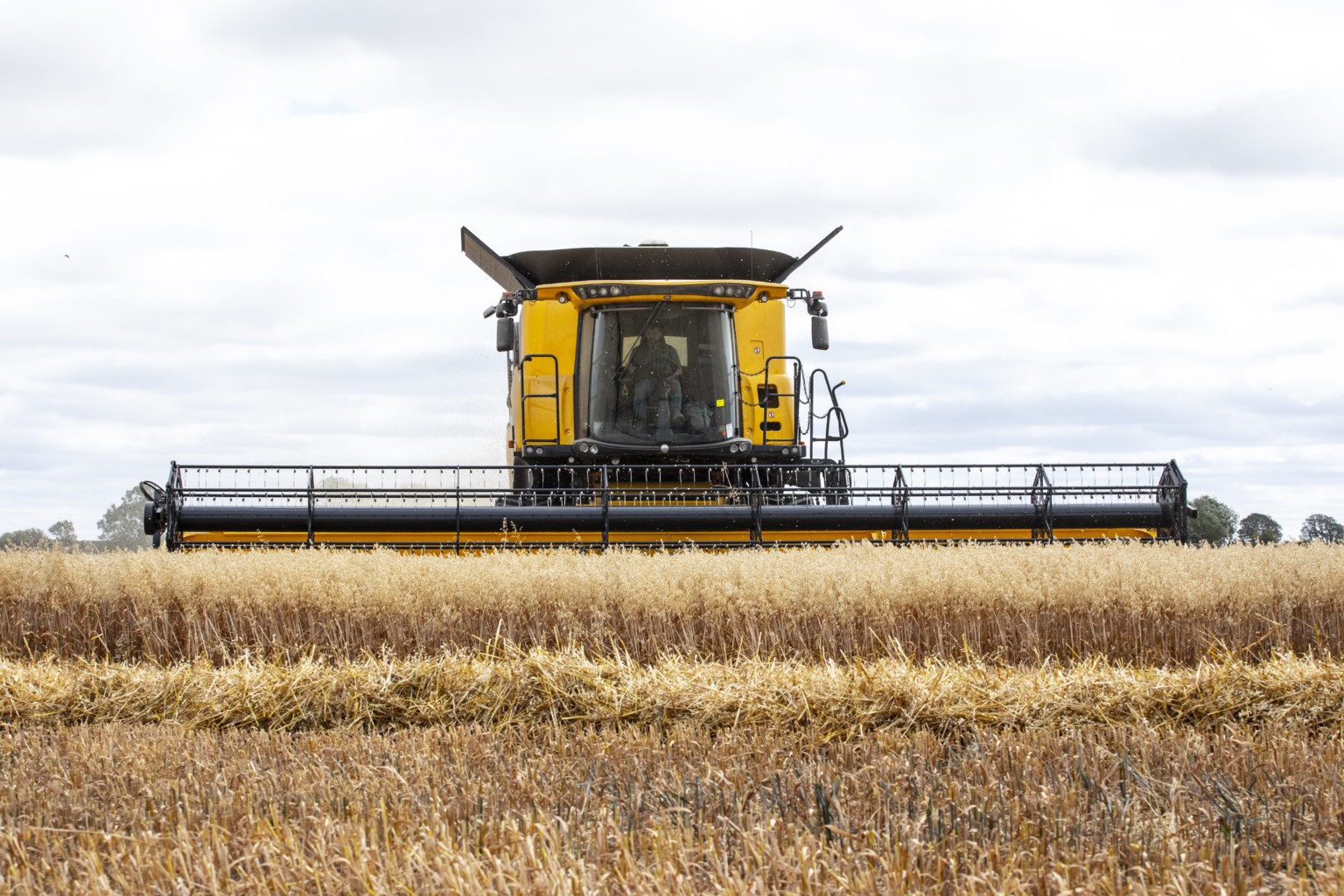 Having second-generation farmland to use, our unique oats became the staple crop and Rebecca started to write a book on growing and milling gluten-free oats. Glebe Farm Foods sprung out of that – listening to what consumers wanted and providing a local and expert-quality version.
"We are very proud to be able to provide the purest quality oats in the UK"
Demand for gluten-free has continued to rise over the past 15 years since our humble beginnings and doesn't seem to be slowing down. People are still looking for dietary alternatives and healthy options. We are very proud to be able to provide the purest quality oats in the UK that are Coeliac Society approved and provide many people with tasty free-from options. PureOaty is the only milk alternative made using 100%, gluten-free, British oats (and never using a concentrate or syrup base).
What are the environmental benefits to locally sourced, British-farmed oat milk – how does Glebe Farm compare to rivals sustainably, and why is it important to know where our plant milk is coming from?
It's vital to buy local British produce where possible, it really is that simple. Locally sourced British-farmed produce has lower food miles than its foreign counterparts, which means it has to travel far less to get to the consumer, and therefore has lower carbon emissions. Glebe Farm has the lowest food miles on the market.
"Buying British is a clear, tangible way to combat the climate crisis"
Buying British is a clear, tangible way to combat the climate crisis. Alongside being 100% British, we currently lead the market in environmental stewardship practices. At Glebe Farm, we use our own renewable energy sources to produce high-quality products reliably at a large scale. We installed over 1,000 solar panels that produce 2.2 million watts of energy a year, which is then used for the production of our oat milk.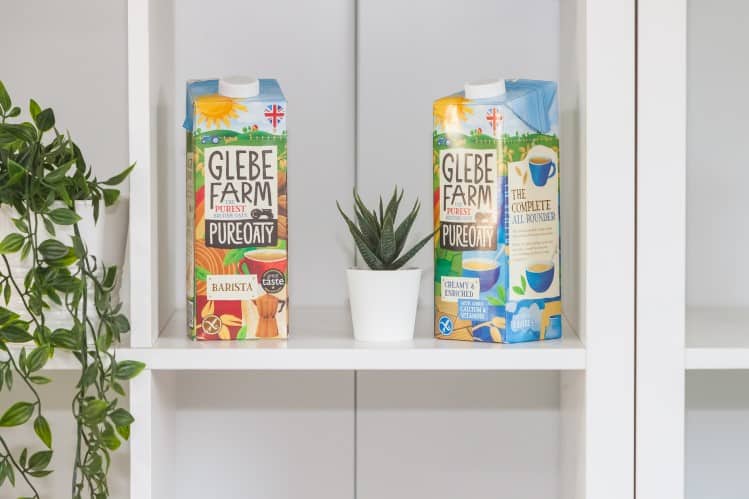 Why was the court case with Oatly in 2021 such a turning point for Glebe Farm and British farming?
We've capitalised on increased attention following the Oatly court case, most recently running with a tongue-in-cheek "Oatly sued us, now help us pay our lawyers" spot at London Victoria station earlier this year. Before the court case, we were very much a small fish in a ''big food'' pond, but the awareness and positive traction we received when the case was judged in our favour, allowed us to re-evaluate what makes us a major player in the oat drink market. It has allowed us to showcase the importance of buying locally and why Glebe Farm stands out from competitors. PureOaty sales have more than doubled this year with new listings in Morrisons and Holland and Barrett.
What are your predictions for the plant-based milk category in the next year?
Consumer demand for milk alternatives and plant-based options continues to grow, with a +14% CAGR between 2018-21 and oat gaining a significant share. This demand is driven by environmental and health considerations, as consumption goes beyond vegan and is becoming mainstream for everyday households.
"We hope to move consumers away from imported milk alternatives"
This will inevitably have its own drawbacks, as the popularity for these products will grow – meaning that more players will be attracted to the market. As the cost of living continues to go up, shoppers will have to become more discerning in their choices in a saturated market. We believe that British provenance, quality, and value will continue to be important for consumers. As the only British plant milk alternative on the market, we hope to move consumers away from imported milk alternatives with higher food miles.
What's next for Glebe Farm?
We are on a quest to make Glebe Farm the most 'real' food company in the UK. Since the visual overhaul relaunch of our PureOaty range, we continue to go from strength to strength, with annual sales rocketing by several million litres per year. We are expanding our product offering with the development of our PureOaty Organic, set to launch end of September 2022. There is a genuine desire among consumers for more environmentally sustainable products that don't compromise on taste or performance.
We are also investing heavily in the talent within our company, we recently hired three big hitters to bolster our sales team and we are really excited about the wealth of knowledge and experience that now sits within the company, it's going to be a big year for us. Stay tuned.